WELCOME TO THE EMMERDALE WIKIA
Created on
4th February
2010
, this community was built by the fans, for the fans, and is dedicated to housing a useful and informative database for all subject matter related to the long-running
ITV
soap opera
Emmerdale
. Our goal is to collaborate with other fans in order to build a reliable, accurate resource with as much detailed information about episodes, characters, and story elements as possible. All are welcome to
join in
and contribute here, so long as edits are constructive, discussions are positive, and both are relevant to this series.
For more information about how you can contribute here, please check the "Helping Out" section below. Thanks for stopping by!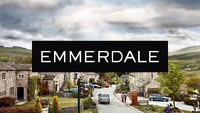 Emmerdale
, known as
'Emmerdale Farm'
until
1989
, is a popular and critically acclaimed long-running British soap opera, broadcast on
ITV
since
1972
. It is set in the fictional village of Emmerdale (known as
Beckindale
until
1994
) in the Yorkshire Dales, England and was created by
Kevin Laffan
. The series is produced by
ITV Studios
in Yorkshire and broadcast on the ITV network and was first broadcast on
16th October 1972
.
If you're new to the show, we recommend that you check out the General Information section first to get you up to speed with the creation, concept, general information and rough history of the show...
...and then delve into the archives by reading up on past Emmerdale episodes and find out about the characters who currently live in the village and those from days past...


21st September 2004: It's the morning of the wedding and Diane sits down with Victoria. Diane decides that before she marries Jack she must tell her future stepdaughter the truth about her cancer. Diane softens the blow by first telling Victoria all about Rodney being Paul's father. Pleased that Diane has entrusted her with such a secret, Victoria bravely accepts what Diane has to tell her about her cancer. After telling Victoria, Diane takes Bob and Marlon to task for moping about because of her cancer and tells them to get in the wedding mood. As Diane prepares for the wedding she gets a visit from Rodney, who is concerned that Val will make a scene at the church. Rodney asks Diane why she had to tell Val that he still loves her. Diane puts Rodney straight, telling him it was not because she still has feelings for him it was because she didn't want her sister making a fool of herself over him just like she did. Meanwhile, Andy is tormented as he watches his father's wedding from a far, knowing his presence would be unwelcome. As Diane leaves The Woolpack for the church, she takes a moment to collect her thoughts outside the pub and as she does so Val appears and the two sisters face each other across the street. Val tells Diane that she's done some thinking and she knows that Diane isn't interested in Rodney. Diane asks her sister to give her away. Val quickly gets changed and putting everything that has happened aside, Val agrees and they head off to the church. There are raised eyebrows when Diane enters the church on Val's arm. As the ceremony commences, Jack and Diane are deeply emotional as they exchange their vows. The congregation are a little confused. Diane breaks down when she gets to the bit in the marriage vows about 'until death us do part'. Realising that she owes her guests an explanation, Diane attempts to explain why she is upset. She is unable to find the words and Victoria joins her and tells everyone that Diane "has a little bit of cancer in her bum" but Victoria assures everyone Diane will be okay. Meanwhile, overcome by his unrequited love for Diane, Rodney storms out of the church. Val gets up and follows him to the Antiques Barn, demanding to know what Diane's got that she hasn't. Devastated that she means nothing to Rodney, Val threats to reveal something that will turn his world upside down. After the ceremony, Nicola and Paul go to locate their respective warring parents. As the guests make their way from the church, Val and Rodney's argument spills on to the street where they meet up with the wedding party who are having their photos taken. Val shocks Rodney by blurting out that Paul is his son in front of the whole village. Paul is horrified to hear his mother's words and smacks Rodney in the mouth. Paul soldiers on for the sake of his Aunt Diane and livens up the wedding reception by taking to the stage in drag to perform as his alter ego, Thelma Louise! At the wedding reception, Ashley receives a call to say that Bernice has had a baby girl. Diane leaves her own reception with Jack and Victoria to preapre to go and see her new granddaughter. While the villagers enjoy themselves. Rodney sits alone in tears and Val lies in a drunken stupor.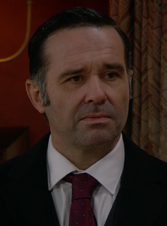 Graham Foster was the right-hand man of Joe Tate and Kim Tate and the boyfriend of Rhona Goskirk.
Graham first arrived in the village in 2017 as the right-hand man of Joe Tate, then known by his alias Tom Waterhouse. He helped Joe escape the village in October 2018 after Kim Tate returned from prison. Upon Kim's permanent return in March 2019, he started working for her and they began an on-off relationship until Graham set his sight on Rhona Goskirk in late-2019.
In
2020
, Graham planned to move to
France
with Rhona and
Leo Goskirk
. However, the day they planned to leave, Graham was murdered by Rhona's ex-husband and rapist,
Pierce Harris
.

Helping Out
We are currently housing
15,634
articles, and
13,455
files.
We need YOU to help us expand and add articles to this wiki!

For starters, please sign up to create a FREE personal account, or log in if you already have one.

---
---
If you're new to Wikia, please use the above links to get started.
If you already have editing experience, and you have an article relating to Emmerdale to contribute, use the box below to create it:
If you're looking to help with improvements or cleanup, you can start here:
---
---
Check out the
community portal
to see what the community is working on, to give feedback,
or just to say hi.
More 2020 episodes...

Next episode - Monday 25th May 7.00pm on ITV/STV.


Classic episodes are currently being broadcast on ITV3 from 1997.
Classic episode guide

Current episodes:


Mon-Fri at 7.00pm, additional episode Thursday at 8pm on ITV.

Classic episodes:


Mon-Fri at 1.45pm and 2.45pm on ITV3.



...that it took the programme almost 29 years to reach its 3000th episode, but due to the show moving to six episodes a week soon afterwards, it only took 10 years to double the total?

...that the programme has had two two-hander episodes, in 2000 and 2002?

...that Swedish band The Cardigans named their 1994 album 'Emmerdale' after becoming enamoured with the soap's name on a visit to the UK?
...that the programme has only ever had one live episode, which was broadcast on 17th October 2012 as part of the 40th anniversary celebrations.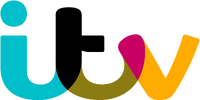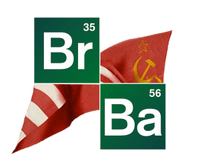 Community content is available under
CC-BY-SA
unless otherwise noted.