Aaron Dingle (né Livesy) is the son of Chas Dingle and Gordon Livesy and the half-brother of Liv Flaherty and Grace and Eve Dingle. He is also the estranged husband of Robert Sugden and father figure to Robert's young son Seb.
In his early days in Emmerdale, Aaron was involved with the criminal McFarlane family. After this, he made a pass at his best friend, Adam Barton; coming to terms with his homosexuality; attempting suicide; his relationship with Jackson Walsh; helping Jackson commit suicide and subsequently self-harming over the grief and guilt.
Aaron returned to Emmerdale in August 2014. He becomes involved in a heist by Donna Windsor and Ross Barton; clearing his name on a charge of arson; an affair with Robert Sugden; his subsequent role in Katie Sugden's death; the return of his self-harming; revealing that he was repeatedly raped by his father when he was a child; reuniting with his estranged half-sister, Liv Flaherty, rekindling his relationship with Robert; being arrested for attacking Kasim Sabet and subsequently sentenced to a year of imprisonment, and suffering from bullying, panic attacks and drug abuse while in prison.
Biography
1992-2003: Life before Emmerdale and rape by his father
Aaron was born on the 5th January 1992, to Gordon Livesy and Chas Dingle. After Aaron was born, Chas and Gordon got married but after Aaron's 8th birthday, they split up and Aaron stayed with his dad but one night, a resentful Gordon took his anger out on Aaron before raping him. The next day, Gordon apologised to him but threatened to do it again if Aaron told anyone.
Gordon remarried and had a daughter Liv with his second wife Sandra but shortly after Liv's birth, Sandra walks out on Gordon after Aaron's bad behaviour at school. Sandra and Liv stayed with her mum and Aaron stayed with Gordon. Later, Gordon raped Aaron again as a way of getting him back in line.
In 2004, Aaron had a huge argument with Sandra and Gordon raped Aaron again for third time. Aaron keep his abuse at the hands of his father a secret for years until 2016 when he opened up to his ex-lover Robert Sugden about his dad.
2003-2006: Visits to Chas
When Aaron is young, his parents separate and Chas leaves her son to live with his father and Gordon's second wife, Sandra. In December 2003, Aaron visits his mother in Emmerdale, where he tells her that he resents her for not raising him and explains that he feels that she abandoned him. The two begin to bond before Aaron returns home to his father. Aaron returns to visit Chas, but she reprimands him after she catches him talking to other people about her behind her back. Louise Appleton witnesses Chas slapping Aaron and tells Gordon when he arrives to collect his son. Gordon tells Chas that her relationship with her son is over and that Aaron will not visit her again. Despite this, Aaron returns to Emmerdale several months later, staying longer than expected as he comes into contact with a person who has German measles and Sandra is pregnant. Aaron returns home to his father and his stepmother, after telling Chas that while she was away in the Army, her partner Carl King had a one-night stand with her cousin, Del Dingle.
2008-2009: Arrival in Emmerdale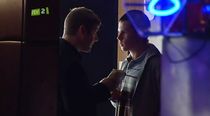 Aaron returns in November 2008, when he is arrested by Ross Kirk in Emmerdale for possession of drugs. He receives a caution, and, after being released from police custody, goes for a meal with Chas, who has been informed of his arrest. Aaron runs away from his mother later in the day, after they have an argument. In an attempt to track down the teenager, Chas's family visits Gordon and Sandra, who reveal that Aaron was thrown out for hitting Sandra. It is soon learnt by the Dingles that the teenager has become a drug courier for the McFarlanes, a local criminal family. The McFarlanes are angered by the discovery that Aaron has been with the police but reach an agreement with the Dingles that they will leave the teenager alone and no longer ask for his services if he never discusses their criminal activities. At Aaron's request, Chas agrees to take him home to Gordon, but he refuses to allow the teenager to return. Aaron vandalizes his father's office in revenge, but Gordon cannot prove this and Chas gives her son a false alibi. Aaron then reluctantly agrees to stay with his mother and the Dingles in Wishing Well Cottage.
Aaron initially clashes with Victoria Sugden, but they become friends and, on Christmas Day, he helps rescue her when she falls into a frozen lake. A few weeks later, Aaron trashes Carl King's house and vandalizes the graves of his relatives. He is found out and has to clean the graffiti off the house and graves. Aaron tells Chas that he does not want her dating Carl (now her ex) again, and she informs a disappointed Carl that they cannot get back together. Days later, the teenager convinces his younger cousin Belle Dingle to take the day off school and go with him to Home Farm, where the Wyldes are moving in. Aaron steals from their van, accidentally leaving Belle to take the blame. When her mother Lisa finds out, she throws him out, and he and Chas move into Smithy Cottage, the home of his mother's boss, veterinarian Paddy Kirk. When the vet catches him selling animal drugs, Chas and Aaron return to stay with the Dingles, and Lisa Dingle has Aaron take a job as a mechanic at the garage of his cousin Debbie Dingle. Debbie's father and Aaron's rogue uncle, Cain Dingle returns to Emmerdale after stealing a fortune from the Kings. Aaron instantly looks up to his uncle, worrying his mother Chas.
Aaron begins a relationship with Victoria, but he and her foster brother Daz Eden constantly argue about it, with Daz claiming that Aaron has been taking advantage of the underage girl. One argument results in Aaron being punched and knocked to the ground, while a second ends in Daz being left bloody-mouthed. Aaron loses his virginity to Victoria, but breaks up with her when he finds out that she has had sex with Daz. He then tells Daz's brother Andy about Daz and Andy's adopted sister Victoria sleeping together, leading to Daz fleeing Emmerdale to escape Andy's fury. As Chas has started dating Paddy, she and Aaron move back into Smithy Cottage. Aaron initially doesn't take to Paddy and takes the micky out of his wimpish ways. However, Aaron eventually starts to bond with Paddy. Aaron begins flirting with Holly Barton, after her family move into nearby Butler's Farm. When Aaron ignites a bale of hay at the Bartons' farm, Holly's father John Barton hits him and locks him in a stable for a short time. The teenager reports John to the police but agrees to drop all charges after the Dingles and the Bartons learn that Aaron attempted to use the situation to blackmail Holly for sex.
Chas cheats on Paddy with Carl. While Aaron is on holiday in Ibiza, Carl tells Paddy and he throws both Chas and Aaron out. His mother has left her job at the vets and moved in with Carl. Upon coming home and discovering all this, a furious Aaron tells Chas that he hates her and wants nothing more to do with her. With nowhere to live other than Zak & Lisa's, Aaron decides to run away.
After Paddy finds Aaron attempting to hitchhike out of town, they talk and Aaron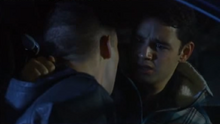 convinces Paddy to let him move back in. Shortly thereafter, the Bartons show some forgiveness to the teenager. He becomes best friends with Holly's brother Adam and tries to kiss him after they are involved in a run-off-road collision. A shocked Adam pulls away and confronts him. Frightened that everybody will know his secret, an embarrassed Aaron tells his friend that he did not try to kiss him and that Adam must have misunderstood the situation. Adam is unconvinced and expresses disapproval when Aaron enters into a relationship with Holly.
2010-2012: Coming to terms with his sexuality and relationship with Jackson Walsh
After Aaron sleeps with Holly, Adam tells his family what happened on the night of the crash and asserts that Aaron is gay. All of Adam's family believe that he has misread the situation, and state that Aaron is as straight as they come. This view is shared by the Emmerdale locals when the claim is spread. Aaron confronts Adam, who tells him that he is fine with Aaron being gay, but that he does not want his sister to be used to conceal his friend's sexuality. Aaron again denies being gay and states that he will continue to date Holly. Aaron's friendship with Adam deteriorates, and his relationship with Holly ends when she tells him that something is missing from it.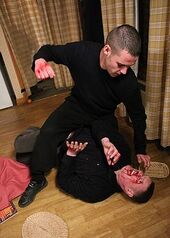 In March 2010, Aaron visits a gay bar and meets Jackson Walsh. He leaves his phone behind and Jackson finds it, returning the phone to Paddy and leaving his number for Aaron to call. Aaron is terrified that Paddy will work out what has been going on, but returns to Bar West to meet with Jackson. This time Paddy watches from the car and is convinced that Aaron has returned to his drug-dealing when he sees him and Jackson exchange something outside the bar, not realising that Jackson gave Aaron his business card. Paddy confronts Aaron, who denies being a drug dealer. When Paddy discovers that Aaron visited a gay bar, he asks Aaron if he is gay and Aaron attacks him. Aaron tearfully apologises and admits that he is gay but rejects his sexuality. Paddy attempts to convince him that he cannot deny who he is, and tells Aaron that he is like a son to him and that he loves him. Unable to face Paddy anymore, Aaron runs away, though he soon returns to the village, intent on living in denial of his sexuality. Chas and her cousin Marlon Dingle suspect that Aaron is responsible for the assault on Paddy, who lies to them both about the origin of his injuries to cover for the teenager. However, they remain unconvinced.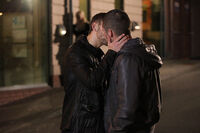 Aaron agrees to meet Jackson, but changes his mind and has a drink with Victoria, who suggests giving their relationship another go. Aaron turns her down and she apologises, telling him that they can be just friends. However, Jackson comes to the village and he and Aaron talk. They go to kiss, but are interrupted by Paddy and Marlon. They do not see anything but Aaron still tells Jackson to leave. Paddy then confesses to Marlon that it was Aaron who attacked him and reveals to Marlon that Aaron is gay. Aaron returns to Bar West to find Jackson, who initially ignores him but eventually relents and offers to buy him a drink. After a night out at the bar, Jackson and Aaron kiss however Adam sees them together. Aaron tries to ignore Adam even though Adam says he has no problem with Aaron being gay.
The following day, Jackson comes to The Woolpack and when he touches Aaron's arm, Aaron punches him. Aaron is charged with ABH and told he will stand trial. Paddy then tells Chas that Aaron is gay. Aaron finds out that Chas and Marlon know about his sexuality and tries to kill himself by inhaling car fumes, but Cain and Adam drag him outside. He is taken to hospital in a coma. When he wakes, Aaron is visited by Chas and Adam, and their support for him in the following days restrengthens his relationship with both. With the court day looming, Chas and Paddy encourage Aaron to admit he is gay to try and get a lighter sentence. However, Aaron refuses.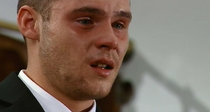 Despite this on 13th May 2010 during his court case, Aaron tearfully admits that he is gay in front of his family and Jackson. Aaron gets community service. When a newcomer starts at community service, Wayne Dobson begins to taunt him but Aaron comes to his aid, embarrassing Wayne in front of the whole group. Wayne Dobson then taunts Aaron about his sexuality. Jackson witnesses Aaron being threatened by Wayne and protects him. After talking things through, they share a kiss and spend the night together. Aaron and Jackson then begin a relationship.
Jackson's mother, Hazel Rhodes, accidentally floods Jackson's apartment and Paddy asks them to stay at Smithy Cottage. Aaron, having met Hazel previously, is none too thrilled about the arrangement and makes his feelings clear to Jackson and Hazel. Jackson picks up on this and, having finished the renovations on Declan's house, decides to book his mother into the B&B and go on holiday himself, giving Aaron some space. Aaron, having finished his community payback and not wanting Jackson to be scared off by his moodiness, offers to go on holiday with Jackson, also allowing to let Hazel stay on at Smithy Cottage. Upon their return, the boys decide to give living together at Smithy Cottage a try.
In September 2010, Aaron sells a clocked car to Mickey Hall. Mickey finds out about the car being clocked and demands his money back but Aaron refuses. Aaron uses his dog, Clyde, to try to intimidate Mickey, but Mickey sets his own dog on Clyde, seriously injuring him, so Clyde has to be put down while Aaron breaks down in Paddy's arms. Jackson pays Mickey his money back and while Jackson and Aaron argue, Jackson tells Aaron that he loves him. Aaron believes things are becoming too serious for him and the pair do not talk for days. They make up though and invite Paddy and Marlon on a night out to the gay bar. Aaron goes out for a cigarette and spots Mickey. Jackson once again dumps Aaron after realising Aaron will never change his violent tendencies. They have an emotional chat and Aaron says he doesn't know if he loves Jackson because he's not used to people caring about him, so he doesn't know how to care about others, let alone love someone. Aaron gets out of the van and Jackson drives off. Aaron tries to ring him to say that he didn't mean it, which makes Jackson lose control of the van when he tries to pick up his phone. He crashes onto a railway line and subsequently gets hit by a train. Aaron runs after Jackson and finds him unconscious with obvious head injuries.
At the hospital, Hazel and Aaron bonds and Hazel confines in Aaron that Jackson is permanently paralysed from the shoulders down and will not walk again. Aaron then tells Jackson the news as Hazel is unable to. Jackson blames Aaron for the crash and they break up. Hazel tries to make them make amends but Aaron refuses to see Jackson. However, after an emotional exchange, Hazel reveals that the real reason Jackson finished with him was because he knew Aaron was too immature to cope with what had happened and was giving Aaron a way out. Angry, Aaron goes to Bar West and meets a guy named Nick. After a brief conversation, Nick offers to move somewhere else to make a night of it. Aaron hesitantly agrees but leaves while Nick is distracted by his friends. He visits Jackson, who has mixed emotions about seeing him. Jackson pushes Aaron away and Aaron realizes that nothing else was getting through to him, tells Jackson about him and Nick, which causes Jackson to get agitated. Aaron then explained that he couldn't go through with it because all he could think about was Jackson, which left Jackson near speechless. Aaron then says that it was them against life and that he would never let him down again and the two get back together.
Aaron helps Hazel prepare for Jackson's moving in Dale Head. They're gutted, however, when they're told Jackson will have to stay overnight due to high blood pressure. Aaron, not wanting Jackson to spend the night alone, visits the hospital well after visiting hours and watches a movie with him. When Jackson can move home, Aaron focuses his whole life into caring for Jackson causing concern from Paddy who tells him he can still have a life outside of caring for Jackson. One night Aaron goes out with Adam and meets Flynn Buchanan, who clearly feels attracted to him. They continue to see each other and Aaron feels like he is cheating on Jackson. Following a heart-to-heart with Chas, Aaron builds up the courage to tell Jackson about Flynn. Jackson tells him that he should call Flynn, before making it clear that as far as he's concerned, their relationship is over -- they can only ever be friends. Aaron tells Flynn he's single and they go on a few dates.
Aaron tells Flynn about Jackson and that he cannot forget about him. Aaron then tells Jackson that he loves him and they get back together. However, Aaron feels Jackson isn't opening up to him and watches his video diary and is shocked to hear Jackson admit that he wants to die. He tells Hazel who watches it and they try to work out how to help Jackson. Aaron confesses to Jackson what he and Hazel did and the both become determined to show Jackson that he has a life worth living. Jackson is admitted to hospital with a chest infection and it strengthens his resolve to end his life.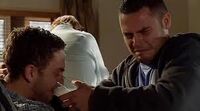 Jackson, Aaron and Hazel go to Whitby and Aaron books Jackson on a tandem skydive. Aaron thinks Jackson has changed his mind about dying, but is gutted when he hasn't. Aaron is shocked to learn that Jackson has managed to convince Hazel to help him end his life. Jackson later promises Aaron that nothing is going to happen until Aaron is ready. Jackson breaks up with Aaron to make the process easier and Aaron agrees to help Jackson end his life. Jackson tells his mother and Aaron how grateful he is for their support and when Hazel cannot give Jackson the pills, Aaron takes the cup and gives it to Jackson, causing him to die. Aaron tells Adam that Jackson is dead and what he did. Hazel is arrested and Cain accompanies Aaron to the police station and tells them what happened.
The police investigate Jackson's death and arrest Aaron for murder. Aaron is forced to miss the funeral as he is due in court. He is released on bail and he goes to Jackson's grave to say goodbye. At his trial, Aaron is found not guilty of murder but he still blames himself starts lashing out at people. Aaron goes to Jackson's grave takes his frustration out on the flowers thus trashing the grave. He moves in with Chas in the Woolpack but Diane has worries about Aaron moving in and demands Aaron to get out as he is at the centre of drama at the bar when he fronts up to Carl threateningly. As Chas worries over her son's future, Aaron's erratic behaviour continues to escalate. Aaron breaks into Carl's house with the intention of getting arrested, but Carl does not press charges.
Chas tries to talk to Aaron but Aaron tries to leave as Chas gets in the car with him. Aaron is angry and begins to drive recklessly. As he gets more emotional, Chas grabs the hand brake. Aaron loses control of the vehicle and the car swerves off the road into a ditch. Chas bleeds from the head as Cain rushes to the scene. Chas is fine but Cain angrily threatens Aaron. Chas and Aaron argue and Aaron says he wants to give up on life. Chas telling Aaron to get over himself and smashing cars and hurting other people won't make him feel any better. Aaron apologises to his mum but struggles to regain control over his life. Consumed with guilt,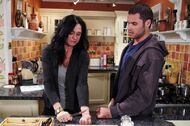 Aaron starts self-harming. When Sean Spencer steals money from the garage, Aaron chases him and collapses. He recovers and Chas tries to get him to open up to her about his problems. After having another fight with Hazel, Aaron goes to his room to cut himself. Chas follows and is shocked to discover he is self-harming. Chas tells Paddy, who talks to Aaron however. Aaron refuses to stop self-harming and Chas is terrified by his controlled manner. Chas resorts to desperate measures and threatens to harm herself with a knife. She clings to Aaron when he takes a knife off her and Aaron promises to stop hurting himself. She books him to the GP to try and help him.
Aaron is chuffed when Paddy asks him to be godfather to Leo Goskirk. Aaron apologises to Hazel for being mean to her and feels guilty at how scared she is of him. Hazel wonders what is wrong with Aaron and is upset when he tells her about his self harming. Aaron starts visiting a counsellor following encouragement from Hazel and Chas. Teenager Sean Spencer starts causing trouble at the garage. Aaron loses his patience when Sean pays a second visit, so he grabs him to get him out of the way. Sean stumbles and falls, cutting his head before leaving. Aaron is concerned but Sean runs away. Sean's mother Ali Spencer questions Aaron about the injury but calms when she realises that Sean's been hanging around the garage and apologises, heading home. Sean starts to trash the Dingle's vehicle. Aaron offers to have a word with Sean, and Zak's proud when Aaron manages to get Sean to leave the van calmly. Aaron then leaves the village for a month after being specially chosen to take a mechanics course in Birmingham, leaving Chas proud.
Aaron returns on the 14th December 2011 after Cain is brutally hurt and gets fixated on finding who's guilty. Aaron sleeps by Cain's bedside and is there when Cain wakes up, calling for the nurses. Wanting revenge, Aaron tries to encourage Cain to get better so they can sort out whoever did this to him. Aaron and Chas are by Cain's bedside when Cain's ex Charity Dingle enters, wanting to discuss things with Cain. Cain then tells them that Charity's fiance Jai Sharma was the one who did this to him, infuriating Charity who lunges at Cain, only to be held back by Aaron. The police then come in and chuck them out, wanting to speak with Cain. Aaron starts to constantly visit Cain and is happy when Cain is released. Aaron insists on caring for Cain, worrying Chas who does not want Aaron to become like Cain. Debbie encourages Aaron to visit Hazel and he reluctantly does so, annoying Chas as he was supposed to be visiting his counsellor.
In January 2012, Aaron celebrates his 20th birthday with Chas and Hazel in the pub however he wants to avenge Cain's attack. He goes up to Jai's house and throws a brick through Jai's window, demanding Jai to come out. Zak has to restrain Aaron and Aaron breaks down, wondering why all the people he cares about end up hurt and Zak tells Aaron he'll sort it out. Chas thinks she has got through to Aaron, however, he still seems hell-bent on revenge. Zak tells Aaron that Jai is innocent as he was Cain's attacker, disgusting Aaron. Aaron then comes around as he realises how out of control Cain had become and how desperate Zak was.
Hazel decides to leave the village for good. She pleads with Aaron to come travelling with her but he declines, saying he needs to be with his family. Before she leaves, Hazel goes to Jackson's grave to say her goodbyes. Aaron comes to see her and tells her that even though Jackson will always be a big part of his life, he needs to try and move on. They tearfully embrace and Hazel departs.
Aaron and Adam become friends again, however, their relationship becomes strained when Chas and Adam's father John start seeing each other as Adam wants his parents to reunite and calls Chas a whore, angering Aaron. John dumps Chas when he realises he wants Moira and they go out on a holiday to try and patch things up however they end up crashing. Aaron supports Adam when John dies.
In February 2012, Aaron meets Ed Roberts when he brings a minibus to the garage to be fixed. However, when Aaron becomes involved in an argument with Adam, Ed leaves. He later returns with his rugby teammates and Aaron fixes the minibus, but Ed drives off without paying the bill. Ed later returns to pay Aaron and when he brings his car to the garage for Aaron to look, he gives him his phone number. Aaron arranges to go for a drink with Ed, but he cancels to help Adam fix a roof. Ed turns up with two of his teammates to help out. Ed initially mistakes Aaron and Adam's friendship for something more, but Aaron corrects him and they kiss. They go on their first date to Bar West, but Ed leaves early when he finds out about Jackson. Aaron becomes angry with Ed and deletes his phone number. Ed comes to visit Aaron and he apologises. Aaron reveals his scars from self-harming to Ed and they spend the night together. Ed tells Aaron that he has been signed for a French rugby club and is leaving for France in four weeks. He asks Aaron to come with him, but he turns him down. Aaron spots a fire in the garage and helps Adam save Cain, who had become trapped. Aaron then learns Adam deliberately started the fire and not wanting his friend to be sent to prison, Aaron tells the police that he was responsible for the fire. He is released on bail, but on the day of his court hearing, Aaron goes to France with Ed on 5th April 2012.
2014-2015: Return and affair with Robert Sugden
Aaron returns to England in August 2014 to help his best friend Adam, who is involved in a robbery with Ross Barton and Donna Windsor. In order to be able to stay in England Aaron hands himself in to the police and confesses to giving false evidence regarding the garage fire in 2012. He gets a suspended sentence and returns to the village officially. On his return celebration in the Woolpack he meets Finn Barton and they have a one-night stand.
In November 2014 he is asked by Charity Dingle to start a chop shop with Ross Barton, and reluctantly agrees; however, when Robert Sugden later tracks his car down after Ross had stolen it, Aaron and Ross are roped into faking a robbery at Home Farm so that Robert can act the hero and get praise from Lawrence White, the disapproving father to his fiancee, Chrissie White. Aaron and Ross complete the deed, undetected. After Chrissie finds out about Ross' colourful history with the police he leaves town for a few days, in fear that he will be charged for the illegal car dealings and that the fake robbery will be exposed.
On the 26th November, Robert pokes fun at Aaron, suggesting that he has been "checking out" fiancee Chrissie. Aaron tells him that he is gay. On the 4th of December, Robert calls him exclaiming that his car has broken down and he needs assistance - this is a ploy in order to get Aaron alone. Though Robert is reluctant to act on his true intentions, and somewhat surprised by Aaron (who is angry because he believes that Robert is simply time-wasting) he seizes the moment and they passionately kiss. As things start to get more heated, Robert quickly brushes Aaron off and later returns home to have sex with Chrissie. But later that night, Robert goes to find Aaron at the garage and they end up having sex in the back of a car. Afterwards, Aaron enquires about Robert being bisexual and if Chrissie knows but Robert corrects him, asserting that he is straight. He abruptly leaves and Aaron is conflicted.
When Aaron and best friend Adam Barton decide that they want to start up a taxi service, Robert invests £10,000 in the business - this acts as a cover for the newly-formed affair he is having with Aaron. The two begin meeting in barns, hotels and anywhere else they can get away with, including the garage and the Woolpack. After the taxi service falls through when Adam finds out that you can't have a permit if you have a criminal record, the boys re-think and decide to invest their time and money in a scrap-yard operation.
Following a fall-out between Aaron and Robert, Katie Sugden sees a text sent from Robert's phone that says "Kiss and make up?", which has been sent to a contact only labelled "A". She becomes suspicious of Robert's motives, and this suspicion grows and strengthens until her eventual death. Robert books a hotel room out of town for himself and Aaron, but when Katie, accompanied reluctantly by Chrissie, blows his cover by spotting his car in the hotel's parking lot, Aaron is forced to return home. Distraught, he confides in father-figure Paddy Kirk, explaining that he is in love with an anonymous married man. He decides that he only has two options: live with the fact that Robert won't leave Chrissie, or blow the affair. When Aaron takes charge of the situation and doesn't show at the barn when Robert asks him to, Robert tells Aaron that the entire affair meant nothing to him. Both heartbroken and furious, Aaron - who is aware of her suspicions - informs Katie that she is right about Robert having an affair, and that he can prove it.
On the day of Robert's wedding, he and Aaron meet at Wylies Farm for one last fling. Pleading Robert not to get married, Aaron admits that he is in love with him and that he doesn't want to see Robert marry Chrissie when they both know he doesn't love her. However, Aaron has set up the visit and, just as the two go in to kiss, Katie, received a text from Aaron informing her their location, walks into the room and takes a photo using her mobile phone. Unable to cope with the intense conflict that instantly arises, Aaron exits, leaving Robert and Katie alone at Wiley's.
When he is called back to the farm by an emotional Robert, Aaron is horrified to learn that Katie is dead - he is unaware that it is Robert's fault, and Robert, knowing he can use this to his advantage, exclaims that it was an accident technically caused by Aaron, because it was Aaron who told Katie to go to Wiley's in the first place. Believing him and blaming himself, Aaron offers to wipe down the barn of any evidence that he and Robert had been there while Robert goes to the church to get married.
Distraught, heartbroken and sick with guilt, Aaron struggles to cope with his feelings. At Robert and Chrissie's reception, Aaron smashes a beer glass and squeezes a shard in his palm, causing a cut that he periodically applies pressure to when he feels the need to hurt himself. After Paddy figures it out, Aaron reveals to Chas and Paddy that Robert is his mystery man. Horrified that the deceased Katie was right, Chas scorns Aaron but tells him that he deserves better. She later confronts Robert about the affair, telling him to end their relationship, to which he agrees.
Sickened by guilt, Aaron tells Chas that he won't be attending Katie's funeral. He does, however, but not without difficulty. Before the ceremony, Aaron pulls Robert aside and warns him that he's going to blow everything, admitting the affair and telling everyone that they were the last people to see Katie before she died. During the service, Aaron tearfully rises from his seat, but leaves before admitting anything. Later that night after discovering a note left to Robert, Aaron and Robert prevent Andy Sugden's suicide attempt at the Quarry, and while there, Aaron experiences a tense moment where he seems to contemplate jumping into the quarry himself, but he tearfully resists. He later tells Robert that their affair is over for good this time, and when Robert says, "And you're not going to be texting me the minute I'm out that door, saying you made a mistake?" Aaron sternly replies, "You won't be hearing from me. Not any more."
Aaron begins to take up intense workout sessions, mainly running, to over-exert himself as an attempt to keep the self-harm subliminal. He decides to train for a half-marathon in order to raise money for a charity in Katie's name. Aaron continues to train relentlessly for the half-marathon, running at least 3 times a day, causing exhaustion and his feet to bleed. Robert, after seeing him be sick after yet another run, seeks Aaron out and begs him to take his frustration out on him instead. He admits being responsible for Katie's death (though only tells a partial truth) and begs Aaron to stop punishing himself. Aaron brutally beats him up and drives off. Back at the pub, Aaron is about to tell Victoria everything but Robert interrupts them. He tells Aaron he can't bear to see him suffer and that he loves him. After swearing there are no more secrets, they resume their affair. Robert and Aaron spend a week together at Home Farm while the Whites are away but when Robert tells Aaron of Chrissie's imminent return, Aaron is gutted about how easily Robert can slip back into his other life and goes for another run in the woods, this time injuring himself and leaving him stranded for the night. Chas begs Robert to help her find him and she gets Robert to admit he and Aaron are seeing each other again. When they discover Aaron, Chas is surprised to see the care and tenderness Robert shows her son but warns him she will tell Chrissie about the affair, leaving Robert in a panic. Paddy and Chas work out Aaron's training and subsequent accident is because of Robert and they beg him to move on. Aaron tearfully tells them Robert was the one who kept him going and he'll accept scraps if it means just being with him. Chas tells Robert she will keep the affair from Chrissie as long as he treats Aaron fairly.
Ross lets slip to Chrissie that Robert was behind the heist on Home Farm in November and she throws him out. He receives a payout from Lawrence and asks Aaron to run away with him but Aaron tells him he can't be bought and goes to see Chrissie, tearfully telling her that Robert loves her and she should take him back.
A few weeks later, Aaron is the best man at Adam and Victoria's wedding. Robert, who had planned to sabotage it, is captured and beat up by Cain (who Robert had previously been blackmailing about a kiss with Chrissie) until Aaron, who couldn't bear to hear Robert being tortured, stops him and later tearfully tells Cain about his affair with Robert as a means to stop the violence and Robert's blackmail but subsequently gives Cain the ammunition to turn the tables on Robert and blackmail him instead.
In July 2015, Aaron won the Lawrence White Business Enterprise Awards for Holey Scrap. Aaron resumes his affair with Robert, but later finds out that Robert tried to kill Paddy, who was helping Andy out at the farm and the grain machine turned on, nearly burying Paddy alive. Aaron confronts Robert, which leads to Robert admitting the full truth to Aaron about what happened to Katie on the day she died. Aaron punches Robert, who then knocks Aaron unconscious. Aaron is then held hostage. Paddy attempts to save Aaron, who is being held at gunpoint by Robert, but is accidentally shot by Robert who is struggling to end Aaron's life. Eventually, Robert lets Aaron and Paddy go, as the two promise not to say anything about Robert holding them hostage. However, as a final act of revenge Aaron turn up at Home Farm hours later exposing their affair to a stunned Chrissie who eventually believes him after he divulges into details about where they went and by telling her he knew where she was as well. Aaron is seen to attend the stag do of Pete Barton in August 2015. As he attends the wedding of Pete and his cousin, Debbie, Aaron witnesses a confession recorded, revealing that Debbie had an affair with Pete's brother, Ross. As a helicopter comes tumbling through the Village Hall, Aaron, along with all the other wedding guests are put at risk as the roof collapses on top of everyone. Aaron survives and helps save other victims, but the deaths of Val Pollard and Ruby Haswell shock the village.
In September 2015, after discovering Wylie's Farm has been sold, Aaron began to mend his friendship with Andy Sugden by offering to help him sort Katie's belongings. While doing so, Andy found Katie's final phone bill and was curious to find a mysterious number as her final caller on the day she died. Unbeknownst to him, the number was Aaron's, who then turned off his phone when Andy tried to ring the number, fearing Andy could learn the truth about her death. He then bought a new phone, and after a run-in with Robert when Aaron and Andy were in a bar, he left the village to stay with a friend for a few weeks. In that time, Andy discovered that the number was in fact Aaron's.
Aaron returned later that month when Andy questioned him why he hadn't revealed to be the mysterious caller. Panicked, Aaron lies to him that Katie had phoned him about changing her car so she could get some money to start a new life away from Andy, but Andy doesn't believe him. Suspicious, Andy confides in Robert that he thinks Aaron is lying. At the same time, knowing something is going on, Chas demands Aaron and Paddy tell her what's going on. After trying to make sense of things with Robert, Andy figures out that Aaron must of been lying, but deducts that he wouldn't of killed her. After questioning Robert more, Andy managed to get Robert to admit to pushing Katie to her death, leaving out Aaron's involvement completely. Elsewhere, Aaron ends up admitting to Chas that Robert killed Katie and that he covered it up, telling her that Robert is a psychopath but he loves him.
Robert is later arrested by the police, but released soon after. He turns up at the scrapyard to see Aaron and tells him he left him out of it and that they're off the hook. Angry, Aaron calls him a pathetic coward. Robert goes on to insult him horribly, telling him he should never been with him and that they are more alike than he thinks because he "murdered" Jackson. Aaron is seething and tells Robert he'll never talk to him like that again.
When Andy confronts Robert again, he asks Aaron to tell him the truth about Katie, knowing he is the only one who can show Robert's guilt. Chas, however, steps in and confirms Aaron's story that Katie was leaving him, leading Andy to storm off in anger. Later that night, Robert was shot by a then-unknown shooter. Aaron appeared on the scene not long after Robert was shot where he helped limit the bleeding from Robert's wound.
In the following weeks, Aaron began acting suspicious as he hid the gun. He visited a comatose Robert in hospital where he told him to hurry up and die, and later suggested to his sister Victoria that Robert deserved what'd happened to him. While Adam and Victoria were filming a video for Adam's son Johnny, they accidentally caught Aaron concealing the gun in a car at the scrapyard, although they weren't aware at the time. When editing the video, Adam discovered what his friend did and confronted him about it. Aaron admitted to having the gun and hiding it to protect his mother when he believed she was guilty. Stuck, Adam agreed to help get rid of the gun and deleted the incriminating video. At the same time, however, Victoria uploaded the video without knowing what it contained to the Internet, where it was later seen by Priya Sharma and Rakesh Kotecha. Rakesh reported it to the police, and after discovering the gun at the yard, Aaron was arrested at the pub. He was then charged with possession of a fire arm and attempted murder, and having a suspended sentence, was then immediately remanded in custody.
While in prison, he was visited both by his mother and Cain at different times. Aaron explained to Chas the truth behind the gun, revealing he hid it to protect her. When Cain visited him, Aaron had lost hope and began speaking about Jackson Walsh and how he'd found a way out, suggesting to Cain that he may be suicidal. Worried, Cain came up with a plan to kill Robert and frame Chrissie to free Aaron, but the plan was thwarted by Zak who reasoned that it wouldn't help Aaron.
In a Rewind episode of the night's events, it was revealed that Aaron had spoken to his mum Chas about Robert, telling her that he can't trust himself to be around Robert because despite all he's done, he still loves him. Chas is worried as Aaron walks off, fearing what he'll do. After seeing Robert with Lawrence, Aaron went to the garage. Later on when he was leaving, he heard the gunshot and dropped a crowbar as he ran to inspect the shot. In doing so, he alerted the actual shooter Ross Barton to his presence who then quickly hid, but in his haste dropped the gun. As Aaron approached the scene, he discovered the gun, and upon seeing Robert being shot and Chas close by, he presumed she had shot Robert and so took the gun to conceal it to protect her.
Aaron didn't appear again until his plea hearing in November 2015 where he pleaded not guilty to shooting Robert. Frustrated as he had been led to believe Aaron was guilty, Robert goads Aaron in court to tell the truth, but it goes wrong when Aaron tells him he should have done everyone a favour and stayed dead, leaving Robert shaken. After discovering Andy's involvement in his shooting, Robert made a false statement to the police about the shooter to get Aaron released. After returning to the village the following day with all charges dropped, he met with Robert and accused him of trying to mess with his head again, before saying he hates him and nothing will ever change that, leaving Robert shocked and hurt.
Due to having PTSD (triggered by witnessing Robert's shooting), Chas begins having panic attacks and starts sleepwalking, often trashing the pub without being aware of it. Believing Emma Barton was stalking her and causing all the damage, Chas armed herself with a knife and accidentally stabbed Diane. She handed herself into the police, but was released pending further investigations. Shortly after, she started hallucinating, seeing Robert being shot over and over again as well as him chasing her through the woods speaking in the voices of her dead lovers, Carl King and Cameron Murray. When she was found, Aaron, who had approached Emma about his mum's condition, having noticed something was wrong with her before the stabbing, tells her that she may be suffering from PTSD and tearfully promises to get her help. Doug, upset about Diane's stabbing, thinks Chas' diagnosis is very convenient to get her off the hook and believes she's lying. This angers Aaron, and Robert, despite being concerned about his stepmum, didn't like seeing Aaron upset and got Doug to back off, which Aaron appreciated, therefore allowing trust to start forming between them again.
2016: Sexual abuse and reuniting with Liv and Robert
In January 2016, after the return of his father, Gordon Livesy, Aaron contemplates self-harm again by almost burning his arm on some birthday candles, but Cain catches him. Aaron admits that he has found it hard to accept his father's return which is why it resulted into him hurting himself again. At this point he also finds out about Paddy's affair with Leo's teacher Tess Harris.
It all gets too much for Aaron a few weeks later when he learns that his parents are back together and he considers running away to France, but when attempting to get in a car and drive away, he is stopped by Robert, who takes Aaron to hospital after he collapses. Robert questions why Aaron is self-harming again. Aaron pleads with him to leave it and discharges himself from hospital. Robert finds Aaron hiding at Debbie's house and tries to get him to speak about what's troubling him, telling him nothing is worth this much pain. Aaron suddenly breaks down in tears and admits to Robert that Gordon raped him when he was a child. It began when he was 8 years old, just after Chas left and happened twice more throughout his childhood as punishment to "keep him in line". Robert implores him to tell Chas but Aaron tells him he can't because it would destroy her. Aaron asks Robert why he hasn't walked away and Robert tells him it's because he still loves him and he couldn't bear the thought of losing him. Robert gently tells Aaron he'll be there for him when he's ready and promises him he isn't on his own anymore.
After Robert angrily confronts Gordon about the rape, Aaron is horrified to hear that Robert is doubting what he says about what happened to him in the past, as Robert thinks Aaron may have been affected by false memory syndrome. Aaron is discharged from hospital and confronts his father about his twisted lies. Gordon later leaves.
In February 2016, as the for sale sign is being removed from the Woolpack, Aaron gets suspicious and believes Gordon has bought the pub, however, Chas has secured a loan to allow her to buy out Diane. Aaron accuses Chas of seeing Gordon again behind his back. Chas had enough of Aaron's behaviour and tells him he needs to move out. The next day, after Robert tells Chas that instead of throwing out her son, she needs to speak to him, Cain also reveals he caught Aaron trying to harm himself with his birthday candles. Cain thinks that Robert knows something else. When Chas pays Robert a visit, Robert tells Chas that his self-harming caused his septicaemia, but nearly lets slip about the secret Aaron had told him. After spending the day with his mother at the seaside, Aaron breaks down as he tells Chas about his rape ordeal. Chas swears to Aaron she will make it better by confronting Gordon about what he did. When she returns, Chas tells Aaron that Gordon admitted to abusing him. Chas tells Cain, who goes to Gordon's home to exact revenge. When Aaron learns where Cain has gone, he stops Cain from killing Gordon and tells him that he wants to call the police. Whilst giving his statement to the police, Cain, at Aaron's request is telling the rest of the Dingles, Paddy and Adam of what Gordon has done to Aaron. Gordon is brought in for questioning and maintains that he is innocent and that Aaron is lying. Gordon also informs the police that Cain tried to make him take his own life. Gordon turns up at the scrapyard to try and bully Aaron into retracting his statement by telling him that he told the police about what Cain did to him. Aaron tells Chas that he can't see this through and is contemplating leaving again. Chas convinces Aaron to take some time away from the village to get his head straight. He goes to stay with family in Ireland. The day after, Robert comes looking for Aaron at the pub and is hurt that he's left and still doesn't trust him. He promises Chas that he will prove himself to both her and Aaron by helping run the scrapyard in Aaron's absence.
When Aaron returns in late February, he learns that Chas vandalised Gordon's car by painting "Paedo" on it and the truth about him is all over Twitter. Furious, Aaron demands Chas to tell everybody in the pub that Gordon is innocent or he will walk away for good. Chas attempts this but her composure slips and she angrily blurts out what happened to Aaron to the whole pub which left Aaron upset that his secret is out. The next day Robert tells Aaron that he shouldn't be angry with Chas as she struggled in his absence and that everyone is on his side. Robert then helps Aaron out by tracking down his stepmother Sandra Flaherty. The next day, they travel to York to talk to her, but Aaron is nervous about seeing her again so they go for a coffee first and Aaron thanks Robert for being there for him. He leans in for a kiss, but Robert, unwilling to take advantage of his vulnerability, backs away, telling Aaron he can't. Upset by the rejection, Aaron storms off. Robert catches up with Aaron and tells him that he'll always want him but the timing isn't right. He promises Aaron he'll wait for him and he is willing to give their relationship a proper chance if that is what Aaron wants, which Aaron assures him it is.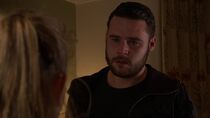 After an unusual re-introduction to his half-sister Liv Flaherty, where she steals Aaron's wallet, Aaron pleads for Sandra's help, but she is adamant that she didn't know anything, until she slips up that she changed her name to keep Liv safe. Aaron works out that she knew everything and gets angry with Sandra. Tearfully he tells Liv what kind of person their dad is and returns to the Woolpack with Robert, where he despairs that all is lost. After Chas criticises Cain for not showing support, he pays Aaron a visit and says he loves him and wants justice against Gordon but not for Aaron to suffer any more because of it, so he should drop the case, as he was about to do that, Aaron learns a male victim has come forward to say Gordon abused them. Later unbeknownst to Aaron, it's revealed that Robert paid Gordon's neighbour Ryan to lie to the police to get Gordon charged. Gordon accuses Chas for paying Ryan to lie to the police, not knowing it was Robert. After the police escort Gordon away, Robert admits to Chas, that he was the person who paid Ryan. Aaron returns having found out about Gordon paying a visit. Chas tells him she just called the police on Gordon. The police return the next day to inform Aaron that because of Ryan's statement, they are pressing charges against Gordon. The next day, Aaron spotted Robert with Ryan, Aaron blamed himself for what happened to Ryan. However, Chas confesses to Aaron, Robert paid Ryan to lie that left Aaron upset and furious at Robert. Aaron broke down and says if his case falls apart, he will blamed it on him. The next day, Aaron visits Ryan and convinces him to retract his statement, Ryan agrees. Then Aaron visiting Gordon who told Aaron that he's blown the case, insisting that he'll inform the police about his lying before closing the door on him. Aaron returns and found out the police charged Gordon with his statement only. Aaron then tells Robert they should just be friends and Robert is gutted.
Nearly two weeks later, Aaron went out on his own, walks into his car and finds "Liar" scratched onto his car, he is unaware he is watched. The next day, Aaron went to Gordon's plea hearing with Chas, Lisa, Belle and Robert on by side. Gordon pretends to be ill and he collapses. DS Wise told Chas and Aaron Gordon had an alibi on the night Aaron's car was scratched. Later that night, Robert meets Aaron at the bridge who is struggling after the days events. He tearfully tells Robert that he spent 16 years trying to block out his memories and that he lived in fear of his dad creeping into his room at night and now after all this time, he has finally decided to open up about it, only for Gordon to try and convince everyone he's lying. Robert tells Aaron he has the support of the whole village, that he is stronger and he can beat Gordon. Robert then hugs Aaron, unaware Liv (the person who scratched Aaron's car) is watching them. The next day, Liv arrived in the village and accused Aaron of making up about their dad abusing him. Aaron tries to explain to Liv what Gordon did to him but Liv refused to believe him. Aaron and Chas discovers Liv is going to see Gordon. Aaron goes after her and runs into Liv at Gordon's house where she apologised to Aaron, unaware she still believes her dad over her brother. When they return, Chas has managed to convince Sandra to give a statement to the police.
Liv stays with Aaron for a while. Robert tells Aaron that Liv has been questioning him about Ryan. Aaron puts it down to curiosity and he brings up that Robert paid Ryan to lie. Unknown to them both, Liv records their conversation. The next day, Aaron is furious when he learns Liv had been spying on him for Gordon.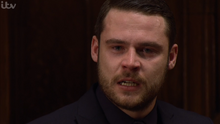 A week later, Aaron comes face to face with Gordon in court. They both give their testimonies, during which Aaron tearfully recounts the abuse he suffered while Gordon tries to play the victim and makes out Aaron accused him in order to sabotage his relationship with Chas. Aaron is scared the jury will believe Gordon's lies but is given hope when Liv takes the stand, and she tells the court she believes Aaron and calls Gordon a bully and a liar. Later, Aaron thanks Robert for standing by him and that he wants to be with him. Robert promises he won't let him down and they share a tender kiss. The next day, Gordon is found guilty by the jury. Aaron tells Robert that Gordon going to prison will not help him to forget what he did, but Robert encourages him to be happy.
Robert stays over at the Woolpack with Aaron. After the first night he stays, Chas seems elated to see him at breakfast the following morning and him and Aaron discuss taking a trip somewhere to get away from it all. But their plans change when Liv turning up and wants to stay with Aaron. Sandra arrived and says she is planning to move to Dublin, but Liv is refused to go. Liv told her mother, she wants to stay with Aaron and Aaron promises Sandra he will look after Liv.
In May 2016, Liv skips school to go to Gordon's sentencing. Robert went to court and found her. Liv tells Robert she missed the verdict but she needs to be there for this. Robert assures her Aaron will understand and contacts him. Once he arrived, Aaron decided to stay to see Gordon get sent down. Gordon is sentenced to 18 years imprisonment. Aaron is left confused when Gordon asks if he got his letter, unaware Robert burned it in order to protect him. Liv throws the pendant Gordon gave her back at him and viciously tells him she hopes he dies in prison. Aaron, Liv and Robert walk away as Gordon is taken down. When they arrived at the pub, Aaron is still confused about the letter but Robert covers his tracks by saying Gordon is a liar.
The next day, Aaron opens his deed polls that declare him as a Dingle. Chas and Charity excitedly plan to celebrate Aaron's name change. At the party, Aaron discovers Robert got rid of Gordon's letter. Later, DS Wise turns up and told Aaron, Liv and Chas that Gordon is found dead in his prison cell. Aaron left upset and angry at Robert for not giving him the letter before Gordon died. Robert told Aaron that he read the letter. Aaron left furious at Robert for keeping it from him. Later, Cain and Chas arrived and told Aaron that Robert could paying somebody to have Gordon killed. Aaron had a feeling that could be true. They were unaware that Liv was listening upstairs. DS Wise visited the following day, following a text from Liv. Liv tried explaining that Robert killed Gordon, but DS Wise reassures her that Gordon ended his own life, by hanging himself. Later, Aaron apologised to Robert for thinking he could have killed Gordon. Aaron admits he got scared if he killed Gordon because he knows what Robert would do for him but Robert told him he is not that guy anymore. Robert suggests Aaron visit Gordon's body in the mortuary. The next day, Aaron discovers Gordon had left almost £500,000 for him and Liv. Later, Aaron went to the mortuary with Chas supporting him. Aaron runs away when he sees Gordon's body. In the car, Aaron blames himself for not telling Gordon what he thought of him before he died. Chas assures Aaron that he has got a life, a family, a business and a future with Robert. Aaron thinks running away means he is a coward but Chas tells him that he is a strong person who is so kind to everyone but himself. Later, Aaron overheard Charity and Robert talking about his decision to walk away from the £250,000 that Gordon left him in his will. Aaron walks in and angrily confronts Robert, calling him manipulative and controlling. Robert tried to apologise to Aaron but Aaron refused to listen and ordered Robert to stay away from him. Devastated, Robert walks off. However, the next day, Robert comes to the pub and tells Aaron he'll never stop looking out for him and Liv, asserting that the inheritance will be useful for Liv's future. Aaron then convinces Liv to accept her share.
In July after agreeing to move in together, Aaron brings up Robert's shooting. Robert finally tells him the truth about Ross and Andy's deal, leaving Aaron fuming that it was kept from him for so long. Aaron confronts Andy and tells Chrissie what he did leaving her shocked. After Andy is set up by Chrissie and arrested for Lawrence's shooting, Robert helps him to escape police custody. Before Andy leaves, he and Robert finally reconcile, thereby ending their lifelong feud and Andy asks Robert to look after Aaron, who makes him a better person.
Aaron is invited to attend a trade course in France for a few weeks but he returns home early after he receives the devastating news that Holly has died. He and Robert go to Butler's Farm to support Adam and Victoria. When the topic of marriage unexpectedly comes up between him and Robert at Holly's wake, Aaron is left feeling embarrassed when Robert jokingly dismisses the idea. The next day, Aaron is caught off guard when Robert pulls him in for a very passionate kiss at the bar, unaware that his boyfriend is actually planning to propose to him.
2016: Kidnapping Lachlan White, the Hotten Bypass crash and engagement to Robert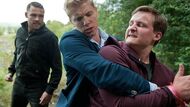 The next morning, Aaron arrives at the scrapyard and overhears Lachlan threatening to make false allegations against Robert for abuse, wondering out loud how long Gordon got for abusing Aaron. Livid, Aaron bursts into the portacabin, drags Lachlan into the yard and forces his head into a barrel of water, warning him to stay away. Robert manages to calm Aaron down and they arrange to meet later as planned. Aaron arrives at the barn and reveals to Robert that he has Lachlan tied up in the boot of his car. Robert reprimands Aaron for his actions, reminding him of how he reacted when he kidnapped Ryan but when Lachlan escapes, they are forced to give chase and manage to stop before falling over the edge of a very steep cliff. Aaron pulls Lachlan back from the edge until Lachlan gets the upper hand, almost forcing Aaron over until Robert appears and quickly pulls him off. Lachlan laughs at Aaron for defending Robert and blurts out that Robert slept with Chrissie's sister, Rebecca forcing Robert to admit the truth about his past with her. Once Lachlan is safely back in the boot, Aaron and Robert have a heated discussion which leads Robert to finally admit he is bisexual. Aaron finds it confusing but Robert insists it doesn't mean he will cheat. Leaving Lachlan in the boot, they take a walk in a nearby forest where Robert opens up about his relationship with Jack, and how his father caught him with a boy when he was 15. Robert insists Jack didn't want a son like him so he buried his feelings, but now he just wants to be himself. Aaron tearfully assures Robert that he is amazing and then says "I love you" to which Robert replies "Finally". They share a tender kiss and Robert reaches for his pocket but realises he's left the ring in the car. They head back and there is a nervous moment when a police car shows up. He checks the ID on Aaron's car but before he can make any further enquiries, he is called away to another incident - someone reported to be "driving erratically". The officer sends Aaron and Robert on their way. While driving, Aaron presses Robert for more information and asks him what if he's not enough. Frustrated, Robert tells Aaron that meeting him changed everything and he was going to prove it if Aaron hadn't wrecked it by kidnapping someone. Aaron asks him what he's talking about so Robert pulls out the ring and blurts out that he was going to propose. There is silence between them before Robert notices something coming their way and yells at Aaron to watch out; he manages to swerve away from the devastating motorway collision caused by Emma Barton but loses control of the car and crashes into a water-filled quarry.
Both regain consciousness but Aaron is horrified to discover his leg is trapped under the steering wheel and the water levels are rising rapidly inside the car. Robert makes several attempts to free him but Aaron tearfully begs Robert to save himself and tells him he loves him before slipping under the water. Adam and Victoria arrive at the scene to see Robert drag Aaron to the surface. Robert quickly administers CPR and manages to resuscitate Aaron just as a paramedic arrives. Robert dives back into the water to save Lachlan unaware that the teen already managed to escape from the boot and is watching from a distance. As Aaron is loaded into the ambulance, Adam tells him Robert saved his life but is terrified to see his friend suddenly become unresponsive. Aaron is taken to hospital and undergoes surgery for his liver. He regains consciousness as Robert, Liv and Chas keep vigil at his bedside. Aaron accepts Robert's proposal but his eyes suddenly close and he flatlines. Chas runs for help and Robert and Liv fearfully watch on as Aaron fights for his life which he later survives.
Aaron wakes up to see Robert sleeping by his bedside. They discuss the aftermath of the crash including Lachlan's escape and James' death. He remembers being underwater and Robert trying to save him but can't remember anything else. Aaron then notices the engagement ring on his finger and asks Robert if marriage is definitely what he wants. Robert tenderly touches the scars on Aaron's arm and reminds him he almost lost him, that he couldn't bear the thought of it happening again and that he wants to be with him forever. Moved by this, Aaron asks Robert to marry him and he immediately accepts. Adam and Victoria come to the hospital and Aaron offers his condolences to Adam about James. Vic then hands Aaron the second engagement ring and he slips it onto Robert's finger, making their engagement official.
Aaron and Robert gather with the rest of the village to pay their final respects to James. The following week, Aaron and Robert attend the Home Farm bonfire night and are shocked when Rebecca publicly accuses Chrissie of framing Andy. Later at the Woolpack, Diane fumes at Robert for keeping the truth from her and reminds him that even if they do find proof against the Whites, Andy still ran from the police and will be unable to return because of it. Rebecca then arrives with an incriminating video of Lachlan and Diane hopes it is evidence enough to make the Whites pay. Victoria is hurt after getting caught in the middle of a fight between Adam and Ross. Aaron and Finn go with them to the hospital where Aaron learns that Finn has been visiting Kasim nearly every day since the accident. Aaron voices his concerns and tells Finn he doesn't know anything about this stranger and he should stay away.
Aaron and Robert prepare for Lachlan's plea hearing and discuss getting Andy home as well as their wedding plans but are interrupted by a text from Rebecca. While in court, Aaron receives a call from a distraught Finn about Kasim so he calls Pete and tells him to be there for his brother. Later, Aaron informs Robert that Lachlan pleaded guilty to perverting the course of justice. Robert is satisfied with the result and tells Aaron their deal with Rebecca is off. The next day, Rebecca tells Aaron about her recent kiss with Robert in front of the entire pub. However, Aaron calmly calls her bluff, saying he already knew Robert was playing her before telling her she isn't a threat and to get over herself. Humiliated, Rebecca walks off. However, Aaron angrily confronts Robert about what happened and Robert assures him it was only to get Rebecca on side for Andy and it meant nothing before coming clean about what happened at court the previous day. Aaron fumes at Robert but he assures him he backed out of the plan because he couldn't risk losing him. The next day, things are still tense between them and Charity and Chas moan about the couple's constant bickering as well as how overcrowded the pub is which prompts Liv to ask Robert and Aaron why the three of them can't get their own place. After learning that The Mill is up for auction, Liv offers to chip in using her inheritance but Aaron refuses to use Gordon's money. Robert tries to persuade him that Liv needs some security and the move would be good for them all. They bring up the argument from the previous day and have an honest discussion about everything. Robert assures Aaron of his feelings for him and they make up.
After receiving a visit from the police over Liv's latest drunken antics, Chas is fed up with her constant bad behaviour and warns Aaron that unless he starts being firmer with his sister, she will have no choice but to kick him, Robert and Liv out of the Woolpack. A few days later, Aaron decides to take Chas' advice when he witnesses an angry confrontation between Liv and Jacob and grounds her. However, he soon relents when he finds out Liv was defending Gabby and after an emotional talk between the siblings in which Liv admits she never feels like she belongs anywhere, Aaron promises to find the money to buy a place of their own. Aaron gets his own back on Rebecca after she makes an offhand comment about how he acquired his inheritance and breaks into Home Farm. He empties the safe and manages to get away but Rebecca works it out and confronts Aaron at the pub. She threatens to ring the police and asks why Aaron would choose to steal from her even though he has money of his own. Aaron tells her about Gordon's abuse and how using the money for anything would be a constant reminder of what he went through. Rebecca is merciful and advises him not to be stubborn and to use the money as a means to secure some happiness for himself, Liv and Robert. Aaron hands her back the cash he took from Home Farm and they reach an understanding. Later, Aaron tells Robert and Liv that he used the inheritance money to buy The Mill and they celebrate with Chas.
Aaron finds a confused Ashley wandering around the streets of Hotten and offers to bring him back to the village. He takes him to The Woolpack and is saddened to see the former vicar's rapid decline as his dementia takes hold, especially when he fails to recognise his wife, Laurel. The next day, Laurel thanks Aaron for his help and sympathetic over her situation, he opens up to her about his own experiences as a carer for Jackson, which helps Laurel make a decision regarding full-time care for Ashley. Aaron has an enjoyable Christmas with Robert, Liv and the rest of the Dingles.
2017: Wedding, Prison and Split from Robert
After Chas showed him a video of Robert and Rebecca hugging, Aaron confronted Rebecca at Home Farm and asked if she and Robert were seeing each other but was taken aback when she told him that she was helping Robert plan a trip to Vegas for Aaron's birthday. At the pub, Chrissie attempted to ruin the mood by making some vicious comments about Robert's former infidelity and warned Aaron the same would happen to him. Robert told Aaron about their trip and implored him not to listen to Chrissie, assuring him he loved him. Aaron then accidentally lets slip that he knew about the surprise, prompting him to tell Robert that he confronted Rebecca. Robert was annoyed that they kept having the same argument about trust and asked Aaron to believe in him.
Aaron struggled to hide his jealousy when Robert spent most of his time working on a business plan for Rebecca which prompted Chas to remind her son it is better to be open about things rather than let them fester and encouraged him to talk to Robert about his feelings. Following a suggestion from Charity, Aaron and Robert decided to have a secret wedding in Vegas. However, Aaron's jealousy spiralled out of control again when he learnt Robert had been celebrating a business deal with Rebecca and barged into Home Farm to confront him. Fed up with his behaviour, this led to a heated argument between the pair, after which Robert told Aaron he couldn't do it anymore and removed his engagement ring. Devastated, Aaron grabbed a bottle of whiskey and went outside where he witnessed an altercation between Finn and Kasim and jumped to Finn's defence, beating Kasim to the ground. Back at the pub, after an emotional talk, Robert admitted to Aaron he didn't want to end their relationship but they were interrupted by the police. Aaron was arrested and charged with GBH. He was released the next day on bail and gave Robert the chance to walk away but Robert promised to stick by him. Aaron returned from the police station after giving a second interview and informed Robert of his impending court date. Robert promised to support him no matter what happened. Their argument from before is forgotten about and they made up. The next day, Aaron apologised to Finn for attacking Kasim.
As the day of his sentencing drew nearer, Aaron was told by his solicitor to prepare for the worst and expect to be given 9-12 months in prison. Despite Robert and Chas' attempts to keep him positive, Aaron was downbeat and told them to get used to the possibility that he might be going to jail. Liv was disappointed that no one remembered her birthday and lashed out at Aaron and Chas before storming out. Aaron found her drowning her sorrows at the bridge and carried her home. The following morning, Aaron gave Liv some belated birthday presents but she got upset about the thought of him going to prison and what could happen to him while he was there, causing Aaron to snap at her. He went out for a run to try and calm his nerves but Faith found him suffering from a panic attack. He admitted to his grandmother that he messed everything up and was worried what would happen to Liv. Back at the pub, Robert and Chas were concerned when they learnt of Aaron's panic attack and assured him that they would look after Liv in his absence.
With the help of his family, Robert surprised Aaron with an impromptu wedding ceremony in the Woolpack. Just as the service got underway, the police turned up looking for Faith. Upset, Robert walked off and Aaron followed him to the garage. Robert lamented that he wanted this day to be perfect but Aaron assured him it didn't matter and produced the rings. They exchanged their vows in private before heading back to the pub where they were congratulated by their family and friends. Later that night, Aaron slipped away from the party and apologised to Robert for messing up and having to leave him. Robert understood his fears about prison and gently assured Aaron however long he's gone for, it would pass and he would wait for him. The next day, Aaron packed his belongings and said his goodbyes to Adam, Victoria, Paddy and Liv before sharing a tender moment alone with Robert. He then headed to court with Chas. Aaron was given 12 months in prison and immediately began to struggle with the situation. After seeking the advice of one of the guards, Aaron decided to keep his sexuality a secret, but instinctively shouted at the prison bully Jason when he saw him harassing a fellow gay inmate.
Robert visited Aaron in prison where the pair struggled to hide their emotions. Jason spied Robert gently squeezing Aaron's leg under the table and worked out Aaron's sexuality, later confronting him in his cell. Aaron squared up to Jason and called the thug out on his bigotry. Hearing the guards approaching, Jason and his mates left but not before threatening Aaron. The next day, Chas visited Aaron and she was dismayed to learn that the inmates were aware of his sexuality after he was openly hassled in the visiting room by Jason though he tried to play it down in front of her. Instinctively, Chas lashed out and tried to warn Jason off. Later, Aaron was cornered by Jason and his mates; the guards managed to pull them apart in time but Aaron was left shaken and afraid by the encounter. The following day, Aaron was unsettled when a fellow inmate recognised him and calls him "Livesy" in front of Jason. Robert visited Aaron again and apologised to him after learning from Chas what happened after the last time he visited. Aaron assured him he was fine but kept getting more nervous as Jason was watching them. Later, Aaron was shocked when Jason revealed he knew Gordon and confessed that he was the one who got him to kill himself before launching a vicious attack.
The next morning, Ethan offered Aaron a joint of Spice to help with the pain but Aaron refused, saying his 6pm phone-call to Liv and Robert would get him through the day. Aaron was soon cornered by Jason and his mates; they bundled him into a cell and he tried to stand up to them but quickly fell apart when Jason told him it was the cell where Gordon took his own life. Holding him down, Jason continued to taunt Aaron about his past and told him he wouldn't kill him as he was already dead inside. Aaron was later found in a near catatonic state by the prison chaplain, Fr Aiden who delivered some tough love, saying Aaron needed to open up to the people he cared about or end up like Jason. Aaron later made his phone-call to Liv and Robert but was unable to confide in them. That night in his cell, Aaron gave into temptation and asked Ethan for some Spice. The next morning, Aaron asked Ethan for more Spice but his cell mate told him the only person he could get it off was Jason. Aaron went to see Jason and was told he could have the drugs if he agreed to do some jobs for him. Aaron was later visited by Liv and Paddy. While Paddy gave them some time alone, Liv immediately sensed something was amiss and was shocked to discover her brother was on drugs. Aaron was taken aback by her perceptiveness and begged her not to tell Robert. Liv abruptly asked Paddy to take her home, leaving Aaron crushed. Later, Aaron went to see Jason again and agreed to deliver drugs to other inmates for him despite Ethan's warnings if he got caught, h would risk his appeal.
Robert came to visit Aaron again and told him he knew about the drugs, having learnt the truth from Liv. Aaron was gutted about being found out and Robert was dismayed by his husband's indifference, both towards the drugs and Liv's recent expulsion from school, which caused Aaron to get defensive and ordered Robert to leave him alone. A few days later, Robert and Chas visited to tell Aaron his appeal had been successful and he would be released in a few weeks. Aaron apologised to Robert for the things he said last time he visited and promised he was off the drugs for good.
A few weeks later, Aaron was released and shared an emotional reunion with Robert outside the prison gates. They arrived back at the village where Faith had organised a coming home party. Aaron was soon overwhelmed by it all and after speaking briefly with Rebecca, he rushed outside where he had a panic attack. Robert tried to comfort him but Aaron suddenly turned around and punched him in the face. Horrified by his actions, he quickly apologised before breaking down and admitted to Robert what he went through in prison, including being beaten and locked in Gordon's cell. Robert gently assured his husband he would get through this and promised to get him help for his problems. He suggested to Aaron that they visit Chas and Liv for a few weeks and after getting the all-clear from his probation officer, they left the village.
A month later Robert and Aaron returned from their break and moved into the Mill. However, Aaron was heartbroken when Robert broke down and confessed that he slept with Rebecca, she got pregnant as a result and he told her to have an abortion. Devastated by the betrayal Aaron removed his ring and ordered Robert to leave. Alone, Aaron contemplated hurting himself again but he came to his senses and went to see his counsellor instead. Later that evening, Aaron asked Robert to come back to the house so they could talk. They agreed to start again and Aaron assured Robert he still loved him. However, the next day Aaron and Robert were dismayed to learn that Rebecca was still pregnant.
Aaron and Robert were uneasy when Rebecca returned to the village and announced she was staying with Vic. Despite his best efforts, Aaron was unable to cope with the pregnancy and told Robert it was over between them. He handed back his wedding ring, leaving Robert heartbroken. Adam soon discovered that Aaron has started boxing under Zak's supervision and expressed his fear about it being another form of self-harm but Aaron promised him the training was helping him get his issues under control. Aaron persuaded Adam to join a gym with him after Zak decided to stop training him. There, he came face to face with Jason who challenged him to a boxing match and Aaron accepted. He arrived with Robert, Adam and the Dingles in tow only to turn the tables on his nemesis and mock him over his lack of support, leaving Jason shaken. The next day Aaron found a badly beaten Jason in the graveyard and took pity on him. He reached out to his prison tormentor and encouraged him to become the man his family can be proud of. Jason showed remorse for his past actions and after reaching a truce with Aaron, he departed the village.
Aaron got a shock when Liv arrived back in the village demanding to know why he and Robert split up. Aaron told her about Robert expecting a baby with Rebecca and she was devastated. Aaron panicked when Robert called to tell him that Liv was in hospital after drinking drugged brandy intended for Lawrence. Aaron lost it and threatened to kill Robert if Liv didn't pull through. Liv quickly recovered and set Aaron up on a date with Dr Alex Mason which Aaron begrudgingly accepted. However, the next day Aaron gave Alex the brush off and admitted to Liv he wasn't ready to see anyone new as he needed to focus on his recovery from his breakup with Robert and subsequent self-harm, and assured his sister she is the most important person in his life.
Aaron was forced to drive Rebecca to the hospital when she suddenly went into labour. He waited for Robert to arrive and struggled with his emotions as he congratulated him. Aaron allowed Robert to recuperate at the Mill after the Whites found out about his schemes to steal Home Farm, resulting in a violent beating from Lawrence. After some encouragement from Liv, Aaron attempted to move on and started dating Alex. However, his feelings were tested when Robert was rushed to hospital on Christmas Eve after being knocked down. Robert recovered and he encouraged Aaron to make a proper go of things with Alex. Heartbroken, Aaron tearfully agreed it was for the best before assuring him they could still be friends.
2018: Reunion and Wedding to Robert, Liv's Turmoil and Surrogacy Plans
With Cain's help, Aaron ambushes a prison van on its way to court and breaks Adam out. He tells Adam he understands why he took the blame for Emma Barton's death but he couldn't stand by and do nothing. They drive Adam to the docks and after sharing an emotional goodbye, Aaron watches his best friend leave for a life on the run. Aaron supports Robert as he struggles to be full-time father to Seb following the car crash that put Rebecca in hospital. They spend Valentine's Day together as friends but a highly charged moment between them almost results in a kiss, leaving them both conflicted.
After Vic tells him of her plan to take Robert to a gay bar in order to move on, Aaron finally breaks up with Alex after realising his true feelings. He finds Robert at the garage reminiscing about their wedding and tells him he still loves him. They reflect on everything that's happened in the past year, how Aaron's feelings towards Seb have changed and he wants a chance to prove it. Robert is overwhelmed but he rejects Aaron, fearing he'll lose him again. Undeterred, Aaron tells Robert he knows how much he has changed and wants to be with him again. Unable to deny their feelings any longer, the two men finally reconcile and share a passionate embrace. The next day, Aaron is pleased when Liv welcomes Robert back to the family. Soon after, Robert and Seb move into Mill Cottage.
In March 2018, Aaron and Robert are stunned when Liv confesses to accidentally spiking Lisa's drink with ketamine after a prank with Gabby went wrong. They urge her to keep quiet, fearing the family's reaction, but Liv's conscience gets the better of her and she admits everything to Lisa, who in turns calls the police. Liv is charged and Aaron worries for what the future holds for her.
In April Aaron is horrified when Syd McFarlane shows up in the village demanding £100,000 for his silence regarding Adam's prison escape. When they refuse to meet his demands, Aaron is later kidnapped by Syd and Robert sells his shares in Home James to Joe Tate as well as Mill Cottage in order to raise the funds and ensure his husband's safety. However, the next day when a gloating Joe brings over contracts for Robert to sign, he defiantly rips up the one for The Mill. Aaron accompanies Liv to court and is devastated when she is sentenced to serve time in a youth detention facility. A few weeks later, Aaron and Robert are distraught to learn that prior to her sentence, Liv had been hiding the fact she'd become increasingly dependent on alcohol to cope and they are further concerned for her when Gerry Roberts suddenly dies, leaving her heartbroken over the loss of her friend. Aaron and Robert welcome Liv home from youth offenders shortly after and support her through Gerry's funeral as well as her exams, promising to get through things as a family.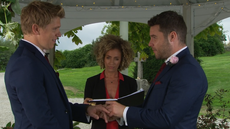 In July Aaron and Robert got engaged for a second time after they proposed to each other at the lay-by where they shared their first kiss. After Robert suffered a seizure, Aaron agreed to adopt Seb once they got married, in case something happened to him or Rebecca. Days before he's due to marry Robert, Chas went into labour a week early, and Aaron was devastated when baby Grace died shortly after her birth. As a result, he almost postponed the wedding but Chas insisted that it go ahead as the family needed something to celebrate. The next day, on 5th October 2018, Aaron and Robert got married in a romantic outdoor ceremony surrounded by their family and friends. At the reception, several emotional toasts were made and after the celebrations, the newlyweds headed off on their honeymoon.
A few weeks later, Aaron was heartbroken when Robert decided to let Seb live with Rebecca and Ross in Liverpool. He struggled with his husband's decision and out of desperation, he refused to bring Seb back to Rebecca following a visit, causing her to restrict their access, leaving the couple distraught but determined to take it to court. Aaron then shocked Robert by suggesting they have a baby of their own but Robert encouraged him to hold off until the situation with Seb was resolved and Aaron agreed to wait. Two weeks later, Aaron was delighted when Robert changed his mind and they decided to look into surrogacy. On Christmas Day, Billy Fletcher (Jessie Grant's eldest son and one of the men who tormented Aaron in prison) arrived in the village, leaving Aaron feeling uneasy.
2019-2020: Surrogacy plans and Robert's Imprisonment
After receiving a tip off from Maya Stepney, Aaron was furious to find Liv and Jacob Gallagher cuddled on the sofa and threw the teen out despite Liv's protests nothing was going on. The next day, Aaron apologised to Liv for his aggressive behaviour and she opened up to him about her asexuality.
Desperate to make the surrogacy happen sooner rather than later, Aaron went behind Robert's back and met with a potential surrogate called Lucie. He tried to secure her services by offering her a large cash deposit but Lucie angrily refused, saying that's not how it works. Robert witnessed the whole exchange and he and Aaron argued about their different approaches regarding surrogacy. Deflated, Aaron wondered if it was worth the effort and almost gave up on the dream of having a child. However, after a heart to heart with Chas, Aaron apologised to Robert for his recent behaviour and the couple decided to put their plans on hold in order to refocus on their relationship. In April 2019, Aaron and Robert attended a surrogacy meeting where they met a young woman called Natalie and after getting to know each other, were delighted when she agreed to be their surrogate. However, after learning about Victoria's horrific rape ordeal and subsequent pregnancy, the husbands agreed to put their plans on hold once again in order to support her.
In late July 2019, Aaron was horrified when Robert snapped and attacked Vic's rapist Lee Posner, putting him in a coma. They decided to get back on track with their surrogacy plans and called Natalie who came for a visit at the Mill. However, when she learned that of the charges Robert was facing she withdrew from their agreement leaving the couple devastated. Robert was taken to the police station after Lee woke up and was told if he was found guilty he could face life in prison, but when he returned home he told Aaron and his family he was facing a couple of months at worst. On 28th August 2019, Aaron was terrified when Liv suffered a seizure in the café and collapsed. She was taken to hospital but Aaron started lashing out when no one could tell them what was going on. To add insult to injury, Robert revealed he lied about his charges leaving Aaron furious.
In September 2019, Aaron was angered and devastated when Robert pleaded guilty at his plea hearing. He tried to explain he did it for Victoria as he didn't want her to suffer anymore and if he was to lose in court he would risk a longer sentence. However, Aaron felt Robert had given up on them and struggled to take in his decision.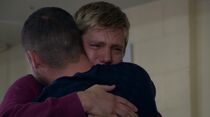 In October 2019, Aaron's world came crashing down when Vic informed him and Robert that Lee had died in hospital. Fearful of losing his husband forever, Aaron told Robert they had no choice but to go on the run. However, he was devastated when Robert handed himself in to the police, was charged and found guilty of murder and sentenced to life imprisonment with a minimum of 14 years. A week later, Aaron unknowingly shared his final visit with Robert as he was transferred to a prison on the Isle of Wight, subsequently cut all contact with his family and filed for divorce, leaving Aaron heartbroken.
Aaron struggled to handle Robert's departure and resorted to his old way by stealing cars with his uncle Cain and hooking up with a lot of guys on dating apps. Victoria, Diane and Liv tried to help him through it but he lashed out at them. In January 2020, Aaron was devastated when Rebecca revealed that she wouldn't allow Seb to come to visit him anymore. He continues to sleep around but after one of his hook-ups almost robs him, he finally opens up to Victoria and Liv. He realises he has to sort himself out and finally signs the divorce papers. He decides to leave the village for a while to get a break and goes to stay with Debbie in Scotland.
2020-2021: Relationship with Ben Tucker and departure
Other information
Background information
Quotes
"Take it easy on the way home, okay. I promised Sandra I'd look after ya" - First line, to Gordon Livesy.
---
"Sorry Lee, you know how it is, places to go, people to see" - First line spoken by Danny Miller as Aaron.
---
"Thanks for everything, Dad" - to Paddy before leaving for France.
---
"You've gotta be kidding me" - to Adam after returning in August 2014.
---
"I'm not gonna get married in these overalls like some dirty little grease monkey, am I?" - to Robert before they get married in February 2017.
---
"It's just. It's just because I love you so much. I just don't know what to do with it sometimes" - to Robert Sugden on their first wedding in Barton and Dingle Automotives.
---
"Alright, you just shut your mouth for on minute and let me say something, right? You're a disaster. You're smug and you're arrogant and you're cocky. You got terrible taste in music and you dance worse than Paddy and that's saying something! But I've got nothing to figure out, okay? I know you! I know exactly what I'm getting myself into! And you've tried so hard for me and for the people that you love and not everybody sees that, but I do! You got me to talk about Gordon and then you listen to me and then you got me through the impossible! And Liv. Liv! My little sister. You found her. You found my little sister. You! And even though she drove you nuts and she reported you to the police you took her as if she was your own! You saved my life, you got me out of that car in that water and you saved my life. And then you plan this mental wedding! You built us a home! And you got me out of prison early! And then you told me the truth about Rebecca instead of tryna hide it! And then you stepped up for your son! And you fought for him! And you loved him! And you loved me! You loved me like nobody ever has before! So please, Robert, will ya... will you just come home with me? And let me help you this time!" - to Robert Sugden in February 2018.
---
"I love you too." - Final line, to Chas Dingle.
See Also