Andrew 'Andy' Sugden (né Hopwood) is the adoptive son of Jack and Sarah Sugden who arrived in the village in 1996. Andy has two adoptive siblings, Robert and Victoria Sugden, a half-brother, Darren Eden and one deceased adoptive brother, Jackie Merrick. He also has a daughter and son named after his adoptive parents.
Andy's upbringing was fraught with difficulty. His mother Trisha died when he was little and his father Billy was serving a custodial sentence in Strangeways Prison, leaving the young boy in the care of his grandmother. After she dies of a heart attack, Andy is fostered by the Sugden family; he had just recently befriended the son Robert when Andy was visiting the farm with a bunch of other kids.
By 2000, Andy was officially adopted by Jack and Sarah, but their marriage ran into trouble and culminated in Sarah's death when Andy set fire to the barn in order to claim on the insurance money. This only led to Jack being accused of Sarah's murder.
Andy's love life began in 2001 when he became infatuated with classmate Katie Addyman. Katie fell pregnant, much to the disapproval of Jack and her father Brian, but she miscarried. After moving into Butler's Farm in 2003, Andy and Katie started planning their wedding, but she had become bored of farm life and started an affair with Robert. After the truth spilt out, Andy accidentally shot Jack and split with Katie.
Andy later started a relationship with the underage Debbie Dingle, who fell pregnant with his child. Robert subsequently left the village after his spat with Andy resulted in the death of Max King. 
Katie returned after recuperating from injuries sustained in a car accident and she and Andy got back together, but they split up again after Andy started an affair with Jo Stiles. Andy was sentenced to three-years imprisonment for Sarah's murder and after his release a few weeks later, began physically abusing Jo. The abuse went on for months until Jo left just before Christmas.
Worse was to come when Jack died a few weeks later while caring for his mother Annie in Spain. Andy then lost custody of his daughter Sarah, who went to go live with Debbie. Andy suffered a mental breakdown and was diagnosed with clinical depression, but he recovered as time passed.
Sarah fell ill in 2011 and was diagnosed with Fanconi anaemia. After searching for donors and almost having luck with one, Andy and Debbie decided to try for another baby. Debbie gave birth to their son Jack in October 2012, and Sarah recovered from her illness.
By 2014, after Andy had a relationship with his step-sister Bernice Blackstock, he and Katie reconciled and began planning another wedding. This was hampered somewhat by the return of Robert, and Andy's feud with his brother reignited. A few weeks after she and Andy remarry, and on Robert's wedding day to Chrissie White, Katie is killed when she is accidentally pushed through some rotting floorboards by Robert, whom she had just discovered had been having an affair with Aaron Livesy. After the truth about Katie's death came out, Andy was furious and brokered a deal with Ross Barton, in which Ross would kill Robert and Andy would kill Ross' brother Pete. Robert was shot, but Andy couldn't go with his part in the deal and backed out.
Andy's time in the village started to come to an end when he began a fling with Chrissie. After finding out that Andy had slept with Bernice, who, by now, had become Chrissie's step-mother, Chrissie framed Andy for the accidental shooting of her father Lawrence which the real shooter was Chrissie's son Lachlan. Andy fled the village on the day of his trial, with help from Robert and Bernice. His whereabouts are currently unknown.
Biography
1996-1999: Settling with the Sugdens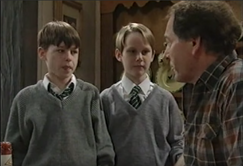 When 10-year-old Andy Hopwood arrived in Emmerdale in July 1996, he was scarred by a horrendous childhood. While out with a number of kids from the care home at the Sugden family's farm. Andy got trapped in a quarry when his shoe got caught under a rock and Robert Sugden ran to get help from his father Jack who rescued him. The Sugdens took him in after his grandmother died and by Christmas, he was officially fostered by them. Andy took a long time to settle; his bad behaviour and severe anger issues made him the subject of a hate campaign orchestrated by post-mistress Viv Windsor, who was determined to see the youngster sent back into care. Despite being unable to settle, Andy was seen as more of a son to Jack than his real son robert as Andy was more willing to help out on the farm. Just as Andy had begun to settle, his past caught up with him in the form of his criminal father, Billy, who had just been released from prison and wanted to get to know his son. Andy went with him, leaving the Sugdens and moving into a grotty caravan with Billy.
Andy's loyalty was betrayed when Billy started getting up to his old tricks and hatched a plot with Marlon Dingle to rip-off Eric Pollard, involving Marlon's cousin Sam. Billy fled just before Christmas, leaving Andy all alone, cold and hungry in the caravan with a puppy Billy gave him. Billy returned a year later and planned to take Andy away with him, but needed money, so he decided to rob the Post Office armed with a shotgun, on Christmas Day. This incident resulted in the death of post-master Vic Windsor, leaving the Windsors in mourning and Andy distraught. Much to Viv's anger, Andy returned to the Sugdens.
1999-2001: Sarah's death
Jack and Sarah's marriage was in trouble in 1999 when they fell out over the welfare of the farm. Sarah was furious with the changes Jack made including stopping Andy and Robert going to school so they could work on the farm. Despite adopting Andy, the marriage ended when Sarah's affair with Richie Carter became public knowledge. Furious, Jack denied Sarah access to the children, plunging Andy into despair the family were separated in October 2000 when Sarah was granted custody of Victoria and Jack managed to keep custody of Robert, as Sarah was not his real mother. Andy chose to stay with Jack as he felt loyalty to him and that Sarah had betrayed him and was in the wrong. Jack's financial problems made matters worse. When Andy heard Jack say the farm was insured, Andy set the barn on fire.
Unbeknownst to Andy, Sarah and Richie were inside the barn when he started the fire, discussing their future. Sarah died but Richie escaped and accused Jack of murder. He withdrew his statement when he found out Andy was responsible and could not bear the thought of sending a child to prison.
2001-2003: Katie Addyman
Andy's first girlfriend was his classmate Katie Addyman but he was unaware that his adoptive brother Robert knew that he was responsible for Sarah's death and wanted revenge, particularly after Andy teased him about not having a girlfriend.
In September 2001, Andy, along with Eve Birch, Marc Reynolds, Ollie Reynolds, Donna Windsor, Robert and Katie went for a night out at a nightclub but they missed the bus back home. To impress Katie, Andy stole a car and the group drove home but on the way Marc ran over their headmistress Jean Strickland. Terrified about the consequences the group left the body and burnt the car. The guilt of the accident proved too much and they group-confessed. They received community service but Marc was arrested for dangerous driving.
Andy and Katie worried their fathers with how quickly they made their relationship serious and Katie's father Brian insisted they stop seeing each other. This did not last as Andy and Katie thought Brian and Jack would leave them alone if they had a baby. Katie eventually got pregnant but when Brian found out, he sent Katie to stay with her mother. Andy and Katie stuck together and were reunited when Andy took the tenancy of Butler's Farm but tragedy struck when Katie miscarried. The couple stayed together and in early 2004, planned their wedding.
2003-2006: Katie's betrayal and becoming a father
Eventually, Katie was bored with life on the farm. She and Andy's adopted brother Robert got closer, thinking it was lust and pre-wedding nerves, they began an affair. Andy didn't help by renting a room to Robert and his girlfriend, Donna. The affair continued despite being caught by Andy's half-brother, Daz Eden. He told Andy but Robert and Katie denied it. Thinking Daz was lying, Andy put him into care but as Katie realised she'd made a mistake marrying Andy. Their marriage limped on but eventually, Katie and Robert confessed to Andy that they were having an affair.
Devastated by Robert and Katie's betrayal, Andy went to their caravan with a gun. He planned to shoot Robert but hit Jack, who made a full recovery but disowned Andy although they later rebuilt their relationship. Andy then returned to Butlers Farm and invited Daz Eden, Cain Dingle and his daughter, Debbie to move in. Troubled and vulnerable, Andy was flattered by Debbie's flirting, and they began dating secretly. They thought they were in love but Andy changed his mind after the Dingles made it clear how they felt about Andy (an 18-year-old man) and Debbie (a 15-year-old girl) being a couple. Cain warned Andy to stay away from Debbie or he would lead Daz into criminal activities. Andy chose to protect Daz and Cain and Debbie moved back in with the Dingles.
Andy was single until he met Libby Charles. Just as they were getting serious, he found out that Debbie had given birth to his baby. Although initially shocked, Andy loved being a father and reconciled with Debbie briefly. That did not last so Andy settled for visits with his baby daughter. Debbie did not take to motherhood and discovering Robert only wanted her because she had Andy's daughter was the last straw. As the Dingles and the Sugdens gathered for Sarah's christening, Debbie gave baby Sarah to her foster mother, Emily Kirk. When Andy found out what Debbie and Emily had done, he was devastated. He and Jack went after Emily but missed her by minutes.
Andy was horrified to hear his estranged wife, Katie, had been injured in a car crash, leaving her in a coma. She recovered and they realised that they still cared about each other and reconciled. The Sugdens couldn't believe it. Jack and Diane were stunned but Daz was horrified. He tried to talk Andy out of it and moved out when he was unsuccessful. Jack and Diane were happy to let Daz stay temporarily but returned to Butlers Farm as Diane, recovering from cancer, couldn't cope with two teenagers.
When Daz moved back, the situation at the farm was volatile. Daz was sure Katie would cheat again and kissed her to prove it. Katie gave him short shrift and they agreed not to tell Andy. When Daz's mother, Denise Eden, visited and asked Daz to go home with her, swearing she'd changed, he agreed. Andy was heartbroken but couldn't give Katie up.
2006-2008: Relationship and marriage to Jo Stiles
Meanwhile, Jo Stiles was the new lodger at Butlers Farm. Dawn Woods organised it, feeling guilty that her mother had evicted Jo. Jo enjoyed a flirty friendship with Andy, especially when she saw how it annoyed his wife.
With Jo walking around in her skimpy clothes and paranoid Katie would cheat on him again, Andy and Jo embark on an affair. It did not last for long as Andy had used Jo to pay Katie back for cheating on him with Robert. However, Jo had fallen for Andy, and as time passed, she manipulated things so Andy was torn between them.
Andy, Katie and Jo were stunned in October 2006 when they found his daughter in the yard, apparently deserted. Among her possessions was a book of photos with little notes describing Sarah's routine, likes and dislikes. Everyone struggled with Sarah as Andy insisted they keep her presence a secret, worried Debbie would take her away. Katie confided in Perdita Hyde-Sinclair, and was relieved when Debbie found out. Much to Andy's relief, Debbie agreed to Andy having custody, insisting she didn't even want contact.
Katie struggled with looking after Sarah and starting a stable business so Andy saw Jo was better with his daughter and restarted their affair. Andy was about to tell Katie when she announced her pregnancy. The night Katie said it was a false alarm, he told her he and Jo were having an affair. Devastated, she threw them out but they soon returned as Andy had the lease. In the end, Katie moved out and moved her stable business to Home Farm. Before she left, she wished Jo luck - telling her she'd need it. Andy and Katie subsequently divorced.
In the months building up to this event, Victoria wanted to know who was responsible for the death of her mother. She went to see her mother's lover, Richie, who told her to ask Jack. Victoria went home and poured petrol over the furniture, demanding the truth. Andy confessed but the boiler lit the petrol fumes, knocking out Jack and Billy. No one was seriously injured and in January 2008, Andy was sentenced to three years imprisonment after he confessed to manslaughter. He was sentenced on his and Jo's wedding day. Andy and Jo married on 19th February 2008 in prison. Jack, Victoria, Daz, Ashley and Laurel were their guests and Ashley presided over the service. Jo did not want to marry in prison but wanted to please Andy. She also persuaded Bob Hope to let Debbie borrow the keys to Tug Ghyll so she could get her post – particularly adoption papers for Sarah. One day, when Jo went to visit Andy, she asked Debbie to watch Sarah. Unfortunately spending time with her daughter meant they started bonding so the adoption was cancelled.
Andy returned from prison to find that everything had changed. Ex-inmate Charlie Sellers had stored guns in the barn, the farm was losing money and Jo had lost the lease, due to Charlie taking the rent money. Diane took over the lease and was happy for Andy to run the farm but he was angry - he felt Diane wasn't part of the family as she and Jack had separated. He also discovered that Jo and Debbie were friends. Debbie, Chas and the McFarlanes forced Charlie to leave the village after he threatened Sarah but he insisted that Debbie had made matters worse. Then he discovered Debbie had not signed the adoption papers. He visited his solicitor, hoping it would be approved regardless but was told that would only happen if Debbie was a danger to Sarah.
All of this had a negative effect on Andy, as well as the fact that being in jail had been difficult and had changed him. When he realised Jo had allowed Debbie access, he lost his temper and lashed out giving Jo a black eye and Andy promised her it would never happen again.
In June 2008, they celebrated Sarah's 3rd birthday and Jo could see Andy was getting agitated, particularly when Sarah loved the doll's house that Debbie had bought her. Andy had made Jo return the doll's house, insisting it was too expensive so Jo told Debbie that was what Sarah wanted. Wanting Sarah out of the way, Jo took her for a bath and Andy destroyed the house.
Over the next few months, the abuse continued but Andy and Jo made up. They disagreed repeatedly, particularly about having a baby as Sarah mentioned having a sister. Andy wanted a baby but Jo did not, and when Sarah saw Andy grab Jo's arm, Jo asked him to leave. Feeling sorry for himself, Andy got himself drunk and went missing. Daz brought him back home but he had made himself so ill, he had to be confined to bed but later recovered.
Andy and Jo's last argument was over Jo's "pregnancy". Fearing another beating, she told him she was pregnant. Andy was thrilled but Katie was suspicious when she saw Jo with Debbie and told Andy. He gave Jo a pregnancy test, wanting proof so Jo admitted she'd lied. She tried to leave but Andy wouldn't let her go, leading to a fight in the barn. Andy was admitted to hospital, seriously injured. Jo told the Sugdens about Andy's abuse but Daz and Victoria didn't believe her until they saw Andy attack her. Alone in the farmhouse, Andy threatened to kill himself but Diane stopped him. She took him to hospital and arranged for him to have psychiatric treatment.
Jo agreed not to call the police if he moved out so he moved in with Diane and Katie gave him work. The reasons for Andy and Jo's split were soon public knowledge. Katie also gave Andy a shoulder to cry on and supervised his time with Sarah. Shortly before Christmas, Sarah was suspended from nursery for fighting and missed the Christmas play that she was eagerly looking forward to. As a result of this Diane, Andy and Katie staged a play in the Woolpack. Everything went well until Daz saw Andy and Katie kissing. Andy thought Katie wanted him back and lost his temper when she said she was happy single. Horrified by Andy's attitude, she sacked him. When she learned Jo knew that Andy had kissed her, she visited Jo and convinced her that she and Andy were history. Katie suggested Jo leave if she wanted Andy out of her life. Jo wasn't sure but Katie said Andy would always be there while she had Sarah and Jo realised Katie was right. Andy tried winning Jo round by vandalising farm equipment, knowing he was the only one who could fix it. Daz and Lee Naylor were suspicious but couldn't prove it until Lee caught Andy vandalising the washing machine. This made Jo decide that she had to get away. Lee helped her sell the farm equipment and she left just after Christmas, after leaving Sarah with the Dingles. Andy was shocked that Jo had left and was worried that she'd taken Sarah but found her at the Dingles so he returned to his farm.
2009-2011: Jack's death and mental breakdown
Life on the farm without stock or equipment wasn't easy but Andy managed and lived quietly for a brief period, visiting Sarah frequently but wasn't allowed to take her home. Debbie, Sarah's mother, insisted she stay with the Dingles. In February, he and the Sugdens heard that Jack had died. Diane went to Spain to collect his body and he was buried in the village churchyard. Annie came too and gave Diane a letter to read at the funeral, in which he asked Andy to take over as head of the family. Andy initially refused but agreed after he saw Robert, his adoptive brother, watching from a distance. When Robert saw Andy, he left but before he did, he told Andy that there was nothing for him in Emmerdale.
As head of the family, Andy decided he wanted his daughter back, as her mother was now in prison, awaiting trial for murder. Diane asked the Dingles to let her take Sarah, threatening to go to a solicitor if they refused. Zak and Lisa agreed but made Diane promise she would return her immediately, if she felt there was any danger. Diane agreed and Sarah returned to Butlers Farm, living with her dad, uncle Daz and auntie Victoria. When Debbie was released from prison, she asked for more access to Sarah. Andy wasn't happy about it but Diane convinced him it was a good idea. Debbie tried to discuss access with Andy but he was awkward so she warned him she wouldn't give her daughter up without a fight.
Maisie Wylde made it clear she fancied Andy as soon as she saw him. Her family were concerned and told them to end things so they kept their relationship secret. Debbie found out when she found Sarah apparently alone in the farmhouse. Andy and Maisie weren't far away but Debbie was angry with Andy for neglecting Sarah and said so. Andy asked them both to leave, so Maisie warned her not to try to cause trouble between her and Andy. Diane stopped them fighting and told Andy to end things with Maisie. Andy ignored her and Maisie moved into Butlers Farm. She was happy to stay initially but moved out when it became clear that Andy expected her to help out with the farm and with looking after Sarah. Andy continued to be difficult about Debbie seeing Sarah. One day, Sarah saw Debbie in the village and asked if she could play at her house and Andy agreed but later changed his mind. Debbie warned Andy that he couldn't change his mind just because he felt like it. He ignored her until he got a letter from Debbie's solicitor, telling him she wanted custody. Andy discovered that Debbie's father, Cain, was back when he and Debbie visited, bringing Sarah a fairy's outfit. Later, in the pub, he told her and Cain that when he won, they would never see Sarah again. Debbie tried to reason with him the next day but he wouldn't listen.
On the day of the hearing, Cain saw Andy and Sarah with Val and taunted Andy that soon he and Debbie would be putting Sarah to bed at night. Andy said that wouldn't happen and left. Cain followed, telling Andy that CAFCASS take domestic violence very seriously. Realising they knew about him abusing Jo, Andy tried to knock Cain down but Cain jumped out of the way and called the police. They questioned Andy about dangerous driving when he was meant to be in court so the hearing was postponed. Debbie was angry with Cain but when Andy visited later, she told him she was pleased Cain had reported him as she felt he was out of control. She threatened not to let him see Sarah if she won. At the hearing, Andy withdrew his application and by default, Debbie won. Losing custody of his daughter was a massive blow to Andy.
By June 2009, after everything he had been through in his life and the recent loss of Jack, Daz (whom he ordered to leave the village after the shock of discovering that he and Victoria were having a sexual relationship) and now Sarah, Andy began to have a breakdown. Friends were noticing that he seemed vacant, Sarah called out to him in the street but he didn't acknowledge her, and Victoria spent a night with Diane at the Woolpack and came back to find that Andy had packed her bags. Hurt, she moved in with Diane. Mick Naylor, the farmhand, couldn't understand what was wrong with Andy. Thinking he was just being lazy (Andy sat about watching TV and drinking tea, instead of working), Mick quit, and soon left the village along with grandson, Lee (who had a relationship with Katie, causing more stress for Andy who still had feelings for Katie and would admit the following year, that the only reason he got with Jo was to get back at Katie's affair with Robert, but Katie was remaining just friends with Andy). Paddy Kirk, the local vet, suspected something was seriously wrong when he visited and found the farmhouse in a state. He was concerned about the cattle's inoculations but Andy refused to discuss it. Katie also asked if she could move her stable business back and initially, Andy agreed but when she turned up with the first horses, he sent her away again. Katie was concerned when she realised Andy thought they were still married. Eventually, she and Diane persuaded Andy to move to the village when it was clear that the farm had to be closed down as some of the animals were ill. The doctor visited Andy at the Woolpack and diagnosed clinical depression. He was referred to a specialist and put on a course of medication.
Andy repaired and strengthened his friendships with the other Emmerdale residents, including Katie, during and after his recovery and settled back into normal life, living in the village and travelling to Butlers Farm to work for his successors to the lease, The Barton family. At Butlers, Andy made new friends with John and Adam Barton, whom he worked alongside, and enjoyed doing farm work again. Happiness also returned to Andy's love life when factory worker Adele Allfrey showed an interest in him, but Andy was hoping for a reconciliation with Katie (who had a brief romance with Ryan Lamb during this period) and was reluctant to respond. However, after almost accidentally running her over in the street, Adele asked him to buy her a drink and they dated for a while. They separated after Andy returned to his old ways of showing displays of jealousy, temper, and controlling behaviour while with her. Adele was not prepared to put up with this and left Andy and moved out of the village.
Andy then sought professional help to resolve his remaining, underlying emotional issues. However, the therapy seemed to make things worse. When he returned from a session and Katie supportively asked how things had gone, he blamed her for all his troubles in life as the therapist had asked him to talk about his first girlfriends. He said he realised that it all stemmed from her cheating on him with Robert when they were first together when they were younger. Katie was his first love, made him feel happy after the family problems he had been through as a child including losing his adoptive mother, Sarah, and Robert blaming him for it. Andy then revealed that when Katie began an affair with Robert, that was the start of things continuing to go wrong for him. Katie was shocked that Andy was blaming everything on her because of the mistake she had made when she was very young, but she comforted him and the two ultimately ended up sharing a night of passion. The next day, however, Katie told Andy it had been a mistake and they should only remain friends and to seek romantic happiness separately. Andy reluctantly agreed.
In November 2010, Andy becomes jealous when Katie starts a relationship with police officer Nick Henshall.
In January 2011, Andy is accused of starting the fire that killed residents Viv and Terry Woods. It is later revealed Henshall started the fire to try and frame Andy. Henshall kills himself after kidnapping Katie and holding her hostage when the truth comes out.
Andy begins a relationship with Alicia Gallagher in February 2011. They break up a couple of times but get back together, eventually breaking up for good in January 2012 after Andy decides that Sarah is his main priority.
2011-2013: Sarah's illness
In late 2011, Andy and Debbie's daughter Sarah becomes ill and she is then diagnosed with Fanconi anaemia, a genetic disorder which could kill her without treatment. Debbie and Andy then go about looking for donors to try to save Sarah but having no luck in finding a donor, they believe having another baby also known as a 'Saviour Sibling' is the only way to save their sick child. They apply for IVF but get turned down when the hospital finds out they are pretending to be a couple in hope of getting accepted to have the IVF. This is a big shock for the pair and they do not give up. Debbie suggests having a baby by using artificial insemination, with their partners Cameron Murray and Alicia still not happy with the situation of them having another baby together they choose to go along with the process anyway but have no luck after trying numerous times. Debbie believes the only way to conceive is for them to sleep together. Andy is unsure at first but eventually agrees to the plan, their other halves are upset and angry that they have to do this, resulting in Alicia breaking up with Andy but Cameron still agreeing to support Debbie through this whole situation. They plan to sleep together but Debbie can't through with the plan and walks out on Andy leaving him humiliated, she then tells Cameron they never went through with it and he tells her if she had he would have walked out on her. Desperate to save her daughter, Debbie gets Andy to meet her at a hotel, she says she's sorry for her previous actions and eventually gets him to sleep with her after seducing him and telling him it is just about them and that she wants him. After sleeping together, Debbie doesn't tell Cameron they have and Andy is confused with his feelings for the mechanic. He becomes jealous of Cameron and turns up Tug Ghyll at any given chance just to see Debbie. Debbie discovers she's pregnant and Andy is delighted, while Cameron feels left out but still believes the baby was a result of artificial insemination. Cameron becomes angry that Andy is always there and won't leave Debbie alone, he then warns Andy to stay away.
On 16th February 2012, John Barton dies in a car accident after skidding on ice while using Andy's land rover, Andy is guilt-ridden after he finds out and thinks his car was the cause of the accident, Moira assures him it was icy and that he is not to blame. Andy breaks down and tells Moira he feels like he has lost a brother after he and Moira talk about his and the Bartons' first meeting on the farm. He feels depressed and Debbie tries her best to console him without getting too close, he then reveals he loves her, this shocks Debbie and she tells him she doesn't love him, Cameron's the one she loves. Andy is heartbroken after Debbie is quick to leave. After having an argument with a snappy Debbie, Cameron knows something is up and heads straight to Andy's, demanding he stay away or else. In his rage, Andy admits he and Debbie did not conceive the baby using artificial insemination, they slept together. This leaves Cameron angry and hurt as Debbie lied to him.
In March 2012, Andy and Debbie find out their baby is a match for ill daughter Sarah after Debbie undergoes tests. Cameron and Debbie eventually get back together after Debbie admits he is the only person she has ever truly loved, Andy is hurt as he loves Debbie but she does not feel the same about him, Andy's jealousy towards Cameron continues.
In April 2012, Debbie finds out her and Andy's unborn child is a boy. The Dingles and Sugdens are delighted by the news but Cameron begins to feel left out even after Debbie's best efforts to get him involved with her pregnancy. Andy gives Katie advice after she leaves her husband, Declan Macey. This leads to Declan and Andy fighting in The Woolpack. When Katie returns to fight for her marriage only a week later, Andy welcomes her back but warns Declan to start treating her the way she deserves.
In September 2012, Andy takes in Kerry Wyatt after her daughter Amy chucks her out. He confides in Kerry about his past and they both bond over what they've been through. She cooks dinner for Andy and he tells her to stay another night as they kiss.
In October 2012, Andy along with the Dingles is beside Debbie when she gives birth and is delighted when their baby boy is delivered. They name him Jack, after Andy's adoptive father.
In May 2013, Andy and Amy share a kiss and Amy eventually tells Kerry. After a heated argument with Amy and her foster mother Val Pollard, Kerry slaps Amy, shocking Andy. The next week, while Andy is trying to smooth things over with Amy, Debbie drops Sarah and Jack off with Kerry, who is drunk and smoking. After Kerry sends Sarah off to bed with Jack, she lights a cigarette but drops it onto the rouge, and falls unconscious. As a fire rips through the house, Sarah arrives at The Woolpack and tells Andy, Amy, Cain and Moira Barton about the fire. Moira looks after Sarah while Cain rushes into the house to save Jack. He succeeds and Moira takes care of Jack. Andy and Amy then enter the burning house to search for Kerry, who is at the heart of the flames. They manage to save her, just as Bob Hope calls the fire brigade. Andy breaks up with Kerry that night, leaving her homeless. The next morning, Debbie returns from a night out with Kirk and Cain tells her about how Kerry nearly killed Sarah and Jack. Andy shows Debbie the burnt down house and she attacks Kerry, but Andy breaks up the fight. Andy and Amy kiss but are interrupted by Kerry. She tells them that she's pregnant with Andy's child. The two are dubious and force her to take a pregnancy test, and she tricks them into believing her lie.
After Kerry's in a hit and run incident with Adam Barton and Robbie Lawson, she tells Andy that she was never pregnant but that she loves him. He rebuffs her. Kerry continues trying to win Andy back until she begins a relationship with Dan. After Katie's marriage to Declan is ruined, she moves in with Andy and Sarah asks her if they're together. When Debbie endangers Belle's life, Andy takes Sarah and Jack away from her and plans to fight for custody rights. Katie, guilty, begins to consider moving out, leading to her sleeping with Adam. Andy and Amy start a relationship, but Amy tries to kidnap her son Kyle Winchester and go on the run. Although she is talked out of the plan, she still feels she has no life left in the village, and leaves on a ferry.
2014-2015: Dating Bernice Blackstock, Robert's return and Katie's death
By 2014, Andy finds himself dating Bernice Blackstock, who gives him moral support after he nearly loses a hand in a farming accident. However, his real feelings are with Katie, and as her relationship with Adam falls apart, they move from friends to lovers. Bernice hits out at Katie with various items of food after she learns the truth. Andy proposes to Katie and they plan a new life, with Andy again briefly considering going for custody of the kids. Their lives are thrown into chaos by the return of Robert after nearly a decade, with Robert throwing a spanner in their plans to buy Wylie's Farm, and Lawrence White using Andy as a weapon against Robert in their feud. At the end of the year, Andy and Robert come into conflict again when Diane gives Andy Jack's wedding ring, even though Robert is getting married himself within a few months. After a brawl at Jack's grave, Andy and Robert try to make amends, but Robert has forgotten he had the rings inscribed with messages calling Andy an idiot and Katie "the village bike."
As 2015 begins, Andy tries to get past Robert's actions, especially when Robert helps with the sale of Wylie's, but Katie still wants revenge for the way he humiliated her. Katie is sure Robert is having an affair, but Andy doesn't want to hear it. A wedge is slowly driven between them, culminating in a fight after Katie accuses Robert of setting fire to the caravan she and Andy had been living in. Andy goes to Robert and Chrissie White's wedding alone, unaware that Katie has gone to meet Aaron Livesy at Wylie's to learn of his affair with Robert, leading to an argument and her death after being pushed through rotten floorboards. During the reception, Andy learns that she went riding up to Wylie's and goes to make amends - to his horror, he discovers her body. After the funeral, he nearly kills himself until Aaron and Robert intervene. He frightens his children and begins a fling with Tracy Shankley.
2015-2016: Final year in the village
During an attempt to see Sarah's school play, he unknowingly squeezes Tracy's hand too hard during an argument, hurting her. He realises he needs help and ends their relationship. Over the next several months, he pieces his life together but again falls out with Robert when Aaron reveals the affair and he learns Katie had been right. A couple of months later, after discovering the truth about Katie's death, Andy made a deal with Ross Barton who agreed to shoot Robert for him. However, he only put him in a coma and Aaron, who discovered the gun once Ross fled the scene, is falsely accused and imprisoned. After Robert woke up from his coma and returned home, he soon discovered the truth about Andy's involvement in the shooting and the two brothers had an angry and emotional confrontation at Wilsons Field (where Max King had died 10 years earlier). They chased each other in their cars but Andy overturned and crashed his. Robert pulled him from the wreckage and later gave the police a false description of his assailant in order to get Aaron out of prison. Andy tried to convince Robert to leave the village but Robert told him he couldn't - he has to be with his family. They agreed to stop the violence but Andy warned Robert he still didn't trust him.
On New Year's Eve, Andy finally told Robert that Ross shot him. Robert angrily confronted Ross at gunpoint until Andy and Debbie walked in. Robert told Debbie the truth and she left the village, taking the kids with her and leaving Andy and Ross devastated. Andy angrily confronted Robert and told him he won again. Robert, who had only wanted to get revenge on Ross, didn't think Andy would lose his children as a result and felt guilty.
In March 2016, Andy began a fling with Robert's ex-wife Chrissie. A few months later, Aaron found out the truth about Robert's shooting and told Chrissie. After Andy slept with Bernice, Chrissie framed him for shooting Lawrence. Andy was sent to prison but on the day of his court hearing, he escaped police custody. Upon confronting Chrissie he found out the truth about her deception and she stabbed herself in the arm to implicate him further. Andy fled the scene and was discovered by Robert who agreed to help him clear his name and get revenge on Chrissie. The next day, he provided Andy with new clothes and a fake passport after which, the two brothers finally ended their lifelong feud and shared an emotional goodbye. Andy then said his goodbyes to Bernice before fleeing the country to start a life on the run.
Quotes
"Stop him, Mr Sugden! Don't let him get away" - First line, to Jack Sugden.
---
"See you, brother" - Final scene with Robert Sugden.
---
"I don't think I'll be coming back" - Final line, to Bernice White.
See also