Annie Sugden (née Pearson; previously Kempinski and Brearly) was the daughter of Sam Pearson and the matriarch of the Sugden family.
Annie married Jacob Sugden in 1945, and they had three children - Jack, Peggy and Joe. Jack left Beckindale in 1964 after he and Jacob had a massive argument. Jacob died in October 1972 after developing liver failure due to an alcohol problem, prompting Jack to return in order to claim on his inheritance, and Annie immediately had to act as peacekeeper between Jack and Joe. She also received a proposal or marriage from Amos Brearly, landlord of the Woolpack, but she turned him down. She was upset when Jack left in 1973, and, after a brief visit in 1976, was delighted when he returned home for good in 1980. 
Further losses came for the family in 1973 when Peggy suddenly died from a brain haemorrhage just three months after giving birth to twins Sam and Sally, who were killed in a car accident with their father's aunt in 1976, Sam followed in 1984 after winning first place in the village's annual pumpkin show, and Jack's wife Pat died in a car accident when trying to avoid a flock of sheep in 1986.
In October 1993, Annie married Amos' old friend Leonard Kempinski, but on the night they were due to fly out for a holiday in Spain, Leonard was killed when a plane crashed in the village, which left Annie in a coma for three months until the cries of her then-newborn granddaughter Victoria (through Jack) woke her up. Annie was present at Jack's wedding to mobile librarian and Victoria's mother Sarah Connolly in May 1994, and she moved to Spain in July. Joe died in a car accident in June 1995 while staying with Annie in Spain, and she and Amos returned to the UK for his funeral. She proposed to Amos after the funeral, who accepted and they married in November. Annie visited again in November 1996 to persuade Jack to sell the farm. Jack went to stay with Annie after having problems with his marriage to pub landlady Diane Blackstock, but he died suddenly from a heart attack in February 2009, and Annie accompanied his body back to the village and attended his funeral.
Annie remained living in Spain until she passed away in August 2020 at the grand age of 100.
Biography
1920-1972
Born Annie Pearson in Beckindale on 5th July 1920, she was the only child of labourer Sam Pearson and his wife Grace who had married in 1915. As a child, Annie's first true love was Lawrence Fishburne. Annie married local farmer Jacob Sugden in 1945. He moved her into Emmerdale Farm and they had 3 children Jack born in 1947, Peggy in 1948 and Joe in 1949. Annie was going to have a 4th child but suffered a miscarriage. Annie's mum died in 1968, the year her daughter Peggy married Matt Skilbeck.
In around 1953, Annie met David Annersley, and the two embarked on an affair. However, David ended up leaving the village for reasons unknown, until his return in 1978 where he told her that he left because he realised she'd never leave Jacob for him.
1972-1996: Life in Emmerdale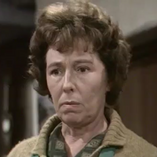 In 1972, Jacob died of pneumonia. He had spent much of his later years in The Woolpack, drinking away the family's farming profits. Following this Annie struggled to come to terms with the death of her husband, support her family, and run Emmerdale Farm.
Matriarchal Annie aimed to rebuild the ailing farm by reuniting her two feuding sons, Jack and Joe. She sold part of Emmerdale Farm to village outsider, Henry Wilks, who had made his fortune in the wool industry and brought his business acumen to Beckindale. Amos Brearly, landlord of The Woolpack decided a woman's touch was needed in his pub and proposed to Annie; she turned him down.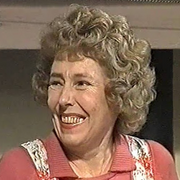 Tragedy followed the Sugdens. In 1973, Peggy died of a brain haemorrhage a few months after giving birth to twins and three years later, Peggy's twins were killed on a level crossing, leaving Annie to comfort their father Matt. Annie's father Sam died in 1984, and when Jack's wife Pat died in 1986, Annie was forced to help Jack raise his young son Robert.
In early 1993, Emmerdale Farm began collapsing due to subsidence. Although the family moved into Hawthorn Cottage, Annie remained unhappy until it was renamed Emmerdale Farm. In December that year, Annie and her second husband, Leonard Kempinski, whom she had married in October, planned to go on holiday to Spain. The night they were supposed to fly out was the night of a plane crash. As Joe was driving them to the airport, a wing of a plane collided with the car. Joe escaped with a broken leg; however, Annie was in a coma for several months. The cries of her new baby granddaughter Victoria finally woke Annie from her coma but she was devastated to discover Leonard had died. Widowed again, Annie was left to mourn a second husband.
At Jack's wedding to Sarah Connolly in 1994, Amos announced that the residents of Beckindale had decided to rename the village Emmerdale, in honour of Annie. He remarked that people had voted for the name Emmerdale as they held Annie in such high regard. After moving to Spain in July 1994, Annie returned to Emmerdale in 1995 to bury her son Joe, who had died in a car accident. Annie shocked Amos by proposing to him. Amos took time to think. She said how she had a chance to marry him years ago so found it strange thinking he'd ask her again, so they should just remain friends. But this prompted Amos to propose to Annie again; this time she accepted. Annie and Amos returned to Spain where they married on 5th November 1995, though Annie returned briefly in November 1996 to ask Jack to sell Emmerdale Farm as she was cash strapped; he refused. Chris Tate backed Annie as his father Frank wanted Jack to sell. In the end, Jack reluctantly agreed and Annie returned to Spain.
2009-2020: Jack's death and legacy
Jack had been staying with Annie in Spain and had suffered a fatal heart attack; she accompanied his body to Emmerdale for his funeral in February 2009. She grieved with Jack's family, and told Andy to run the family farm as that is what Jack would want, and returned to Spain the day after his funeral. Since then, Jack's widow Diane has visited Annie numerous times.
In October 2013, Diane rang Annie to inform her of Alan Turner's death; Annie sent flowers.
In May 2014, Diane informed Andy's former lover, Debbie Dingle, that Annie still lives happily in Spain. The following October, Andy encouraged Debbie to take herself, and Annie's great-grandchildren Sarah and Jack, both through Andy, to see Annie with Debbie's father Cain Dingle. They went, and Diane believed that Annie would be pleased with them all.
In November 2015, Diane went to stay with Annie after she took ill and stayed for two months.
In August 2016, Victoria informed Robert that Annie would be very upset to hear Andy went on the run but Robert tells Victoria that it's best Annie knew. In November, Diane informed Victoria that she spoke to Annie on the phone and she was in great health.
In January 2017, Diane informed Debbie that Annie donated 300 euro to Sarah's fundraiser page for her cancer treatment. In February, Robert married his boyfriend Aaron Dingle, and Diane revealed to Debbie and Victoria that Annie wouldn't be attending as it was very short notice, but she hoped Robert would be happy with his new husband. The day after the wedding, Robert revealed a letter from Annie which told him that Jack and Jacob would be so happy to see him settle down, and she hoped he will visit her with Aaron very soon. In April, Victoria rang Annie to tell her about her problems with Adam in the hope Annie might give her some advice. In November, Robert became a father and Victoria rang Annie to give her the news.
In July 2018, Victoria rang Annie to tell her that Sarah was fighting for her life due to a heart problem. In August, Diane visited Annie for two weeks.
In March 2019, Diane told Victoria that Annie rang and she was in great health. In May, following Victoria's rape, Victoria and Robert visited Annie to cheer Victoria up.
Annie passed away in August 2020, a month following her 100th birthday. Diane and Victoria went to stay with Matt and Dolly after hearing the news. 
In August 2021 while on a girls day out with Meena Jutla, Victoria felt wistful and upset as it was the 1st anniversary of Annie's death, Meena was keen to hear about Annie and accompanied Victoria to the field where Annie's ashes were spread.
Personality
Annie Sugden has felt responsible for Emmerdale Farm and the Sugden family. Life has not been easy for her, coping with financial crises, warring sons and the loss of her only daughter. But she has faced the problems courageously. She's a strong, level headed woman, loyal to her family but not blind to their weaknesses, and she speaks her mind when she feels it's called for. Annie's honesty is usually appreciated and people often turn to her for advice, but the years haven't dulled her sense of humour. She enjoys a joke as much as anyone in the family.
Trivia
According to the book Young Passions, Annie was a member of the Women's Institute, and in 1983 won a prize at a Women's Institute fair for her jam.
Background information
Quotes
"No sign of him then?" - First line.
---
"I might be nowt but a middle-aged widow now but in them days I was as romantic as the rest of 'em. On t'other hand, I'm a Yorkshire lass, born and bred, and we know dreams from reality." - Annie about Yorkshire.
---
"What's that?" - to Joe Sugden, about an explosion as a result of a plane crash, before Joe crashes the car.
---
"We all have our troubles, for heaven's sake! I've just buried the last of my children. But I carry on like I always have. And that's what Jack would have done. He thought you were man enough to run this farm, and look after this family after he'd gone. But are you?" - Final line, to Andy Sugden.
See Also