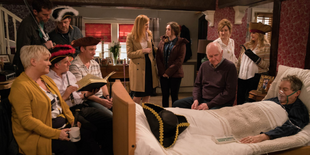 A
memory book
was created for dementia sufferer
Ashley Thomas
before he died of pneumonia in
April 2017
. Before he died, his friends created a memory book for Ashley's
family
, to let them know how loved he was.
Immediate family Laurel, Sandy, Gabby and Arthur wrote in the book, as well as close friends Jimmy and Nicola King, Dan Spencer, Rishi Sharma, Bob Hope and Brenda Walker, and ex-wife Bernice White. Laurel's father Doug Potts also wrote in the book.
Many memories throughout Ashley's life were transcribed into the book, such as his arrival in the village, his love for Laurel, the Nerf gun wars in the pirate ship, as well as the 'man club'. Nicola wrote about the choir auditions and how he and Laurel saved the church. Bernice wrote about her marriage to him and having their daughter, Gabby. Many other thoughts, stories and anecdotes about Ashley's life and personality were written in the book, bringing much needed comfort for Laurel and the family.
Community content is available under
CC-BY-SA
unless otherwise noted.