Benedict Alan "Ben" Dingle is the first member of the Dingle family to appear in Emmerdale. On one August evening in 1994, during a rave, Ben arrived. He nearly mowed down Dave Glover, who was saved by Joe Sugden and this resulted in a fight with Luke McAllister and Biff Fowler. When Ben was throwing fists at Luke, he suddenly collapsed and was pronounced dead. It was later announced that Ben had died of heart defect, but the Dingles refused to believe this however, theorising that the McAllisters had managed to hide evidence, considering that one of the doctors who examined Ben's body was Luke's father. The Dingles continued to cause trouble for Luke and the family until a year later when Luke was killed in a car accident.
List of Appearances
1994
Notes
Ben's actual date of death is somewhat unclear. Following Ben and Luke's fight in Episode 1893 (9th August 1994), Ben is said to be still unconscious in hospital at the start of Episode 1894 (11th August 1994). At the end of this episode, Bernard McAllister receives a phone call informing him of Ben's death. To add to the confusion, Ben's gravestone in the village lists his death as the 19th August 1994.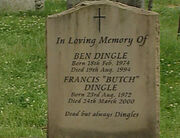 Community content is available under
CC-BY-SA
unless otherwise noted.