Brian Ian Francis 'Biff' Fowler is a school friend of Luke McAllister. He also dated Kathy Brookman but jilted her at their wedding, and made a brief return at Seth Armstrong's funeral in 2005.
Biography
Backstory
Brian Fowler was born on 9th August 1976. His father Ron Hudson had walked out on his mother Sandra Fowler when she was pregnant so Brian grew up without him.
As he got older, Brian was known as Biff, which was his initials. Biff went to school with Luke McAllister when the McAllisters moved to Yorkshire in 1993. Biff was a biker.
1994-1999
Biff first appeared in Emmerdale in March 1994 as a biker and school friend of Luke McAllister. He had a romance with Luke's sister, Jessica McAllister and was Betty Eagleton and Seth Armstrong's lodger. In August 1995, Luke died in a van smash and Biff blamed Tina Dingle as she had wrecked his life. Biff then began dating Linda Glover and they married on Boxing Day 1996, the same day that Linda's brother Dave died in a fire at Home Farm.
Biff and Linda had a happy marriage and were delighted when Linda fell pregnant in early 1997; but their happiness was cut short when she suffered a miscarriage. Linda died in a car crash in 1997 leaving Biff devastated and the following year, Biff embarked on an affair with Lady Tara Oakwell but she eventually dumped him. He also went on to have a one-night stand with Kelly Windsor, his brother-in-law Roy's girlfriend, in November 1998. She became pregnant by him, but suffered a miscarriage afer being pushed down the stairs by Kim Tate. Biff then began dating Kathy Glover and they planned to marry, but on the wedding day, Graham Clark showed up and during the vows, Biff began having doubts about marrying Kathy as he realised that Kathy saw a lot of Graham and was close to him. He jilted her at the altar while almost making his vows, leaving Kathy traumatised. Marlon Dingle wondered whether he would see his good friend again and Biff rode off on his motorbike, into the sunset.
2005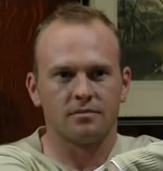 In October 2005, Biff made a brief return to Emmerdale following the death of Seth Armstrong. He first made an appearance when Betty relived the memories of Seth in his shed, when to Betty's astonishment, Biff walked in. Biff told Betty that she could stay in Keeper's Cottage, which he had bought for her and Seth, for as long as she liked, despite her offering to move out. Biff comforted Betty as she explained that she did not want Seth to be cremated and he suggested that she stop the cremation after the wake. Biff attended Seth's wake in The Woolpack and left again following the funeral.
Community content is available under
CC-BY-SA
unless otherwise noted.