Chloe Harris is the sister of Gemma Harris, the donor of Sarah Sugden's heart transplant. In August 2021, Chloe met up with Sarah.
Biography
In 2021, Sarah Sugden contacts Chloe and tells her that she received Gemma's heart. The pair later meet up but Sarah then has second thoughts over her friendship with Chloe. However Sarah later decides she wants to see Chloe again. As Sarah's family have forbidden her to see Chloe, when she sneaks out her uncle Noah Dingle follows her, Noah and Chloe get on well and start to text each other. After a while Chloe "ghosts" Sarah, however she continues to chat to Noah. A jealous Sarah gets her grandmother Charity to bring her to Chloe's house, but Chloe is not too happy with their presence. The next day, Charity and her boyfriend Mackenzie Boyd break into Chloe's house but are stopped by Chloe and her housemaid Kerry Wyatt.
Chloe and Noah start dating however Charity and Kerry do not accept the couple due to the nature of Chloe's father and how dangerous he is. Noah and Chloe plan to run away to be together, however, they are caught by Kerry and Charity. Kerry plans for her, Chloe and Kerrys daughter Amy to move away together, but Amy refuses to go. Amy's house is later trashed so it is assumed it is by Chloe's father Damon's thugs. Chloe visits her father in prison and tells him to stop all this, he responds by throwing her and Kerry out of The Manor so they move in with Amy.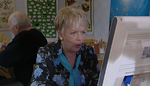 In February 2022, Chloe cheats on Noah by sleeping with Jacob Gallagher, when Noah finds out he dumps her and verbally abuses her. The next month, Noah is still hung up on Chloe and invites her to his party at the café. He flirts with Amelia Spencer with the intention of making Chloe jealous, however, Chloe decides to leave and is later horrified to find out that Noah humiliated Amelia by telling her he was only using her to get at Chloe.
Over the next couple of weeks Noah makes several attempts at getting close to Chloe, however Noah resorts to stalking Chloe, taking such measures such as taking photos of her without her knowledge and putting a camera and microphone in her bedroom. In May, Chloe and Noah spend time at Jacobs Fold, when Noah pops out, Chloe goes on his laptop and is horrified to find hundreds of pictures of her aswell as video recordings from inside her bedroom, when Noah returns she confronts him, he defensively responds and puts his hand over her mouth while she tries to escape, Charity arrives home and is shocked at the scene, Chloe makes her escape to the cafe where she tells everyone what just happened. After a game of cat and mouse between Amy, Kerry, Al Chapman and the Dingles for Noahs laptop, Charity eventually reports Noah to the police herself and he is sentenced to 3 months in prison.
See Also