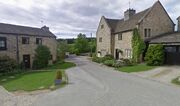 Church Lane is a residential street in Emmerdale. It connects to Main Street and Hotten Road.
The street holds many of the village's households as well as David's Shop, St. Mary's Church, a Playground and Emmerdale Village Institute. 
Buildings in Church Lane
Trivia
Church Lane's postal code is HT2 8PR.