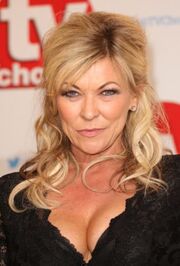 Claire King (born Jayne Claire Seed; 10th January 1962 in Bradford, West Yorkshire) has appeared as Kim Tate in Emmerdale between December 1989 and January 1999 and briefly in October 2018 before returning permanently in March of the following year. Kim is often considered to be one of the greatest British soap characters of all time and is often referred to as The Soap Superbitch.
Claire is also best known for her role as Karen Betts in Bad Girls between 2000 and 2004 and also appeared in Babes in the Wood, Hollyoaks, Casualty and Mayo.
In 2006, Claire took part in Strictly Come Dancing, partnered with Brendan Cole. The couple were voted out in the eighth week. Claire then took part in the summer 2014 series of Celebrity Big Brother.
She played Erica Holroyd on Coronation Street between 2014 and 2017.
She was formerly married to Peter Amory, who played Kim's stepson Chris Tate, between 1994 and 2004.
She won Best Exit at The British Soap Awards in 1999. Kim's return was revealed in September 2018 and her reception was overwhelmingly positive.