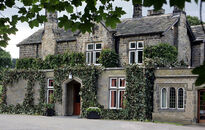 Creskeld Hall
Country House located in
Arthington
, near
Otley
,
West Yorkshire
and is the manor that was first used for the exterior scenes of 
Home Farm
(Then known as Miffield Hall) in 
Emmerdale
in 
1973
and then again on a regular basis from 
1978
to present date.
The present Hall at Creskeld occupies the site of the original Manor house and there are parts in the centre which date back to the 1600s, with very old oak beams. Much of the rest of the building was built between 1850 and 1920 and includes a chapel room that was rebuilt after a fire in 1870. This was never re-consecrated and is now part of the main house. A flat-roofed billiard room extension was added in 1919. This connects the rebuilt chapel with the main body of the house, and has enclosed a courtyard where the front entrance used to be.
The Hall has been privately owned by the same family since 1919 being purchased by Bertram Parkinson the grandfather of the current owners. It was then the home of Colonel Sir Malcolm Stoddart-Scott from 1945 until his death in 1973.
Use in Emmerdale
Edit
The Hall well known as the setting of Home Farm on the ITV soap Emmerdale and has been used on the show since the first series commissioned following the pilot series in 1972. In November 1972, filming commenced at Cresked Hall for the first time for a scene for that aired on 29th January 1973 which saw Trash trespass across the land and George Verney coming out to challenge him. From early 1973 to 1978 Home Farm was only mentioned but not seen again until 1978, when it was bought in as a rival to Emmerdale Farm, thus Creskeld Hall was used again for the exterior scenes of Home Farm from then onwards.
Internal scenes, however, have been shot in Yorkshire Television Studios since the 1990s and a purpose-built facade was used for a short period in 2014 at the Emmerdale village on the Harewood Estate set.
Over the years the filming of Emmerdale has included memorable scenes such as the 1997 death of Dave Glover in a fire which was filmed with a temporary structure built on the Hall's billiard room. In 2005 Zoe Tate destroyed the house by setting off a gas explosion which was filmed with the erection of a false facade on the eastern elevation of the Hall. 
Community content is available under
CC-BY-SA
unless otherwise noted.