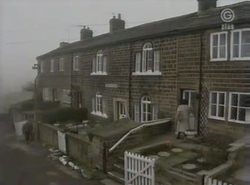 Demdyke Row
was a row of 6 cottages located in the sub parish called
Demdyke
, in the village of
Beckindale
. A majority of the street's houses were destroyed in the
1993
plane crash
, and the rest were totally demolished in
January 1994
.
Demdyke Row was built sometime in-between 1700 and the late 1800s. The row of cottages was a few hundred yards from the main village. For decades, Percy Edgar lived in one of the houses. In 1952, Seth Armstrong and his new wife Meg moved into No 6. Demdyke Row had an allotment next to it, where Seth had a plot, as did local Woolpack landlord Amos Brearly.
In 1977, elderly Hotten Courier's Beckindale correspondent Percy Edgar lived at a cottage in Demdyke Row. He died that year and his journalist position was handed to local landlord Amos Brearly, co landlord of The Woolpack with Henry Wilks. Joe Sugden and Kathy Gimbel moved into a cottage in Demdyke Row, much to the chagrin of Kathy's sociopathic father Jim Gimbel, even though Kathy was 25.
Irene Madden lived at 5 Demdyke Row. Later on, Jackie Merrick moved into a cottage. His friend Mike Conrad stayed with him. In 1988, Joe Sugden moved his fiancee Ruth Pennington into his cottage. This was short-lived as Joe found out that Ruth was still in contact with her ex-fiancee Liam. Joe worried that whenever Ruth left the house, she was going to see Liam, or to ring him so Joe asked her to leave, and she left the village completely.
Nick Bates and Archie Brooks moved into 3 Demdyke Row, which had been home of Nick's sister Kathy Merrick. Nick then moved girlfriend Elsa Feldmann in and they had a daughter Alice Bates in 1991.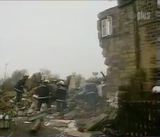 On the 30th December 1993, Elizabeth Pollard was babysitting granddaughter Alice Bates when her estranged husband Eric Pollard came to visit. Elizabeth vowed to have Eric for his shady dealings and stormed out of No 3. Eric followed her, and minutes later, a plane crashed onto the village, with a huge piece of wreckage hitting Demdyke Row. 2-year-old Alice luckily survived and had to be pulled out of the rubble by the emergency services.
Demdyke Row was demolished in January 1994 just after the plane crash. Joe Sugden went to live with Jack at Hawthorn Cottage, and Seth moved into Keepers Cottage  with his old fiancee Betty Eagleton. Nick Bates moved into his old home at Victoria Cottage.
The remainder of Demdyke Row was demolished and no redevelopment took place on the land where the row stood.
Buildings on Demdyke Row
Edit
Community content is available under
CC-BY-SA
unless otherwise noted.