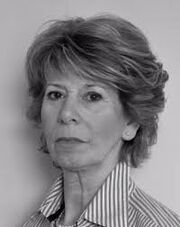 Elizabeth 'Liz' Estensen (born 10th August 1949, in Stockton-on-Tees) is an English actor, mainly known for work in the popular television dramas The Liver Birds and Emmerdale.
Career
Estensen played Susan in the film version of Willy Russell's play Our Day Out with Alun Armstrong. She rose to prominence in the 1970s, playing Bert's girlfriend in the Willy Russell musical John, Paul, George, Ringo … and Bert at the Everyman Theatre, Liverpool transferring to the West End in 1974. She then appeared on television as Carol Boswell in five series' of The Liver Birds, from 1975 to 1979. The Liver Birds was recently run on the Paramount Comedy Channel in the UK.
Estensen took the lead role of T-Bag in the children's television series Wonders in Letterland (1985) and appeared in six sequel series and two Christmas specials until 1989. T-Bag was thereafter played by Georgina Hale.
Estensen played Pam Middleton in Coronation Street between 1996 and 1998. Since 1999 she has played a regular role as Diane Sugden in the soap opera Emmerdale.