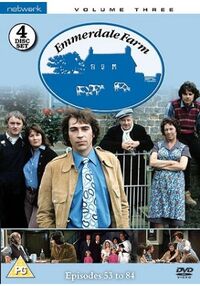 Emmerdale Farm: Volume Three is a four-disc DVD boxset featuring 32 consecutive episodes of Emmerdale Farm originally broadcast over 1973. It was the third of four boxsets released by Network DVD featuring the early years of the show.
The boxset was released on 30th May 2011. Three more volumes Volume One, Volume Two and Volume Four have also been released.
In a rare error for Network, an image from Frank and Janie Blakey's wedding is used on the cover art, depsite this episode appearing on Volume Two.
Summary
From the back of the DVD:
England's first rurally based soap opera, Emmerdale Farm quickly became one of the nation's best-loved programmes. Moving from its original mid-week afternoon slot to the heart of peak-time scheduling and becoming one of the longest-running dramas on British television, the series continues to scoop multiple awards and nominations. Revisit Beckindale's early days with 32 classic episodes orginally screened in 1973.
This third volume presents a host of memorable characters and storylines: Henry Wilks' plan to modernise and intensify farm operations, and the resulting conflict with Matt Skilbeck and Jack Sugden; Peggy Skilbeck's tragic death; the arrival of doctor Clare Scott; and the ongoing tribulations of the teenage Joe Sugden. At the Woolpack, meanwhile, Amos is desperately seeking staff, and the return of barmaid Alison causes more than a little friction...
Content
The boxset contains four individual discs, each containing six to seven episodes. There are no special features or subtitles.
Community content is available under
CC-BY-SA
unless otherwise noted.