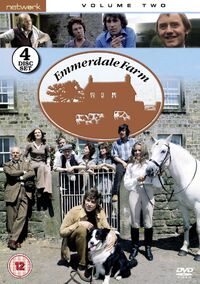 Emmerdale Farm: Volume Two is a four-disc DVD boxset featuring 26 consecutive episodes of Emmerdale Farm originally broadcast over 1973. It was the second of four boxsets released by Network DVD featuring the early years of the show.
The boxset was released on 14th September 2009. Three more volumes Volume One, Volume Three and Volume Four have also been released.
In a rare error for Network, images of Lynn Dalby (Ruth Merrick) and Gail Harrison (Marian Wilks) are used on the cover art despite neither of them appearing in any episodes on the DVD.
Summary
From the back of the DVD:
England's first rurally based soap opera, Emmerdale Farm quickly became one of the nation's best-loved programmes. Moving from its original mid-week afternoon slot to the heart of peak-time scheduling and becoming one of the longest-running dramas on British television, the series continues to scoop multiple awards and nominations. Revisit Beckindale's early days with this set of classic episodes orginally screened in 1973.
Ten days have passed since Emmerdale Farm Limited was formed. The Jameson farm now belongs to the Sugden and Wilks partnership, and preperations are underway for the sheepdog trials. But admid the bustle and excitement, events are about to take a dramatic and ultimately tragic turn for one local family...
Content
The boxset contains four individual discs, each containing six to seven episodes. There are no special features or subtitles.
Community content is available under
CC-BY-SA
unless otherwise noted.