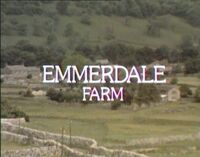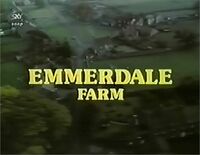 1974 was Emmerdale Farm's 3rd year. Production was overseen by Robert D. Cardona.
99 episodes were broadcast this year. Storylines included the mysterious arrival and six months later, the equally mysterious disappearance of Dryden Hogben, Joe Sugden's doomed marriage to Milk Marketing Board worker Christine Sharp, Alison Gibbons finding herself being the subject of Henry Wilks and Matt Skilbeck's affections, Ethel Ainsworth's unwelcome advances on Amos Brearly and the further developments of The Woolpack Hotel following the partnership formation between Henry Wilks and Amos Brearly.
Production
Edit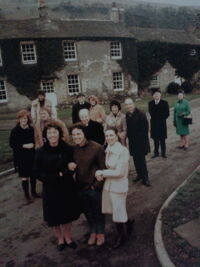 At the beginning of the year, a small storyline involving Ruth Merrick going through a rough patch in her marriage with Tom Merrick saw Lynn Dalby return to the role for a few episodes. This was the first appearance of the character since November 1972 and the next time she would appear in 1980, Ruth went by a different name and was portrayed by a different actress.
Eric Allan and Diane Grayson left their roles as Frank Blakey and Janie Blakey respectively early in the year after their characters decided to move to Essex where Frank found himself a teaching job. Janie would return over 12 years later, then played by a different actress. 
Carolyn Moody left the programme after nearly eighteen months of playing Alison Gibbons in September. That month also saw the final appearance of Patrick Holt as George Verney. Gail Harrison returned as Marian Wilks in December, last being seen almost two years previously and Diana Davies appeared in four episodes as housewife Letty Brewer. She would later return to the series ten years later as long-running character Caroline Bates.
Behind the scenes, the opening titles were updated for the first time in the programme's history in April.
Main Cast
Edit
Storylines
Edit
to be added
Who lives where
Edit
Who works where
Edit
Awards and Nominations
Edit
to be added
Community content is available under
CC-BY-SA
unless otherwise noted.