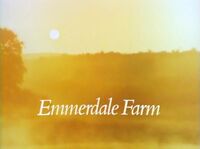 1976 was Emmerdale Farm's 5th year. Production was overseen by producer Robert D. Cardona and executive producer David Cunliffe. 
38 episodes were broadcasted this year. Storylines included Joe Sugden and Kathy Gimbel's scandalous relationship, Matt Skilbeck's twin children being killed in a road traffic accident along with his Aunt Beattie, The Woolpack relocating following subsidence, Amos Brearly becoming a reporter for the Hotten Courier and Jack Sugden's brief return. 
Production
Edit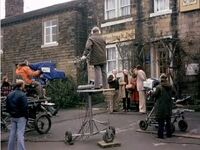 Behind the scenes, location filming switched from Arncliffe to Esholt where it would remain until 1998. Crew had decided that Arncliffe was too far from the Yorkshire TV studios, resulting in travelling being both time-consuming and expensive as, usually, cast and crew would need to stay overnight in local hotels. Like Arncliffe, Yorkshire Television were contracted not to name the new village being used. The Woolpack was deemed the most recognisable exterior from the Arncliffe village and therefore a storyline was devised for subsidence to force a relocation to a different building onscreen in Beckindale. The final episode filmed in Arncliffe aired on (5th April 1976). 
Michael Glynn was announced as taking over production duties from Robert D. Cardona in May but, due to the programme remaining off air from mid-May for the remainder of the year, his work was not broadcast until the start of 1977. The break saw Emmerdale Farm remain off-screen for over six months and, as a result, only broadcast a total of 38 episodes in the calendar year. This is currently the longest period the show has remained off-air since it began. I didn't return until January the following year. 
Lorraine Peters made her last appearance as Lena Dawkins. Both Angela Cheyne and Andrew Burt returned to the screen for short stints in March as Christine Sugden and Jack Sugden respectively. This would be Andrew Burt's last appearance of Jack, being replaced by Clive Hornby upon the character's return in 1980. In April Lesley Manville departed as Rosemary Kendall after fourteen months in the role.
Main Cast
Edit
Storylines
Edit
to be added
Who lives where
Edit
Who works where
Edit
to be added
Awards and Nominations
Edit
to be added
Community content is available under
CC-BY-SA
unless otherwise noted.