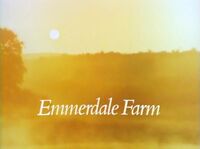 1977 was Emmerdale's 6th year. Storylines included Joe Sugden and Kathy Gimbel becoming Beckindale's first live-in lovers and the arrival of Dolly Skilbeck. 92 episodes were broadcast this year.
Production
Edit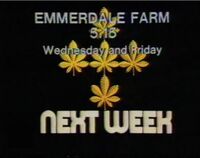 An increase in popularity saw ITV reconsidering the programme's broadcast in a lunch-time slot with many regions opting to move the show up the schedule to mid-afternoon. By April, Yorkshire Television, Tyne Tees Television and Border Television promoted it to a 7pm slot, moving transmission days to a Tuesday and Thursday beginning with Episode 347. By August, ATV, Southern Television and Ulster Television had also followed suit. Granada and Harlech settled on broadcasting the programme at 6.30pm on Tuesdays and Fridays while most other ITV regions screened the show at 5.15pm on Tuesdays and Thursdays (initially Wednesday and Fridays on Thames before moving to Tuesday and Fridays). By this point, the show had regularly started to pull in around ten million viewers.
The move to Esholt the previous year had opened up the possibilities for new locations in Beckindale and, for the first time, Demdyke Row appeared as Kathy Gimbel and Joe Sugden set up home there. Esholt's Bunkers Hill would cover as Demdyke Row until 1993.
Arrivals and departures for the year saw both Katharine Barker and Hugh Manning join the cast as Dolly Acaster and Donald Hinton respectively, while Polly Hemingway left the series as Kathy Gimbel in June.
After being appointed the previous year, Michael Glynn took over production from Robert D. Cardona, with his work finally making its debut onscreen. The series refrained from a lengthy summer break this year, disappearing off air for just two weeks in August.
Main Cast
Edit
Storylines
Edit
to be added
Who lives where
Edit
to be added
Awards and Nominations
Edit
to be added
Community content is available under
CC-BY-SA
unless otherwise noted.