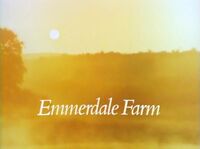 1981 was Emmerdale's 10th year. Storylines included Pat Merrick's divorce from Tom Merrick and her growing relationship with Jack Sugden, a break-in at Emmerdale Farm with the burgular accidentally fatally running over sheepdog Snip, Amos Brearly being sacked from the Hotten Courier and setting up rival newspaper the Beckindale Bugle and Richard Anstey's affair with his boss' wife, Virginia Lattimore. 68 episodes were broadcast this year.
Production
Edit
Anne W. Gibbons continued as producer for her second year onscreen. Her only notable addition to the cast this year was Drew Dawson as NY Estates workman Jock MacDonald who, while only appearing in two episodes this year, would go on to appear consistently through the remainder of the decade.
A dispute at Yorkshire Television called a halt to filming in October as seventy electrician staff went on strike, in response to four workers being suspended. The strike lasted from the 1st October through to the 29th. The programme only had enough episodes banked to air until Episode 696 which aired on 5th November and, as a result, was pulled from the schedule a month early, with repeats going out in the afternoon to keep the show in the public eye. Shooting began for the next block once the dispute was resolved but these would not be seen on screen until January 1982, beginning with Episode 703. As a result of the strike, Episode 697 to Episode 702 never made it to the screen and though Lance Parkin's 30 Years of Emmerdale book notes that the episodes were "made but never transmitted", there is no evidence to suggest that when production resumed these episodes were filmed.
In November 1981, Stan Richards (as Stan & The Gang) released a single on 7" vinyl titled 'Grandad's Motto'. The song was based on a Yorkshireman's advice to his son and captured the essence of Seth Armstrong's character ("See all, hear all, say nowt. Eat all, sup all, pay nowt!"). The track was written by Geoff Ashford and released on the Spy 80 label.
The programme once again took a summer break, this time remaining off air over July and August.
Main Cast
Edit
Storylines
Edit
to be added
Who lives where
Edit
to be added
Awards and Nominations
Edit
to be added
Community content is available under
CC-BY-SA
unless otherwise noted.