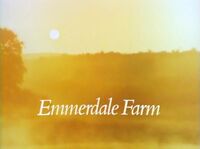 1982 was Emmerdale's 11th year. Storylines included Alan Turner being appointed new manager of NY Estates, Dolly Skilbeck's pregnancy and birth to Samuel Skilbeck and the revelation that Jack Sugden was actually Jackie Merrick's father. 68 episodes were broadcast this year.
Production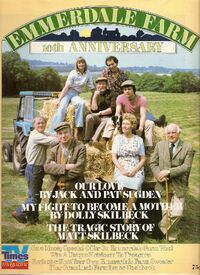 The programme returned to air following the strike the previous November with Episode 703 on 12th January. The last episode to be aired before the strike was Episode 696, meaning that six episodes worth of material were never broadcast due to the strike. No explanation was provided onscreen as to what had happened in these episodes and viewers were left having to fill in the blanks for themselves. One such incident to have occurred but not broadcast was Jack Sugden's proposal to Pat Merrick.
Anne W. Gibbons continued her reign as producer for the third year running. Two additions to the cast came in the shape of Richard Thorp as Alan Turner and Rosie Kerslake as Barbara Peters. Richard would start on the programme on 2nd January - his fiftieth birthday, but his first appearance wouldn't appear onscreen until March.
The programme celebrated its 10th birthday on 16th October and this was marked by a special tribute show - A Decade Down on the Farm, broadcast on 18th October. The programme, presented by Richard Whiteley, spoke to all six remaining original cast members as well as series creator Kevin Laffan. A press event was also held in London in celebration and TV Times published a special souvenir magazine to acknowledge the milestone.
The summer break for this year came in mid-June where the programme remained off screen until September.
Episodes
Main Cast
Storylines
to be added
Who lives where
to be added
Awards and Nominations
to be added
Community content is available under
CC-BY-SA
unless otherwise noted.