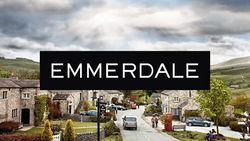 2020 is Emmerdale's 49th and current year. Production is overseen by producers Kate Brooks and Laura Shaw and executive producer Jane Hudson.
Production
This year has been affected by the ongoing 2019-20 coronavirus pandemic with ITV shutting down production on 22nd March for health reasons and the programme reducing its weekly output from six to three episodes from 30th March. This marks the first time filming has ceased in nearly 40 years, the last time being during the 1981 ITV Strike. The show returned to filming on 20th May with strict social distancing measures in place and a par-backed crew to film six episodes featuring characters during the lockdown via the use of two/three hander episodes. From 8th June, the programme reduced its weekly output from three to two episodes for three weeks and began airing special lockdown episodes. From 29th June, the programme returns to air three episodes.
Episodes
Main Cast
(as of Episode 8818 (7th August 2020))
Storylines
January
Victoria Sugden gives birth to a healthy baby boy, whom she names Harry.
Liam Cavanagh and Leyla Harding share a kiss but Liam instantly regrets it as he's engaged to Bernice Blackstock who is currently in Australia. He calls Bernice who breaks up with him but he is determined to make things right and tells Leyla that there can't be anything between them.
Vicar Harriet Finch fears the Church is going to be shut down after a visit from the new bishop as they would have to do expensive repairs on the church. Harriet's boyfriend Will Taylor robs the Church of its valuables and donates money anonymously, and Harriet is told the Church will remain open. She is initially furious but soon forgives him.
David Metcalfe finally contacts Social Services and tells them about his baby son who was left on his doorstep two weeks prior. David fears he will lose his son.
Charity Dingle is furious to find out Graham Foster, who she already blames for her son Noah's overdose, took him to hospital after he collapsed and didn't tell her. He then insults her mothering skills, leaving her fuming.
Sarah Sugden agrees to sell drugs for Danny Harrington after he shows he's been beaten up and claims he'll get hurt worse if she doesn't help. However, when she realises that he lied and he had gotten his injuries from falling off a bike, she stitches him up and calls the police.
Cain Dingle stops his estranged wife Moira from seeing their kids, Kyle and Isaac after her drinking caused her to pass out and fail to notice a sick Isaac shouting for her all night. In an attempt to get back at Cain's son Nate Robinson, who she blames for ruining her life, Moira calls his mother Cara Robinson. Moira drinks so much that she passes out in a ditch and is almost run over by Cara who then takes her to hospital. There Cain comes face to face with Cara who he hasn't seen since they were teenagers. Cara tries to convince Nate to leave the village with her but he refuses. Moira soon realises that she can't go on like this and Cain allows her to say goodbye to Kyle and Isaac before she leaves the village for a while to sort herself out.
Aaron Dingle is told he will no longer be allowed to see his step-son Seb now when Seb's father as well as Aaron's husband, Robert Sugden is in prison. He spirals and starts sleeping around, ending with him almost getting robbed. He finally realises he has to sort himself out and signs his and Robert's divorce papers. He decides to leave the village and stay with his cousin Debbie Dingle in Scotland for a while.
Ryan Stocks realises Graham has been drawing large amounts of money from his ex-wife Kim Tate's account. Graham convinces him to help him do it with the promise that he only takes what is rightfully his and that a cut will go to him and his brother Noah. However, when Ryan starts getting cold feet Graham threatens him.
After his marriage to Andrea Tate fell apart last year, Jamie Tate decides that it is time that he and daughter Millie move out of Home Farm. Jamie's mother Kim subsequently throws Andrea out as well.
Rhona Goskirk accuses Marlon Dingle of stealing their son Leo's passport after it goes missing. She refuses to believe him when he denies it but he counters by asking why she needs it, convinced she and boyfriend Graham, plans to leave for France and take Leo with them. She denies it but the next day Vanessa Woodfield finds out the truth and begs her not to go.
Jai Sharma relapses and calls his dealer to buy cocaine after the stress of working on Hawksford Outdoor Pursuits and pressure from colleague Al Chapman gets too much for him.
On the opening day of HOP, Graham is murdered by an unknown assailant, with Kim, Al, Jai, Charity, Jamie, Andrea and Marlon being suspects. A series of flashback shows all the people that he wronged that day leading up to his murder. Kim found out he had been stealing from her account and asked Al to kill him exchange for a large sum of money to which he agrees in order to pay off the loan shark he owes money to. After Jai crashed into Graham's car whilst driving high Graham revealed his drug relapse to his girlfriend Laurel Thomas who breaks up with him after he refuses to admit it, causing Jai to take more drugs and attack his father Rishi before stumbling out in the night, cursing Graham for ruining his relationship. Graham ruins Charity's wedding day to Vanessa when he locks Ryan in a shed to stop him from telling Kim about the money he's stolen. When Andrea finds out that Jamie has hired a private investigator, she asks Graham for dirt on Kim as percussion but later puts aside her differences with Jamie. Graham ruins that by revealing what Andrea asked him for, causing Jamie to turn on her again and a fight to break out between Graham and Jamie. Marlon has a breakdown and attacks Graham at Hawksford after he takes his kids for a drive, he is later furious when Rhona finally reveals her Graham's plans to move to France with Leo. Before leaving that night, Graham headed out to talk things through with Marlon at Hawksford but was hit on the head by Rhona's rapist ex-husband, Pierce Harris who after a lengthy fight managed to kill him with a fatal blow to the head. Graham's body is found the following day and after police find planted evidence in his house, Marlon is charged with the murder and denied bail. The Dingles decide to start a campaign to free Marlon. Meanwhile, Rhona is determined to clear Marlon's name and find the real killer. Pierce continues to stalk her, convinced they will soon be together again.
Jai finds out he attacked Jimmy King whilst high on drugs and decides to go to rehab.
Charity and Ryan reveal they stole Graham's money as revenge the night of his murder, causing tension in Charity's relationship with Vanessa who thinks she needs to tell the police.
Andrea reveals she accidentally killed the Sharmas' dog Tip and it turns out Jamie slept with Belle Dingle the night of Graham's murder.
February
When Laurel Thomas receives news that Sandy Thomas has died, Sandy's grandson Arthur thinks it's his fault as God is punishing him for his actions and tells Laurel that he's the one who has been hurting Jai's 8-year-old son Archie Breckle. The Thomas family goes to Australia for the funeral and Laurel refrains from telling Jai about Archie's confession.
April runs away from home after discovering she's been lied to about kids not being allowed in prison. She is found the next day and Sam Dingle who convinces Marlon to finally let April go visit. The Dingles continue with their "Free Marlon" campaign but struggle to raise enough money while Marlon struggles to cope with in prison.
Kim catches Jamie and Belle kissing and believing Belle is not good enough for her son, threatens to tell her boyfriend Ellis unless she stays away from him. Belle refuses to be threatened but decides to back off for Jamie's sake as he needs to focus on Millie.
Luke Posner and Victoria grow closer and she starts letting Wendy Posner around Harry. Wendy finally admits she knows that her son Lee raped her and apologises for her actions and not believing her. Victoria struggles to forgive her but starts to feel bad for her. Victoria agrees to give her and Luke's relationship a go.
Pierce continues to stalk Rhona, going as far as entering her house and watching her sleep. Overhearing that she blames Kim for her life being a mess, he decides to get back at her and presents himself as a lawyer called Ollie and provides legal advice to Jamie about Andrea. Andrea is enraged when Jamie tells her that he wants them to sort out custody arrangement in court and Kim stops her from renting a place of her own for her and Millie in the village, and vows to get full custody of their daughter and move far away from them.
Pete Barton realises working at Wylies Farm was a bad idea as it has brought up bad memories of his dead family members. He leaves the village to stay with his brother Ross in Liverpool.
Moira returns from Nana Barton, a new reformed person. She tries to get Cain to give their relationship another go but he presents her with divorce papers which she begrudgingly signs.

Vanessa tries to convince Charity that she needs to tell the police about the money she and Ryan stole to help put light on Kim's motive for wanting Graham dead and get Marlon out of prison, but she refuses as she's convinced it will lead to her and Ryan facing prison. After a huge row, Vanessa thinks through her option and whilst out playing with her 4-year-old son Johnny, notices Pierce walking around the village. To keep her from ruining his plan, he takes off with Johnny and is followed by Vanessa into Mulberry Cottage where he takes them both hostage. Whilst holding her captive Pierce finds out that Vanessa has just been diagnosed with bowel cancer. In her abstinence, Charity believes Vanessa has left her and dreads her return while Vanessa continues to be tormented by Pierce who refuses to let her see her son and forces her to listen to him drugging him over the baby monitor. Meanwhile, Ryan tells Rhona about the cash he and Charity stole from Graham and she threatens to go to the police but opts to tell them she found the money in his belongings leaving Charity and Ryan out of it.
Leyla and Liam start seeing each in secret.
Dawn Taylor is allowed to have her son Lucas stay with her for a night. Whilst Dawn is out, Lucas finds a real gun in the house and waves it at Harriet, Will and Dawn's boyfriend Billy Fletcher. Billy gets the gun off him but he and Harriet are furious to discover the gun belongs to Will as he needs it to feel safe, fearing someone from his shady past could come after him. Harriet insists it's dangerous to keep in the house and steals the gun when Will refuses to give it up, asking Cain to get rid of it for her. She convinces Will that it was for the best and he agrees to go to counselling. Billy and Harriet agree to not tell Dawn about the incident.
In an attempt to protect Moira from what he thinks is a rustler at Butlers Farm, Cain accidentally shoots Nate in the abdomen with Will's gun. Moira covers for him, telling the police that a rustler shot him but Cara doesn't believe her and vows to find out the truth. Cain feels guilty and he and Nate start to grow closer. Cara and Cain decide to put aside their differences much to Nate's joy. Nate and Tracy Metcalfe decide to make their relationship exclusive.
The hostage situation comes to its head when Pierce forces Vanessa to face time Rhona in order to get her to come to see him. Rhona is horrified to see the state her friend is in and even more so when she sees Pierce's face but agrees to come in order to save Vanessa and Johnny but is terrified to come face to face with Pierce. When Kim interrupts the conversation, Pierce knocks her out and puts her in a room upstairs with Vanessa and Johnny. Rhona plays along with Pierce getting him to trust her and confess to Graham's murder whilst she uses Kim's phone to live-stream the whole thing to the "Free Marlon" website. Rhona manages to take Pierce down by injecting him with a vial from the vet's surgery and delivers a speech, saying he is not her hero or protector. Vanessa, Johnny and Kim are rescued and Pierce is arrested and charged with kidnapping and murder, despite his attempts to wriggle out of it. Marlon is released and reunited with his family, although he struggles to cope with what happened to him and starts lashing out.
The Thomas' return to the village and Laurel and Jai rekindle their romance. Meanwhile, Doug Potts reveals he wants to return to Australia and stay there permanently. He leaves the village a few days later.
Vanessa tells Charity about her cancer diagnosis. Charity struggles to cope and keeps her distance, unaware Vanessa has an appointment to see her consultant. Vanessa learns her cancer is at stage 3 and she will need an operation. Meanwhile, Charity confines her fears in Chas Dingle who convinces her she's strong enough to be there for Vanessa. Charity returns home and is shocked to learn Vanessa went to her appointment alone as well as the severity of her cancer. She tries to comfort her fiancee but she pushes her away.
March
Kim holds Graham's funeral without telling anyone, despite promising Rhona she would get to be part of it.
Marlon feels guilty to discover April has been bullied while he was in prison and soon washes his hands with his family, believing they hadn't done enough for him. Meanwhile, Andrea figures out Kim tried to pay someone to kill Graham but is disgusted when Jamie still takes Kim's side. Marlon finds out and calls the police, leading to Kim being arrested. After being put under pressure she reveals that the 60k pounds she paid out were to Al but they both deny anything illegal going on and are released based on lack of evidence. Al confesses his involvement to his son Ellis Chapman, who wants nothing more to do with him but refrains from telling the police, causing a furious Marlon to force him and Billy to move out.
The police show up at Butlers with DI Malone, telling Moira and Cain that the gun used in Nate's shooting has been traced back to a gang-related incident where three men were killed. Malone confronts Will and it turns out he's the leader of the gang Will used to work for and the gun belonged to him. He blackmails Will to start working for him again but when Cain finds a stash in the garage he confronts Malone, telling him to leave Will alone. However, Malone doesn't take Cain's threats lightly and gets Cain to deliver his stash to him and upon doing so forces him to continue working for him after seeing how skillfully he avoided the police. Cain refuses but Malone gives him no choice, threatening his family.
Charity tries to convince Vanessa to tell more people, including their children, about her diagnosis, but she refuses. Later, Charity accidentally blurts it out to Vanessa's sister Tracy. Vanessa is initially upset but realises that talking to Tracy helped and decides to tell the kids and the rest of her friends. Later, Vanessa has her surgery which is successful at removing the tumour and affected lymph noodles but she is disappointed to learn she will still need chemo as a precaution.
Laurel agrees to move in together with Jai but she is mortified when Jai leaves Archie and Arthur alone in the house and they return home to Archie lying hurt on the floor. Believing Arthur has hurt Archie, Laurel finally tells Jai the truth about the bullying. Arthur is adamant Archie just fell and he wouldn't hurt him again but the whole family thinks he's lying. Laurel decides to put Arthur in counselling while Archie starts threatening Arthur, saying that if he tells them Arthur is still bullying him, he could get him sent away for good.
Sam Dingle decides to finally take off his late wife Alice's wedding ring as he's soon-to-be marrying Lydia Hart and gifts it to his son Samson. However, when Lydia and Sam find out Samson ponded the ring to get money to visit his girlfriend in France Mandy's son Vinny takes the blame. Mandy buys the ring back and Samson admits the truth prompting Vinny to finally reveal that he's not really a Dingle. Mandy and Vinny tell the story of how she dated his dad Paul and raised him after he left them and Vinny empathises how Mandy is a real mum to him. Lydia exclaims that the way he wanted to protect Sam and Samson's feelings more than proves his place as a Dingle.
Kim hires a man named Nick to pretend to be Andrea's client, getting a recording of them kissing in order to use against her in court. However, Andrea admits it all to Jamie who is furious with his mum and moves out of Home Farm. Jamie and Andrea decide to give their relationship another go but Jamie struggles with his feelings for Belle who herself feels distant from Ellis. Belle accompanies Jamie on a call out and they end up sleeping together. After almost getting caught, Kim covers for him and Jamie tells Belle that they are over.
Marlon suffers a heart attack and is taken to hospital by Paddy Kirk who in the stress of the situation forgets his 5 months old daughter Eve in the car. He soon realises his mistake but panics when she's gone. He is soon approached by a police officer who assures him she's fine but wants to ask him some questions. Paddy and his partner Chas Dingle are told they can take Eve home the following day but that Social Services has been contacted. Paddy and Chas' relationship takes a toll as Chas doesn't trust Paddy with Eve and Paddy walks out, believing they are better off without him, causing him to miss the first meeting with the social worker. Paddy and Chas finally sort things out and decide to have a united front. In a second visit, Paddy tells the social worker exactly what happened and assures her that he tries his best and that Chas is an amazing mum. She tells them they should have nothing to worry about.
David receives a letter disclosing he's been granted parental responsibility of Theo.
Victoria and Luke sleep together but Victoria feels weird afterwards. She tells him she felt like it was happening to someone else and that she's realised it is too soon for her to have any type of relationship with anyone.
Leanna Cavanagh and Gabby Thomas, daughter of Liam and Bernice respectively, are furious to discover Liam and Leyla are seeing each other. Liam tries to tell them he and Bernice are over and that Leyla makes him happy but Leanna says he'll have to choose between her and Leyla.
DI Malone attacks Billy Fletcher at the scrapyard and forces him and Cain to get rid of a car for him. They get to the blood-covered 4x4 and Cain decides to keep it as leverage. Malone wants to send the three of them on more jobs but Will goes alone believing he can deal with it on his own and wanting to keep Billy and Cain out of it. 
Dawn is permitted sole custody of Lucas. He comes to stay with her at Woodbine Cottage but she worries when Lucas' foster mum gives him a teddy bear which when he squeezes it he can her his foster mum's voice telling him he loves him and he keeps acting up around her.
Dan Spencer has an allergic reaction from one of Brenda Walker's new vegan wraps and collapses in the garage, hurting his back. In hospital he realises he is paralyzed from the knees down and scans show that one of the interlocking bones in his spine has fractured. He has a successful surgery but is told he'll need physio to recover and that it could take months until he can walk again. Brenda is horrified when she realises that she didn't check the ingredients properly and it turns out her dressing contained almonds, which Dan is allergic to.
April
Rhona finds out Graham has left her a lot of money in his will and decides to go into business with Moira who struggles financially with the farm on her own.
Priya Kotecha and Al grows closer as Priya tries to help him getting Ellis back on side. They share a kiss and Priya asks him to keep this between the two of them until they're sure as her family won't like it.
Malone continues to cause trouble for Will, Billy and Cain. Billy tells Will about the car they have hidden away at Wylie's. Will torches the car and dumps it in a field, infuriating Cain. Malone gets Billy arrested on the suspicion of assault after he talks back to him. Cain, Will and Billy are forced to agree to do one last job for him in order to keep Billy out of prison.
Jamie uses the vet's financial issues to convince Paddy that they need to fire Belle but she sees through it right away and confronts Jamie over trying to get rid of her. He admits that it's to sharing seeing her every day knowing her can't have her and the pair share a passionate kiss. Belle breaks up with Ellis not wanting to put him through her lies anymore but remains convinced Jamie won't leave Andrea. However, Jamie later admits that he loves her and that he'll leave Andrea.
Bob Hope and Wendy try to get Victoria and Luke back together but their plan fails. The mood turns awkward when Bob admits he has feelings for her but he soon agrees to forget about it and continue just as friends.
Paddy continues to struggle with the guilt over leaving Eve in the car and gets overprotective over her. His father Bear Wolf tries to assure him he's a great father and convince him to confine his problems in Chas.
Sam and Lydia finally get married. Before the wedding, Mandy gets stranded in the middle of nowhere and is shocked to run into Paul who claims he has sorted his life out and wants to see his son. Mandy lies that Vinny has left but Paul sees him at the wedding reception and goes to see Vinny at his new job at the scrapyard, pretending to be a customer named Alex. Vinny convinces Aaron to get "Alex" a job a at the scrap yard and the two start to bond. Meanwhile, Mandy tells Lydia the truth and admits she's worried if he gets his claws into Vinny, she could lose him for good. Lydia agrees to not tell Vinny about Paul looking for him.
Vanessa starts her first session of chemotherapy but ends up going alone after convincing Charity to stay home with their sick kids. Troubles arise when Charity finds Kerry Wyatt, who was responsible for Vanessa's father's death the year before, keeping her company and kicks off, making a scene and embarrassing Vanessa. Still upset, Vanessa goes on a night out with Rhona to prove she's still normal and ends up throwing a drink over a student's head which gets filmed and shared all over social media. Charity gets upset and tells her she shouldn't be drinking. They eventually make their amends but Vanessa shocks Charity by asking her to be Johnny's guardian in the case of her death. However, Vanessa is upset when Charity hesitates a few seconds before saying yes and, convinced that Charity isn't up for the task, asks Rhona instead.
As Lucas continues to act up, Dawn agrees to invite his foster parents, Carol and Ted over for some advice but is devastated when Lucas wants to come with them when they leave and tells Dawn he hates her. Dawn is furious when Will almost ruins her chances when he tells Ted and Carol to stay away, believing their involvement is hurting Dawn and Lucas. Dawn finally finds out the truth about Will's gun.
Andrea sees Jamie and Belle kissing during the Easter Hunt.
May
Malone attempts to set Billy and Cain up by sending them out on a job to pick to up a bag of drugs but Will realizes what Malone is doing. Malone and his team of officers stop Billy and Cain's car and search it but has to let them go when they don't find anything. It turns out Will has called Dawn who saves their skin but is furious at what she's been dragged into. Malone realizes that Will tipped them off and has him beaten up, landing him in hospital. Cain finally reveals the truth to Harriet who is furious and ends things with Will.
Bear finally tells Chas that Paddy isn't coping. Paddy freaks out when Eve won't stop crying and Chas walks in, seeing Paddy screaming at Eve how she's ruining his life. Chas and Paddy finally have a conversation and talk about how much they struggle and how losing Gracie still affects them and how they're parenting Eve. Chas tells him they'll get through this together and that he's a great dad.
Andrea is determined to keep Jamie from Belle and rope him into agreeing into going on a holiday. 
Dan tries to stand up from his wheelchair but falls over. Dan has another scan which shows he has slipped a disc in his back and him making a full recovery is no longer guaranteed.
Who lives where
Main Street
Church Lane
Hotten Road
Cricketer's Row
Robblesfield Way
Connelton Lane
Widdup Lane
Other
Who works where
Main Street
Church Lane
Hotten Road
Robblesfield Way
Other
Awards and nominations
National Television Awards
Television and Radio Industries Club Awards'
Soap of the Year: Emmerdale (Nominee)
Community content is available under
CC-BY-SA
unless otherwise noted.