The Gennie Walker Memorial Playground is a playground built and funded with the assistance of Brenda Walker, who had raised money to have the playground built and named in memory of her adoptive daughter, Gennie, who was murdered in July 2013. The playground features all of the things you'd expect of a good old playground; slide, climbing frame, roundabout, swings, and even a tractor toy. It is frequented by the younger children of Emmerdale.
Storylines
Edit
The playground almost never existed entirely, because Brenda's husband Bob Hope, had dipped into the fund for the playground in May 2015 to give to his own daughter Carly, who needed money to buy David Metcalfe's shop.
Thankfully, the fund was replenished, but building was once again disrupted in August 2015 when a helicopter crashed in the neighbouring village hall, killing Ruby Haswell and Valerie Pollard. Luckily, building resumed as normal soon afterwards.
By December 2015, the playground had been fully completed and was opened by Brenda with the assistance of her son-in-law, Gennie's widower Nikhil Sharma, who also donated a memorial plaque to the playground. Brenda hoped she could honour Gennie's memory with the playground, as she always loved being around children and had not long since become a mother herself when her life was cruelly cut short.
In June 2016, panic ensued when Holly Barton, who was looking after her younger stepbrother Kyle Winchester, went to talk to Eric Pollard, and Kyle vanished. A search ensued, but Kyle was eventually found safe and sound behind the playground, along with Holly's phone, which had a picture of Kyle sat next to Holly's former drug dealer Simon McManus.
In November 2016, teenager Lachlan White went missing and was eventually found on the swings in the playground by his aunt Rebecca, who convinced him to confess to the shooting of his grandfather.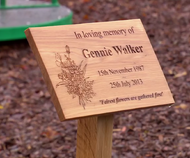 Community content is available under
CC-BY-SA
unless otherwise noted.