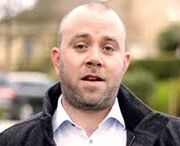 Iain MacLeod was the Series Producer of Emmerdale between 2015 and 2018.
It was announced in September 2015 that MacLeod would take over the role from Kate Oates and his episodes debuted on 17th May 2016.
He previously worked as series producer on Hollyoaks between 2014 and 2016, his other work includes a story editor on Coronation Street between 2009 and 2013.
In 2013, Iain married Coronation Street script editor Verity MacLeod.
Following the resignation of Kate Oates as Coronation Street series producer in April 2018, it was announced that MacLeod would be taking over her producer duties. His final Emmerdale episode was transmitted 13th August 2018.