Jacobs Fold is a residence on Church Lane. It is currently the home of Debbie Dingle and her children Sarah and Jack Sugden.
The house was originally known as Hawkins Cottage but was renamed to Jacobs Fold in February 1995. Formerly owned by Eric Pollard, the house was purchased at auction for £350,000 in October 2017 by Joe Tate. Less than six months later, Joe agreed to sell the property to Debbie Dingle for £300,000 but the paperwork was never finalized and it was soon revealed that Kim Tate actually owned the property so Debbie and her children were evicted by Graham Foster. Debbie moved back in when she blackmailed Graham over his part in Joe's death.
Joe, going under the alias of Tom Waterhouse, purchased the property and let his girlfriend Debbie move in along with her children. The following year, Debbie found out about Tom's real identity and got evicted. As revenge, she and her mother Charity thrashed the house when they saw a real estate agent erecting a "To Let" sign. Charity even went as far as taking a dump in the house and writing an "i" in the middle of the sign so that it read "Toilet".
Residents
Edit
Current residents
Edit
Past residents
Edit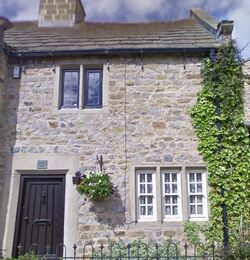 Community content is available under
CC-BY-SA
unless otherwise noted.