Jane Angela "Janie" Harker (previously Blakey) is the younger sister of Pat Sugden.
Biography
1951-1972: Growing up in Beckindale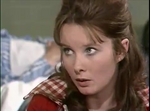 Janie was born in 1951 and grew up in Beckindale. She went to school with Joe Sugden. Her sister Ruth Merrick and Joe's brother Jack Sugden also attended the school in a higher year. She claimed that Joe used to fancy her in school. She announced that she'd got a job making buttons at Baldwin's in Hotten in 1972, but this ended quickly as she announced she'd been laid off as the place was closing down. Janie used to frequent The Woolpack quite regularly spending her wages on Bonboosh.
1973-1974: Marriage to Frank Blakey, pregnancy and departure
Janie had a reputation in the village for going out with the majority of boys in the area. However, she went out with older man Frank Blakey a few times and the pair quickly become engaged and married in March 1973.
Janie discovered she was pregnant in January 1974, and neglected to tell Frank. However, Frank found this out when Jack Sugden congratulated him on his child. Frank was initially furious but got over it. Janie's sister Ruth also returned to the village, having divorced her husband Tom and left the kids with him. She attempts suicide but is rescued, and Janie, Frank and Pat leave the village.
1986: Return, and her sister's sudden death
In August 1986, after almost 13 years away, Janie returned to Beckindale. Her marriage to Frank was over, and she mentioned how she received some backlash when Frank's family heard she was back in Beckindale. Jane's sister Pat was now married to her childhood sweetheart Jack Sugden, having finally married him 4 years earlier. Pat drove Janie to the station when Janie left Beckindale again, but Pat was killed in a car crash on her way home. Janie returned to Beckindale for Pat's funeral in September 1986 before leaving the village for the last time.
Background information
In 1972, Janie was said to be 18 years old, thus born 1953 or 1954. However in 1986 she said she was 35 years old, so born in 1951.
Janie revealed she was pregnant in January 1974. However, upon her return in 1986, it was never mentioned whether or not she had a child or not.
Quotes
"'Ello." (first line)
Notes
Community content is available under
CC-BY-SA
unless otherwise noted.