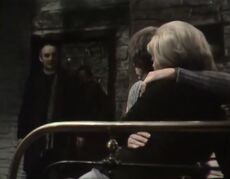 A list of all character deaths that have featured in Emmerdale's storylines, totalling to 187 deaths. These range from murders to manslaughters, crashes to hit-and-runs, disasters and suicides. The deaths listed include regular and guest characters, as well as characters that have been mentioned to have died some point post-October 1972. For example, Frank Tate's wife Jean Tate Sr. was mentioned at times between 1989 and 1997, but not seen, and died in 1984.
A regular character is usually killed off if the actor has passed away in real life, whilst their character is still appearing on-screen. For example, Arthur Pentelow passed away in August 1991, and his character Henry Wilks was killed off in October 1991. Sometimes, a character isn't killed off even if the actor playing them has died in real life. For example, Ronald Magill died in 2007, but his character Amos Brearly hasn't been worded dead.
Emmerdale has been noted for its frequent and dramatic deaths. As a matter of fact, Emmerdale's first episode began with the funeral of Jacob Sugden. A plane crash in December 1993 that killed all the two-hundred and fifty passengers and nine characters on the ground was watched by 17 million viewers, and doubled subsequent ratings. Despite the fact there were a total of 259 deaths in the Plane Crash, only characters that have been named appear on the list and count towards the total.
On-screen deaths
Off-screen deaths
Historical deaths
Historical deaths are when a character who has never appeared in Emmerdale or Emmerdale Farm is mentioned to have died months or years after their death has taken place.
Book deaths
See also
Community content is available under
CC-BY-SA
unless otherwise noted.