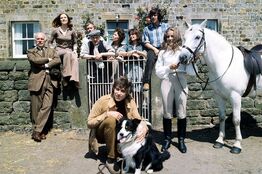 A list of all
Emmerdale Farm
characters who were seen in the show on a regular basis when it began in
1972
. Sorted by departure date, with most recent first.
Two characters from the original cast were eventually replaced with Clive Hornby taking over from Andrew Burt in 1980 and Debbi Blythe taking over from Gail Harrison for a short recurring period in 1987.
Of the original cast seen in the first episode in 1972, only Sheila Mercier, Andrew Burt, Frazer Hines, Frederick Pyne, Jo Kendall and Gail Harrison are still alive and of those, only Frazer Hines character (Joe Sugden) and Jo Kendall's character (Peggy Skilbeck) have been killed off in the show.
Community content is available under
CC-BY-SA
unless otherwise noted.