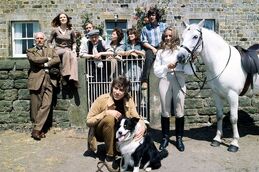 A list of all Emmerdale Farm characters who were seen in the show on a regular basis when it began in 1972. Sorted by departure date, with most recent first.
Two characters from the original cast were eventually replaced with Clive Hornby taking over from Andrew Burt in 1980 and Debbi Blythe taking over from Gail Harrison for a short recurring period in 1987.
Of the original cast seen in the first episode in 1972, only Frazer Hines, Frederick Pyne, Jo Kendall and Gail Harrison are still alive and of those, only Frazer Hines's character (Joe Sugden) and Jo Kendall's character (Peggy Skilbeck) have been killed off in the show.
Note: If the character was played by more than one credited actor, only the most recent actor is displayed. Characters played by more than one actor are indicated by a # sign.
List
| Image | Character | Actor | Departure |
| --- | --- | --- | --- |
| | Annie Sugden | Sheila Mercier | 10th February 2009 |
| | Jack Sugden # | Clive Hornby | 21st February 2008 |
| | Amos Brearly | Ronald Magill | 6th July 1995 |
| | Joe Sugden | Frazer Hines | 11th August 1994 |
| | Henry Wilks | Arthur Pentelow | 29th August 1991 |
| | Matt Skilbeck | Frederick Pyne | 7th December 1989 |
| | Marian Rosetti # | Debbi Blythe | 1st September 1988 |
| | Sam Pearson | Toke Townley | 22nd November 1984 |
| | Peggy Skilbeck | Jo Kendall | 16th July 1973 |
| | Pat Sugden # | Helen Weir | 11th September 1986 |
| | Tom Merrick # | Jack Carr | 10th February 1988 |
| | Jackie Merrick # | Ian Sharrock | 24th August 1989 |
| | Sandie Merrick # | Jane Hutcheson | 11th May 1989 |
| | Janie Harker # | Lesley Duff | 9th September 1986 |
| | Frank Blakey | Eric Allan | 22nd January 1974 |
See also