Mary Grace King (née McSween) was the first wife of Tom King and the mother of Jimmy, Matthew, Carl and Max.
At some point in the late 1950s or early 1960s, Mary began a relationship with Tom King. Mary initially wanted to keep the relationship a secret from her family as Tom wasn't posh. When her father eventually found out about the relationship, he gave Tom the hiding of his life. Despite this, Tom and Mary went onto marry, and in March 1965, they welcomed their first child, a son named Jimmy. Their second son, Matthew, followed in October 1970 and in July 1973 they expanded their family once again when their third son, Carl, was born. Following Carl's birth, Mary was advised she shouldn't have anymore children so when she fell pregnant again in early-1979, Tom wanted Mary to have a termination. Mary refused, and in November of that year, Mary gave birth to her and Tom's fourth son, Max.
In the 1980s, Mary became ill with terminal cancer and Tom hired a nurse, Carrie Nicholls, to look after her. Mary eventually died in February 1986 but during her illness Tom and Carrie began an affair, which resulted in Carrie giving birth to Tom's illegitimate daughter Scarlett in 1991. When Scarlett's existence was revealed to the King brothers shortly after Tom's death during Christmas 2006, Carl thought of her existence as a betrayal to Mary's memory.
Mary is now buried in the Emmerdale cemetery, along with youngest son Max, who died in 2005.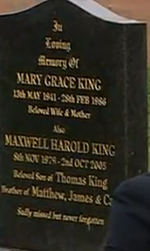 Community content is available under
CC-BY-SA
unless otherwise noted.