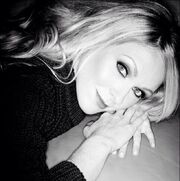 Michelle Hardwick (born
26th February
1977
 in Wakefield, West Yorkshire) is an English actress.
She is best known for her role as hospital receptionist Lizzie Hopkirk in the ITV1 drama series The Royal.
Hardwick studied Performing Arts at Park Lane College, Leeds and then attended Scala Performing Arts, Leeds. Following which she has acted in the theatre as well as appearing on television.
She has taken notable roles in Heartbeat and Coronation Street.
Michelle has appeared in three different episodes of the ITV UK TV series Heartbeat (1995 as Sandra in "Toss up"; 2002 as Lesley Sutton in "Coming of Age", which featured the death of character PC Tom Nicholson, played by Ryan Early; and finally in 2003 as Lizzie Hopkirk in "Out of the Blue").
Hardwick appeared in Coronation Street in 1997 as Sheila Dixon and in 1998 as Naomi Russell.
Her biggest role came through her casting as receptionist Lizzie Hopkirk (Kennoway) in ITV UK TV series The Royal. The 1960s set hospital drama was a spin off from Heartbeat and soon gathered popularity on its own account. Hardwick's portrayal of the ditzy Lizzie (often referred to as "Dizzy Lizzie") was a firm favourite amongst viewers. Lizzie delivered some very funny lines including "A woman needs a fish like a man needs a bicycle". She was known for getting well-known phrases mixed up, malapropisms and general comedic lines. However Hardwick also demonstrated Lizzie's more serious side when she had to deal with her husband leaving her in the episode "For better for worse".
A talented singer, Hardwick has sung on both The Royal and Abbamania2. She sang "With a little help from my friends" as Lizzie and took part in Abbamania performing "Waterloo" with fellow TV actress Vickie Gates and actors Will Mellor and Lee Otway. However she has said that acting is her first love.
Hardwick has taken part in Race for Life events near her home to raise money for Cancer Research UK. She has spoken about her brother's successful fight against skin cancer.
Hardwick has been taken part in pantomimes taking the main parts of Snow White and Cinderella and stage shows such as Pete Gordon's Murdered to Death and Death by Fatal Murder touring around the UK.
In 2012 she had a minor role in Hollyoaks as D.I. Parker who arrested character Mitzeee Minniver
In October 2012, it was announced that Hardwick had landed a role in ITV soap Emmerdale as Rhona Goskirk's wild friend from college, Vanessa Woodfield.
In December 2018, Michelle got engaged to series producer Kate Brooks.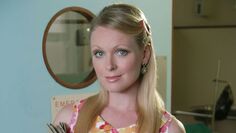 Community content is available under
CC-BY-SA
unless otherwise noted.