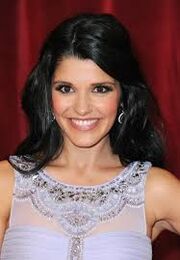 Natalie Anderson
(born
24th October
1981
) is an English actress.
Anderson was born in Bradford, West Yorkshire, England. She married fiancée James Shepherd at a ceremony in Harrogate on 6 June 2008.
Anderson appeared as Nurse Stella Davenport in the ITV1 drama series The Royal between 2005 and 2008, playing a lead role and having several storylines based around her character. She left the series at the same time as Scott Taylor who played ambulance driver, Frankie Robinson.
Previously, she has taken guest roles in Wire in the Blood, Holby City and Dalziel and Pascoe. She made the Top 50 in the original series of Pop Idol in 2001, but narrowly missed out on a place in the live finals after finishing third in her group. Before this, she made her television debut in 1996 as Francesca in The Biz.
She recently played the role of Ewa in British film 'Freight', released in December 2009.
Anderson is a former cheerleader for the Bradford Bulls rugby league team. She released her debut album 'Return to Me' on 24 November 2008.
Her most recent stage role was performing as Nessarose in the London production of Wicked. She replaced Caroline Keiff on 11 May 2009, and left at the end of her contract on 27 March 2010. She was replaced by Cassandra Compton.
Anderson joined the cast of Emmerdale in 2010, playing the role of Alicia, Leyla Harding's sister.
Community content is available under
CC-BY-SA
unless otherwise noted.