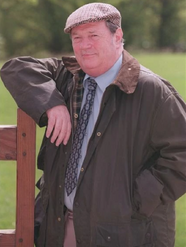 Richard Thorp (2nd January 1932 - 22nd May 2013) was an English actor, who appeared in such great British films as The Dambusters (1955) and the 1957 film The Barrets of Wimpole Street. He was best known for playing the part of Alan Turner on ITV soap Emmerdale since 1982. Previous TV roles included Dr. John Rennie in Emergency Ward 10 (1957–67), Doug Randall in Crossroads (1975) and Det. Sgt. Jacklin in Strangers (1982). He was the longest-serving member of Emmerdale since the death of Clive Hornby in 2008 up until his own death in 2013 until Chris Chittell who plays Eric Pollard surpassed him in 2017.
Richard was one of Emmerdale's most private actors, even though he gave an interview in 1995 with The People telling that he was separated from his wife but still lived in the same house together. Richard was very good friends with his former co-stars: Lorraine Chase who played his daughter Steph & Sheree Murphy who played his granddaughter Tricia. Richard had a break from Emmerdale in July 2009 to have his right knee replaced. He returned in April 2010. Whilst happy to have stayed in his role for so long, he has complained that his character is not used as much anymore. In October 2010, Richard revealed he was selling his large house in Mid Wales to move closer to the Emmerdale studios in Leeds.
Community content is available under
CC-BY-SA
unless otherwise noted.