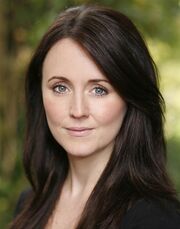 Sally Walsh
(born
31st July
1978
in Bradford, Yorkshire) appeared as
Lyn Hutchinson
in
Emmerdale
from
1997
until
2000
.
The eldest of four children including singer Kimberley and Amy Walsh, Sally made her acting debut as the star of children's series Tumbledown Farm in 1988. Her acting career resumed in 1993 with the first of four roles in Heartbeat. Other parts before joining Emmerdale included an educational film about the bubonic plague alongside Steve Halliwell, 1994 miniseries Smokescreen alongside Paula Wilcox, and the lead role of Nell Trent in Disney's adaptation of The Old Curiosity Shop in 1995.
After around four appearances in early 1997, Sally began to appear more frequently from May. Speaking to The People in June 1998, Sally reminisced about one of the most challenging Emmerdale scenes she had filmed: "I was plonked in the middle of these large, fat cows and told to herd them in one direction. I didn't have a clue what I was doing! Thankfully they did what they were told."
Speaking to The Sun in September 1999 Sally seemed to indicate that she was unhappy with the direction her character was being taken in since Lyn had begun to mature, saying: "she's become too sensible. We've merged into the same person!". Speaking to the paper again in December 1999 Sally remarked that: "I've wanted to have a meaty storyline for some time. Hopefully Lyn's affair with Scott will be just that." She also said that: "My character Lyn hasn't really had the chance to show there's more to her than meets the eye. But hopefully things will change. I think playing bad girls is much more fun." Sally left the series soon after this however, in a fairly low-key exit after appearing in just a couple of episodes in 2000, when Lyn discovered Scott Windsor's affair with his sister Kelly.
Since departing Emmerdale, Sally has appeared in various programmes including EastEnders in 2005 and more recently Coronation Street and her third appearance in Doctors in 2010. She has run drama classes, taken a degree, done theatre and can often be seen in commercials.
Sally's youngest sister Amy currently appears as Tracy Shankley in Emmerdale.
Community content is available under
CC-BY-SA
unless otherwise noted.