Not to be confused with her adoptive granddaughter Sarah Sugden Jr.
Sarah Sugden (née Connolly) was the second wife of Jack Sugden, the mother of Victoria Sugden and the adoptive mother of Robert and Andy Sugden. Her adoptive granddaughter is named after her.
Biography
1952-1988: Early life
Sarah Connolly was born on the 25th March 1952 to Victoria Connolly and her husband. Sarah was one of 2 daughters. Sarah became a librarian.
1988-1996
Sarah was first introduced in April 1988 as a librarian at the local library of Beckindale and became firm friends with Archie Brooks, Kathy Merrick and Rachel Hughes.
She became friendly with local farmer Jack Sugden but when she made a pass at him, he rejected her advances because he had lost his wife Pat Sugden a year and a half earlier and had to look after his and Pat's two-year-old son Robert Sugden. But in December 1988 they got together and Sarah treated Robert like her own. However, Jack and Pat's 24-year-old son Jackie Merrick didn't like Sarah and tried to get Robert away from her any time he could. Eventually, Sarah's best friend and Jackie's wife Kathy got the two to be friends. But tragedy struck when Jackie was killed several months later.
During 1989, Jack left for Italy to see old flame Marian Wilks leaving Sarah unaware of where they stood. Jack returned in November and a nosey Amos Brearly quickly made sure that Sarah was aware. Jack declared his relationship with Marian was over and it was her he wanted. In 1990 Sarah agreed to move in with Jack at the farm but kept the connecting door nailed shut to stop Jack's mother Annie Sugden's wandering in, declaring she was used to living alone. Sarah at first refused to help out on the farm but later agreed when the Sugden's found themselves shorthanded. The mobile library closed in June 1990 so Jack got her a job as barmaid in the Woolpack working for Amos and Henry Wilks who were impressed with her work ethic.
When mad man Jim Latimer was released from jail for the murder of Jack's cousin Sharon Crossthwaite, he swore revenge on Jack, who was a witness at his trial in 1973 for murder. He took Sarah hostage in an abandoned warehouse but she was eventually rescued by Jack and his Brother, Joe.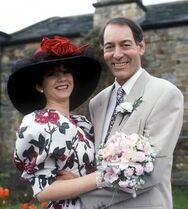 In January 1994 Jack proposed to Sarah. By then they had discovered Sarah was pregnant and in March 1994, Sarah gave birth to Victoria Sugden. In May 1994 Jack and Sarah married but weeks after the wedding, Victoria suddenly fell ill and was rushed to hospital with breathing difficulties. Victoria spent several weeks in hospital and had to have an operation to repair a hole in her heart. Sarah stayed with Victoria in hospital whilst Jack and Robert remained in Emmerdale but the family were eventually reunited when Victoria was given a clean bill of health.
With Victoria having recovered well, Sarah began to look to the future and started to enquire about jobs. Sarah's decision to work was met with disapproval from Jack, but she refused to let it put her off and she eventually secured a position as personal assistant to Andrew MacKinnon, a lecturer at the University of Leeds. Sarah enjoyed the work and got on well with Andrew, but Jack became annoyed at the demands placed on Sarah's time, and frequent arguments erupted between the pair. The situation at home became so strained that Robert ran away and was missing for several weeks. Robert sought refuge with Derek Simpson, a reclusive farmer who lived nearby, and was eventually persuaded to return home.
In 1996, the Sugden's opened up a bunkhouse on Emmerdale Farm land, hoping to make some extra money. One of the visitors to the bunkhouse was Andy Hopwood, a young boy the same age as Robert who was under the care of social services. During his stay, Andy got on well with the Sugden's and even ran away to be with them several weeks after his visit. Following the death of his Grandmother, Andy was fostered by Jack and Sarah, however, he was eventually returned to his Father, Billy, following his release from prison during the Summer of 1997.
1997-2000
In 1997, The Sugden's were evicted from the farm by Frank Tate to make access for a quarry, but moved into a new farm nearby. Shortly after this, Jack began an affair with Rachel Hughes, the step-daughter of Jack's Brother, Joe. The affair was eventually revealed to a devastated Sarah, who threw Jack out and banned him from having any contact with Robert and Victoria. However, Jack and Sarah were brought back together during Christmas 1997, when word reached them that Andy had been found unconscious in a freezing caravan, Billy having done a runner. Realising that they were Andy's last hope, and that their separation could impede them fostering him again, Jack and Sarah agreed to give their marriage another go. Andy was returned to the Sugden's a short time later, with Jack and Sarah announcing their intention to adopt him in 1999.
News of Andy's impending adoption got 1999 off to a good start for the Sugden's, however, with the farm facing financial difficulties, things soon began to turn sour. Sarah's determination not to end up a traditional farmer's wife caused friction and she decided to take Victoria to visit her Sister, hoping for change upon her return. However, things were no better and Sarah was furious to discover that, not only had Jack been keeping Robert and Andy off school to work on the farm, but Pete Collins had been moved in as a lodger. Tensions escalated further when Sarah took a job at Kathy's Diner to help ease some of the financial burden, and Jack and Sarah also rowed over Robert's increasing reluctance to work on the farm.
Despite vowing to make their marriage work in the new millennium, Jack sold Sarah's car without her consent to Rev Ashley Thomas, causing more problems. Just weeks later, Sarah and Victoria were almost killed when a Tate Haulage lorry collided with the community bus. Although Victoria escaped with only minor injuries, Sarah suffered a severe fracture to her leg and was left bed-bound for several weeks. It was around this time that 19 year old Richie Carter replaced Pete as the family's lodger, and Sarah began confiding in him about her and Jack's marriage problems. The pair began an affair and Richie soon began pressuring Sarah to move out with him, even telling her that he'd found the perfect cottage for them to live in. However, the small cottage was completely unsuitable as a family home and Sarah told Richie that she would not leave without her children, causing friction, as Richie did not understand why they couldn't remain with Jack.
Sarah and Richie's affair was eventually revealed in May 2000 and the pair moved in together in the village. Determined to punish Sarah for walking out, Jack refused her access to Robert, Andy and Victoria, and sent them to Spain to stay with Annie whilst he and Sarah battled for custody. Upon their return, a judge decided that, although the boys could remain with Jack, he would have to hand Victoria over to Sarah.
Soon after Victoria moved in, Sarah and Richie's relationship hit the rocks, and things only got worse when Kathy found Victoria wandering the village at night, Richie having left her home alone. Jack was furious when he realised what had happened and raged at Sarah in the middle of the pub, telling her that he could kill her. The incident added further strain to Sarah and Richie's relationship and she considered going back to Jack. Richie followed Sarah up to the farm and the pair went into a barn to discuss their relationship. Meanwhile, the farm was continuing to struggle, and Andy overheard Jack saying that they could do with some insurance money from a fire. Wanting to help ease Jack's worries, Andy set fire to a barn, not realising that Sarah and Richie were inside. Whilst Richie managed to escape, Sarah was killed, leaving the whole family devastated. Although Jack was initially arrested and charged with Sarah's murder, he was found not guilty at his trial.
Legacy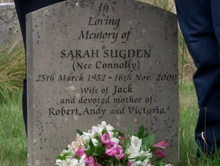 Sarah's death was felt by Jack, Robert, Andy and Victoria for years. In 2005, Andy and Debbie Dingle had a daughter whom they named Sarah in honour of Andy's late mother.
Sarah's death was revisited in 2007 when Victoria, who had been too young to remember any of the events before or after, began to question who had been responsible for her death. With everyone sidestepping her questions, Victoria decided to do her own research and soon came across an article in the library archives about Jack's arrest. Although Victoria eventually accepted Jack's plea that he was innocent, that wasn't the end of the matter, and several months later, the newly returned Billy Hopwood once again placed doubts in Victoria's mind. This time, Victoria decided to visit Richie, but his refusal to name the arsonist only succeeded in further convincing Victoria that Jack had killed Sarah. Realising that they couldn't keep Victoria in the dark forever, Andy told her that he had started the fire.
In 2009, Robert returned to Emmerdale for his dad's funeral but then left. In late 2014, Robert moved back to Emmerdale permanently. He referenced Sarah a few times.
Background Information
Madeleine Howard decided to leave the role of Sarah in 1994. The role was then recast to Alyson Spiro.
Alyson also decided to leave the role of Sarah in 2000. Not wanting to recast the role, then-producer Kieran Roberts decided to kill off the character entirely.
Quotes
"Jaaack!" (final line before death)