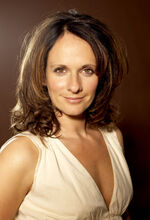 Sian Reeves (born 9th May 1966, Staffordshire) is an English actress who played Sally Spode in Emmerdale from 2009 to 2010.
Reeves is an original cast member of Les Misérables in 1985. She performed with Colm Wilkinson, Michael Ball, Rebecca Caine, Peter Polycarpou, Caroline Quentin, Frances Ruffelle, Roger Allam and Patti LuPone. Reeves appeared in BBCsoap opera EastEnders in the summer of 2006 as Elaine Jarvis for five episodes.
In March 2006, Reeves appeared in the BBC singing competition Just the Two of Us. Her singing partner was originallyRick Astley. However, he failed to turn up for the second rehearsal and was replaced by Russell Watson. Reeves and Watson went on to win the series, despite the judges criticising her performance almost every night.
In 2007, Reeves narrated the autobiographical documentary Elton John: Me, Myself & I. Reeves also suffered a horrific backstage accident, whilst rehearsing the play Vernon God Little at London's Young Vic. A stage trapdoor had been left open, and she fell through it, onto a steel ladder, suffering a punctured lung and crushed ribcage, leaving her unable to move for 10 months. She feared she would never work again.
In July 2008, it was announced that Reeves would join the cast of the ITV soap opera Emmerdale for a six-month stint, playing the role of evil villain, Sally Spode.
Reeves has returned to the ITV1 series City Lights, where she plays Pauline Scott.
In 2009, Reeves appeared as Hannah Temple in the BBC drama series Hope Springs and as office manager Gloria inBBC3 sitcom Lunch Monkeys.
Reeves appeared at the 25th-anniversary performance of Les Misérables at the O2 in 2010.
2011 saw Reeves move to Sky 1 in the sitcom-soap Mount Pleasant. She plays the part of Bianca, the saucy neighbour referred to by other characters as "Skimpy Knickers".
She was a guest panellist on Loose Women in October 2012, to celebrate 40 years of Emmerdale.
Community content is available under
CC-BY-SA
unless otherwise noted.