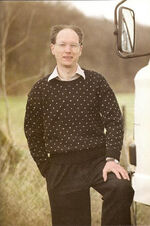 Stuart Doughty was the series producer of Emmerdale Farm/Emmerdale from 30th March 1988 to 24th December 1991, preceded by Michael Russell and succeeded by Morag Bain.
Stuart was responsible for the changeover of the show from Emmerdale Farm to Emmerdale, due to falling ratings. With the new name, the show began to distance away from the Sugden family. Stuart also began plans for a set, which wouldn't be completed until 1998.
During his reign, Stuart oversaw the introductions of Sarah Connolly, the Hughes family, Denis Rigg, the Whiteley family, the Tate family, the Feldmann family, Charlie Aindow, Tony Charlton, Alice Bates and Carol Nelson as well as the departures of Ruth Pennington, Jack Sugden (who returned a few months later), Sarah Connolly (who returned a few months later), Phil Pearce, Denis Rigg, Sandie Merrick, Jackie Merrick, Donald Hinton, Archie Brooks (who returned a few months later), Caroline Bates (who returned a few months later and departed again), Matt Skilbeck, Pete Whiteley, Bill Whiteley, Jock MacDonald, Tony Charlton, Dolly Skilbeck, Henry Wilks, Elsa Feldmann and Amos Brearly. He also oversaw the returns of Marian Rosetti (who departed a few months later).
Major storylines included Sandie Merrick's miscarriage, the Crossgill Farm fire, Stephen Fuller getting killed by a falling tree, Phil Pearce's arrest, Kathy Merrick's miscarriage, Denis Rigg getting crushed by Joe Sugden's bull, Jackie Merrick's death by an accidental gunshot wound, Kate Sugden's miscarriage, Jock MacDonald burning down the Tate's barn conversion and stables, Kate Sugden's hit-and-run on Pete Whiteley and two year imprisonment sentence, Peter Whiteley's birth, Dolly Skilbeck's abortion, Alice Bates's birth, Bill Whiteley and Henry Wilks's deaths, Chris Tate and Kathy Merrick's wedding and Sarah Connolly getting held captive by Jim Latimer.
He has also worked as a producer on programmes such as Heartbeat, Brookside, The Adventures of Sherlock Holmes and The Krypton Factor.
Community content is available under
CC-BY-SA
unless otherwise noted.