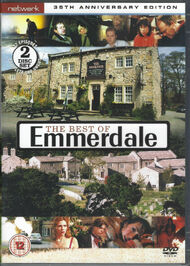 The Best of Emmerdale was a two-disc DVD containing twelve Emmerdale episodes originally broadcast between 1993 and 2006. It was released by Network DVD on 15th October 2007.
This DVD was also included in a 35th anniversary boxset alongside Emmerdale Farm - Vol. 1, which contained the show's first 26 episodes. It was released on the same day.
Summary
From the Network website:
To celebrate the 35th anniversary of England's first rural-based soap opera and one of the nation's most popular programmes, Network is proud to present some of the strongest and most memorable episodes of the last twenty years. As well as the series-defining moment of the plane crash, you can thrill again to such storylines as Kim Tate leaving Emmerdale, Louise killing Ray, The Storm and the hostage situation at Home Farm which costs Shirley Turner her life. A regular recipient of awards, Emmerdale's BAFTA nomination for Best Continuing Drama in 2007 ably demonstrates that it shows no sign of stopping yet. Here's to another 35 years!
Episode 1829 - The Plane Crash part 1
Archie and Nick are engulfed in flames as they walk back from the pub. The Woolpack regulars dive for cover as the windows are blown in and Joe Sugden crashes the car as a sea of flames comes towards him. Jack and Sarah look on in horror as fire engulfs the village.
Episode 1830 - The Plane Crash part 2
A blinded Nick searches in vain for Archie while Frank drives through the village, appalled at the devastation. All that can be heard is the sound of carnage and screaming horses. The Woolpack regulars try to make sense of the situation and find out that the fire brigade can't get through as Skipton bridge has been damaged.
Episode 1870 - Jack and Sarah Get Married
It's the day of the wedding of Jack Sugden and Sarah Connolly, but who will catch the bouquet? Luke declares the depth of his feelings, Chris finally swallows his pride, while the McAllisters grapple with their u-bend!
Episode 1875 - Police Marksmen storm Home Farm
The police wait patiently as tension at the surrounded Home Farm escalates and relationships become strained. Will the kidnappers give themselves up? Then things go from bad to worse and Shirley Turner is shot by Reg Dawson.
Episode 2473 - Kim Tate Flees Emmerdale
Kim goes to Home Farm for a confrontation with Chris - she wants her money back. When Chris refuses, she clouts him with an ornament and ties him up. Then she tells him the truth about Frank's death...
Episode 2668 - The Bus Crash
There's been a massive smash outside the pub and the regulars stream out to find that there's been an accident with the mini-bus. Bernice rushes to dial 999 while Paddy manages to pull an injured Alan from the vehicle. As they searchthrough the wreckage they find the first dead body...
Episode 3018 - Nicola Jilts Carlos
Nicola and Bernice are still wary of each other after the hen-night revelations. Bernice is appalled that Nicola has lied about the pregnancy. Carlos is livid but lets slip that he's actually the father of Bernice's baby. The sisters begin to fight but Nicola is insistent that she will walk down the aisle...
Episode 3215 - Zoe Gets Sectioned
Marc runs to the burning church to see Ashley trying to get Zoe out of the burning building. As the fire brigade arrive, it becomes apparent that Zoe is not well - she tells Marc that she wanted to go into the fire to be saved by God. After extensive tests at the hospital it becomes apparent that she's schizophrenic.
Episode 3339 - Louise Kills Ray
It's Christmas Day and Louise and Ray confront each other in Mill Cottage. Ray is unstable - he throws her around amidst pleas that he can't live without her. She struggles to escape but he pursues her up the stairs - she hits him with a vase and he falls awkwardly and lands at the bottom. He doesn't move...
Episode 3623/3624 - The Storm
Marlon and Tricia's hopes and dreams are snatched away from them as the raging storm brings their world crashing down around them. After crashing over a bridge Louise and Ashley's car comes to rest in the river below, while in the middle of the storm Tricia tries to escape as a wall comes crashing down. In the midst of the storm The Woolpack is hit by lightning with disastrous results...
Episode 4159 - Home Farm is Blown Up
Zoe takes a final walk around Home Farm. The trail becomes very heated and emotional and, despite some very negative character testimony from WPC Finch, Zoe is acquitted when the judge directs the jury to return a verdict of not guilty. There is uproar, but Zoe's not finished with Emmerdale yet...
Episode 4425 - Alice Dingle's Euthanasia Pact
Sam makes his way through the graveyard and stops at Butch and Ben's grave, contemplating that Alice will soon be with them. At the Wishing Well Alice is telling Sam that she doesn't want to die alone and in pain. Sam tells her that he doesn't want that either...
Episodes
Community content is available under
CC-BY-SA
unless otherwise noted.