The Woolpack (sometimes referred to as The Woolpack Inn) is a public house in Emmerdale, located on Main Street. The building is attached to The Grange and neighbouring Pear Tree Cottage. It is currently owned by Charity Dingle and Ryan Stocks, however, the Woolpack has had several landlords and landladies over the years. The longest-serving landlord was Amos Brearly, who served as landlord for 43 years (1948-1991) and longest-serving landlady is Diane Sugden, who served as landlady for 16 years (2000-2016).
The Woolpack was first built in around 1776 and was owned by Ephraim Monks Brewery until 1973. In 1976, The Woolpack was found to be slowly collapsing due to subsidence. The bar was subsequently moved to an abandoned building - a former corn chandlers, which closed in the 1920s. Subsequently, private rooms were added, which guests were able to book.
It has met many disasters like the 1993 plane crash when The Woolpack was struck by falling debris, which caused an explosion, demolishing the wine bar and the storm of 2003/2004 when the pub was hit by lightning, causing the roof to fall through and a window to collapse. It was also the sight of The Woolpack Siege in 2013. At Christmas 2021, Al Chapman explodes the pub for insurance.
Management history
Until 1919: The Bainbridges
The pub was run by Percy Bainbridge and his wife Ava, although it was owned by Jack Micklethwaite. Percy's two children and his and Ava's daughter Iris lived in the pub too. In November 1915, The Woolpack was set alight (unknown to everyone, purposely caused by Levi Dingle) and Percy made it out. Iris was eventually rescued alive however Ava died shortly after being rescued by Hugo Dawson, who had previously been branded a coward by the villagers. Percy struggled on his own and ended up leaving the village with his children. Jack's four sons all died in France during World War I and he did not have the energy to rebuild it so the pub remained burnt out for several years. Jack sold the pub to Jonah Dingle in 1919.
1948-1991: Amos Brearly & Henry Wilks
In the 1940s, Joe Hepple and Molly Hepple were the landlord and landlady of the Woolpack. However, in October 1948, Amos Brearly became the landlord and for many years, Amos ran The Woolpack alone and lived alone on the premises. Amos ran a strict pub, enforcing the rules and doing everything by the book.
In the early 1970s, local farmer Jacob Sugden was a regular customer at The Woolpack as he was drinking heavily and drunk away all the farm's profits. In October 1972, He fell ill to alcohol-related liver problems and passed away.
In 1973 Amos became worried that Ephraim Monks Brewery wanted two people to run The Woolpack, so he went on a quest to find a wife, to no avail. However, in November 1973, Henry Wilks offered to purchase half the pub to which Amos agreed. In August 1974, a new large walk-in fireplace was installed, but the chimney collapsed during construction. 1975 saw the Woolpack become a success with its hotel facility as well as in November that year Amos and Henry employed Winnie Purvis as a cleaner but she soon left.
In January 1976, a large crack was found in the fireplace and on further inspection, the building was found to be suffering from subsidence. Henry suggested they may have to move premises. Amos scoffed at the idea, but when Sam Pearson told Amos about Derby Eccles, who owned a house behind The Woolpack which collapsed in the 1930s due to subsidence, Amos was insistent on evacuating as soon as possible. An abandoned building on the other side of Beckindale, previously a corn chandlers run by a Qatar Hughes then a Mr Mason, which closed in the 1920s, was purchased and converted into the new The Woolpack in February 1976. Surveyor Mel Openshaw oversaw the move. Private rooms were also added to the hotel, which guests were able to book. Amos soon realised that he liked the new premises better than the old one. The Old Woolpack premises had collapsed due to the subsidence by 1990 and was mentioned by Henry Wilks as being "not there now, subsidence weren't it?"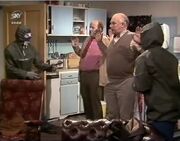 In May 1978, Amos and Henry were held at gunpoint by teens Steve Hawker and Pip Coulter, who locked Amos and Henry in the cellar and robbed the place in order to accumulate enough money to flee their parents and start a family (as Pip was pregnant). Amos and Henry were eventually rescued the next morning by Donald Hinton. Pip and Steve were arrested in Liverpool later that month and Amos had a chain installed on the back door to try to prevent future robberies.
In the summer of 1980, gamekeeper Seth Armstrong switched from The Malt Shovel to The Woolpack. However, Seth continuously irritated Amos and often used to humiliate Amos in front of a crowded pub. In 1986 he booked two lady strippers who caused a riot amongst the customers and the pub ended up completely trashed.
In 1983, the pub backroom underwent minor changes. In April 1984, the stove in the backroom exploded and ruined the kitchen. The kitchen was replaced and new wallpaper was added. In 1985, more changes were made to the backroom.
In July 1990, Amos suffered a stroke and later decided to retire from the licensing trade but struggled to find a manager to run the place. In January 1991, a man named Gary Lipman, from Skipdale Breweries, tried to convince Amos to sell to them but he refused. However, Gary did not give up and talked to local businessman Alan Turner, trying to make a deal.
1991-1999: Alan Turner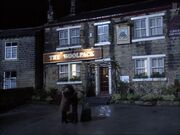 Amos and Henry were shocked when Alan revealed he wanted to not just manage the pub but buy it off him. To Henry's surprise, Amos agreed but what they didn't know was that Skipdale Breweries offered to lend Alan the money for the pub with a low interest in return for Alan to agree to sell their beer in the Woolpack. Alan Turner officially brought Amos' share in the pub and he retired to Kelthwaite in late January 1991. Henry ultimately decided to sell his share of the pub, and Alan became the licensee and full owner.
Henry and Alan often clashed, with Henry being upset at how Alan was making changes and trying to boss him around. In February, the men called a truce, admitting they both have been behaving badly and Henry revealed he was moving out of the Woolpack but Alan insisted he stayed until he founds somewhere suitable to live. In late February, Alan and Henry got a shock when Ephraim Monks came to remove the pub's pipes, beer pumps and barrels as unbeknownst to Alan they owned them and were less than happy about his deal with Skipdale Breweries. He was forced to close the pub until Skipdale Breweries can provide a replacement and the pub stayed close for near a month while renovations were made. They had their grand reopening on 21st March 1991, however, Alan's soon ran into trouble as his switch to Skipdale Breweries was not popular with the customers, resulting in Seth leading a walkout and soon forcing Alan to switch back to Ephriam Monks. In April, Henry moved into Emmerdale Farm, tired of constantly being at odds with Alan, but carried on working at the pub. Alan had big plans for the pub, starting with opening up a gourmet restaurant in the old taproom in July 1991.
Henry suddenly passed away from a heart attack in October 1991. After a visit from environmental health, Alan decided to give up the gourmet restaurant, and agreed to go into business with Lynn Whiteley, who opened a wine bar in the old taproom. However, the wine bar was destroyed in December 1993 when a plane crashed onto the village and the pub was struck by falling debris. Chris Tate was in the wine bar at the time, and was trapped beneath the rubble. After being rescued, Chris discovered he was paralysed from the waist down and would spend the rest of his life in a wheelchair. The old taproom was rebuilt but was used for storage. In 1994 The Woolpack was used as a police location when Reg Dawson committed a robbery which turned into a siege at Home Farm.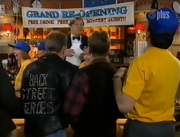 In January 1995, Turner hired interior designer Emma Nightingale to refurbish the Woolpack after she presented him with an idea of a more welcome bright interior. This would become a costly process, so Turner asked the brewery to help cover the costs. A little wary of Turner; given his record, they requested that Turner employed a bar manager to cope with the day-to-day running of the pub. Turner agreed and appointed Terry and Britt Woods, a married couple who'd run a bar in Benidorm. The pub officially reopened on 21st February. This year the infamous Dingle family also made The Woolpack their local after Nellie Dingle von a competition at the opening for a 'free meal for all the family'- and the next night brought twelve Dingles to claim her prize. In June 1995 Amos returned to the village again and was not pleased with the addition. He still dished out advice about his former pub.
In September 1998, Alan's granddaughter Tricia Stokes unexpectedly arrived in the village and was given a job in The Woolpack. In October, Tricia accidentally set fire to the Woolpack with fireworks while Alan was on holiday. He was horrified when he returned to find out The Woolpack had burned down but later had the pub rebuilt and redecorated. At this time the private rooms were removed and converted into bedrooms.
Tricia often clashed with barmaid Mandy Dingle and their conflict reached its head in early 1999 when Alan announced that he was looking into hiring a bar manager with both of them wanting the job. Their conflict culminated in a mud fight outside the Woolpack on 2nd February which had to be broken up by a furious Alan who threatens them both with the sack of they do not get back in the pub right now. The day after, Alan tells them that he will not promote either of them but rather has hired newcomer Bernice Blackstock. Alan was pleased with Bernice's work as she set out to straighten out the pub and its staff but she often got on the nerves of Tricia.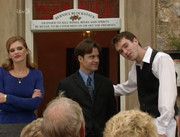 In late April 1999 Alan suffered a heart attack in the Woolpack and spurred on by the stress of Bernice and Tricia's disagreements, decide he has had enough of the pub. After Alan's shock announcement on 20th May, Tricia and Bernice both wanted to buy the pub but struggled to get the money. However, in August Bernice was shocked when Stella Jones left her enough money to buy The Woolpack before leaving the village. Tricia then blackmailed Bernice's fiancé Gavin to let her and Alan keep living at the pub by threatening to tell Bernice of his unfaithfulness. Bernice and Gavin officially bought and took charge of the Woolpack the following month although Bernice was left feeling foolish when unveiling the new plaque over The Woolpack door to a posse of photographers and locals and it reads "Bernice 'Blockstack'".
Also in September, Bernice offered a catering job at the pub to Marlon Dingle who would go on to be one of the Woolpack's longest running employees.
1999-2016: Diane Sugden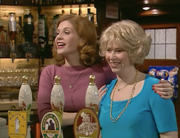 In November 1999, Bernice's mother Diane Blackstock arrived in the village and she would stay with Bernice at The Woolpack. Soon thereafter Bernice's relationship with Gavin broke down after she caught him cheating on her. As Gavin left the village, Bernice worried she would loose the pub as she could not afford to buy his share in the pub herself but in January 2000, Diane offered to buy it for her and the two became co-landladies of the Woolpack.
In June 2001, barmaid Louise Appleton began working behind the bar and was immediately a hit amongst the locals, in particular the men of the village. Louise eventually became the pub co-owner in April 2002 when when Bernice sold up and left Emmerdale following the break down of her marriage to Ashley Thomas. On New Year's Eve 2003 the pub suffered structurally damage after lightning hit it during the storm, resulting in The Woolpack roof falling through, causing a window to collapse and fall on Tricia Dingle who later died in hospital the following year.
After one of the pub's most iconic regulars, Seth Armstrong, passed away in 2005 his wake was held at the Woolpack on 1st November.
In 2006, Louise's boyfriend Martin Crowe and his daughter Kayleigh Gibbs moved into the Woolpack with her. However, they moved out in August as Martin ended it with her. Louise blamed Diane for the break-up and deliberately sold her share of the Woolpack to someone who Diane wouldn't like working with, Diane's sister Valerie Lambert.
In February 2009 Diane's husband passed away and subsequently, after receiving an offer for the pub from Maisie Wylde, Val tried to convince Diane she was too depressed to stay on as owner and should sell up. However, Diane learned of Val's scheme and following another fall out between the sisters, Diane realised that they could no longer work together and used her inheritance to buy Val out, making her the sole landlady. Around that time Diane agreed to let Sandy Thomas, who constantly argued with his son Ashley, to move into the pub.
By 2010, Diane decided she wanted to sell the pub, wanting a fresh start and finding it an increasing struggle to run the place on her own. In July 2010, Nicola and Jimmy King considered buying the Woolpack from Diane, however, they pulled out of the deal in September to focus on their daughter. In 2011, unable to find a buyer for the whole business, Diane settled for selling a 50% share to Chas Dingle.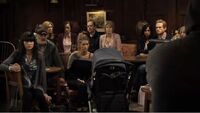 In October 2013, Cameron Murray broke into the Woolpack through the back door, knocked out chef Marlon Dingle and locked him in the flooding cellar before entering the pub, armed with a shot gun, taking several of the Woolpack regulars hostage inside. Cameron eventually freed everyone with the exception of Chas and Debbie Dingle. Later, they found themselves in the flooding cellar as Cameron had sent them to investigate a noise that Marlon had made to distract Cameron. After a struggle, Marlon overpowered Cameron and escaped just as the lights in the pub went out and armed police raided the building. Debbie and Chas were able to escape the rising floodwaters and just as Cameron followed them, he came into contact with the cellar light that had dropped into the water and was still switched on. The light electrocuted Cameron, killing him instantly.
In November 2015, Chas became convinced she was being stalked by her enemy Emma Barton after strange occurrences, not realising that she herself was responsible for the strange goings-on as she'd been sleepwalking at the pub. Chas's paranoia went into overdrive when she woke up one morning to find a large kitchen knife placed next to her bed. When Chas heard a noise at the pub, she thought that Emma had come to get her so she took the knife with her to defend herself. However, Chas reacts in the worst way possible and just lunges forward, stabbing Diane in the stomach. She panics afterwards and flees.
After the incident, Diane was rushed to hospital for emergency surgery and Chas later diagnosed with post-traumatic stress disorder, after years of built-up stress from Cameron's reign of terror. Diane was stunned to learn who had stabbed her, but even more so when she learns her cancer had returned. She decided that Chas had done her a favour, and the women made amends. As Diane underwent another gruelling round of chemotherapy and treatment, she decided that she wanted to enjoy the rest of her life, and again put her half of the pub for sale.
2016-Present: The Dingles
In March 2016, Diane retired and sold her share in the pub to Chas' cousin Charity Dingle who had recently gotten released from prison. Charity, along with her two youngest children Noah and Moses Dingle, moved into the Woolpack.
In 2018, Paddy Kirk moved into the Woolpack after beginning a relationship with Chas. In November of that year, Charity's girlfriend Vanessa Woodfield and her son Johnny also moved in. In January 2019, Vanessa was stabbed and left for dead outside the Woolpack by Donny Cairn who was seen pouring petrol around the bins at the back of the Woolpack. He then set fire to the bins and door before driving off, however, no real damage was done and Vanessa soon recovered.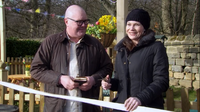 In April 2019 Chas and partner Paddy Kirk created a beer garden with a memorial tree at the back of the Woolpack to commemorate their deceased daughter, Grace Dingle. That same month, Paddy's father Bear Wolf appeared in the village and moved into the pub with Paddy and Chas, making the place even more crowded.
In August 2019, dry rot was found in the Woolpack cellar, forcing the occupants to momentarily move out and the pub to closed down. Desperate to not lose customers to the competitive Café Main Street, who saw the close down as an opportunity to gain customers by starting to serve alcohol, Charity moved the business to Village Hall with the permission of vicar Harriet Finch. They had their grand reopening in October but things didn't go to plan as Chas ended up being locked in the toilets where she went into labour and gave birth to her second daughter Eve.
In the same month, Charity, Vanessa and their respective children all moved out of the Woolpack as it was becoming too crowded and moved into Jacob's Fold.
In February 2021, Chas asked Charity to sell her share in the pub over to chef Marlon Dingle as Charity had been up to no good after cheating on her fiancée Vanessa Woodfield, started drinking too much alcohol and destroying her family, so Chas had enough and asked her to sell her share of the pub and to move out.
Also in February, Faith Dingle returned to Emmerdale and slept in a hearse parked behind the Woolpack. She was invited to stay in the Woolpack by Chas, however, after numerous arguments Faith stayed with various other family members until she discovered that her cancer may be in remission. She was taken in by Eric Pollard and Brenda Walker until they persuaded her to admit her illness to Chas and Cain. When Chas found out the truth she allowed Faith to move back into the Woolpack.
In October 2021, Al Chapman blackmailed Paddy so that he could buy into the pub after he found out he was doping Kim Tate's horse for money as the Woolpack was struggling. Al's plan was to get Paddy, Chas and Marlon to sell up to developers, Al was indebted to transform the building into luxury apartments. Al tried various methods of ruining the business such as switching to a lower quality food and drink provider. When Al was left alone at Christmas 2021, he realised destroying the pub would be his way out, so he put a whisk into the microwave, which resulted in the building exploding which also then resulted in Meena Jutla and Manpreet Sharma getting severely injured by the blast.
In February 2022, Chas, Marlon and Al were forced to put the Woolpack up for auction as they could not afford restoring it and pay off their debts. During the auction the brewery wanted to buy the pub but were outbid by someone bidding anonymously online. This later turned out to be Charity and her son Ryan Stocks as Charity had sold her share in Home James Haulage to Kim and Ryan had just inherited money from his recently deceased adoptive mother. Charity then made a show of forcing Marlon and Chas to apply for their old jobs with every intention to take them back regardless but Chas angrily turned her down her offer. Charity then instead employed her boyfriend Mackenzie Boyd as bar manager.
On 10th March 2022, the Woolpack had its grand reopening after having it refurbished with a new look and added accessibility features. However, the day ended up being a disaster with a poor turn-out after vindictive Chas hosted her own event on the same day and her business partner, Eric Pollard, sent away the Woolpack's food order to sabotage. After a fight with Chas, Charity closed the pub early and fired Mackenzie after he made things worse by attempting to sabotage Chas' event.
Later that month after Marlon suffered a stroke, Charity begged Chas to come back to live and work at the Woolpack which she later accepted. Chas became the new bar manager and moved back into the backrooms with her family (Paddy, Faith, Bear and Eve) as Charity didn't want to live there. Former chef Victoria Sugden agreed to cover for Marlon while he recovers until the Woolpack got an agency chef in.
Events
1776: The original Woolpack is built.
1914: The Woolpack burns down, resulting in the death of Ava Bainbridge.
1919: Jack Micklethwaite sells the pub to Jonah Dingle.
1948: Amos Brearly become the new landlord.
1973: Amos agrees to buy the pub from the brewery. He can only raise half of the money. Henry Wilks agree to buy the other half of the pub, and he and Amos become joint owners.
1976: The Woolpack is found to be suffering from subsidence and new premises are found in the village.
1978: Amos and Henry are held at gunpoint by Steve Hawker and Pip Coulter.
1991: Amos and Henry decide to retire and Alan Turner buys their joint shares of the pub.
1993: The wine bar is demolished by the plane crash, paralysing Chris Tate.
1995: Britt Woods and Terry Woods become the Woolpack's managers.
1998: The pub is burnt down after Tricia Stokes accidentally sets it on fire with sparklers.
1999: Bernice Blackstock and Gavin Ferris become landlady and landlord of The Woolpack.
2000: Diane Blackstock becomes landlady alongside daughter Bernice after Gavin left the village.
2002: After her failed marriage to Ashley Thomas, Bernice sells her half to Louise Appleton.
2004: The Woolpack roof falls through after it is struck by lightning during a horrible storm, crushing Tricia Dingle who later dies in hospital.
2006: Louise sells her half to Diane's sister Valerie Lambert.
2009: Val sells her share of the pub to Diane, making Diane the sole Landlady.
2010: Diane sells the pub to Nicola and Jimmy King.
2010: Jimmy and Nicola return the pub to Diane.
2011: Diane sells 50% of the pub to Chas Dingle.
2013: Cameron Murray holds a siege at The Woolpack with many of the regulars as hostages, before he is electrocuted to death.
2015: Chas suffers a mental break down and stabs Diane in the back of the pub.
2016: Diane sells her 50% share of the pub to Charity Dingle.
2019: Donny Cairn brutally stabs Vanessa Woodfield and leaves her for dead outside The Woolpack after she catches him attempting to torch the pub.
2021: When Charity's behaviour spirals Chas forces her to sell her share to relative and Woolpack head chef Marlon. In October, Al Chapman blackmails his way into buying a share in the pub after he found out Paddy was doping Kim Tate's horse. Al later explodes the pub at Christmas which injured Meena Jutla and Manpreet Sharma.
2022: Charity and her son Ryan Stocks buy the Woolpack and become the new landlady and landlord.
Layout
Community
Staff
Residents
Current residents
Former residents
Background information
The Woolpack was briefly written out in 1976, as the decision was made to move the set from Arncliffe to Esholt due to the money and time-consuming distance. The crew had felt that The Woolpack had the most distinctive exterior and as a result, a storyline which saw Henry Wilks and Amos Brearly move to a new building due to subsidence was created.
When the show moved to Esholt, the Commercial Inn was chosen as the new The Woolpack building. The owner eventually got tired of changing the sign so the decision was made to rename the pub "The Woolpack", a name it retains to this date. The owner supposedly considered changing the interior to match the interior set, but the idea was negatively received among the community.
When filming moved to the 1998 Purpose-Built Set, the exterior of the Woolpack changed slightly but no in-universe reason behind the changes were provided.
Gallery