Vincent "Vinny" Dingle (legally Ashdale) is the son of Mandy Dingle's former boyfriend, Paul Ashdale. Vinny was raised by Mandy after Paul left them and views her as his mother.
Biography
Backstory
Mandy first met Vinny when he was only 9 months old while she was on a first date with his father, and she knew right away that someone had to look after him. Mandy and Paul clicked right away and by the end of the week she moved in with him. Initially, they were happy but then Paul got himself into a mess which escalated until one day he walked out on them only two days after Vinny started school. Mandy continued to raise Vinny and became a mother to him. They didn't have an easy life but Mandy did everything for Vinny, starving just so he could eat.
Before arriving in Emmerdale, Mandy decided it was best to pretend Vinny was her biological son as she feared her family wouldn't accept him as part of the family unless they shared blood. Prior to their arrival, Mandy and Vinny lived in Southampton.
2019: Arrival in Emmerdale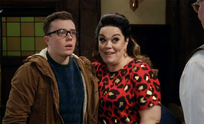 Originally, Marlon Dingle thought that Vinny was Mandy and Paddy Kirk's "secret son" when they arrived in the village in January 2019. Paddy confronted Mandy about it but Mandy confirmed that wasn't the case and the pair soon left again.
Mandy and Vinny returned to Emmerdale in September 2019 and moved in with some relatives at Wishing Well Cottage. He was then revealed to have assisted Mandy in her criminal past. Vinny was always good at maths and card counting, so Mandy made sure he went to different casinos and dealers. Vinny couldn't resist a pretty face, and he started showing off to a pretty young cocktail waitress, telling her that he counted cards and that it was the perfect crime. But she then told Terry, the casino owner, and he wasn't happy. He wanted his money back, and fast, or else Vinny would be taken away from Mandy. She promised Terry she would pay back every penny to ensure Vinny's safety. Vinny was later barred from the casino for life, forcing Mandy to get someone else to help her. They got away with the money but Terry eventually showed up and demanded all his money back. After being freed of Terry by Sam Dingle, Vinny revealed in a conversation with Mandy that he wasn't biologically her son.
In January and February 2020, Vinny helped Mandy with her "Free Marlon" campaign, with the purpose of freeing relative Marlon Dingle who was wrongfully imprisoned for the murder of Graham Foster.
In March 2020, Vinny discovered Sam's son Samson had pawned Sam's wedding ring from his dead wife Alice in order to pay for a trip to France. When Sam found out Vinny covered for Samson telling him he was the one to do it in order to protect Samson. However, Samson soon enough admitted it wasn't Vinny but Vinny - who was getting sick of lying - finally admitted to Sam, his fiancee Lydia Hart, and Samson that he wasn't really a Dingle by blood. Despite this, after hearing their story they all welcomed him to the family, saying he was a proper Dingle.
On 17th April 2020, Vinny attends Sam and Lydia's wedding and the Dingles insisted Vinny drank from the welly, officially making him a Dingle. Chas Dingle told him that even though he wasn't a Dingle by birth, he was definitely one by nature.
2020-2021: Dating Liv and Paul's Arrival
During the first lockdown, Vinny got to know Liv Flaherty through playing Animal Crossing online together, and started dating shortly after.
Vinny's estranged father Paul turned up in Emmerdale in April 2020, wanting to see his son. However, Mandy found him first and she lied, telling him Vinny wasn't there. He gave her his number and address in case Vinny would get in touch and insisted he was a changed man. Paul later realised that Mandy had lied, so got a job at Holey Scrap, befriending Vinny and eventually revealing to him that he was his dad. Eventually, Paul and Mandy got back together again, but Paul soon started gambling again and began physically and emotionally abusing Vinny in order to hide his gambling from Mandy.
When the abuse starting increasing, Vinny moved in with Aaron and Liv, sleeping on their sofa, then was eventually invited by Liv to share her bed. Paul's abuse continued, however, and after Liv started getting suspicious, Paul insisted he broke up with Liv, so Vinny moved back into Wishing Well cottage with his parents.
Paul died in a barn explosion in April 2021 which was caused by the ignition of a gas tank, after Jimmy King crashed into the barn. Paul died on the day that he was supposed to marry Mandy.
See also