Walter was a Woolpack customer who appeared sporadically between July 1974 and 1985.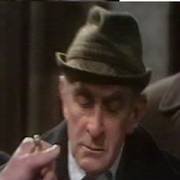 By 1974, Walter was about 70 years old and was a regular customer at The Woolpack. In January 1976 he said that there had been a train crash on the level crossing. It was Matt Skilbeck's twins Sam Skilbeck and Sally Skilbeck, and Matt's aunty Beattie Dowton. In January 1977, Walter mentioned a nephew who was playing in the village bowling competition. In 1978, Amos gave Walter a free pint for services rendered after many years as a regular customer. Amos loved to tell Walter his stories, and Walter was always there to listen and never argue with him like others did.
Walter did occasionally speak but by 1980 he became virtually silent, and only nodded to landlords Amos Brearly and Henry Wilks. In 1984, nasty Harry Mowlam stole Walter's seat and would not allow Walter to sit there.
In January 1986, he was said to have gone to see his sister in Worthing. He never returned to Beckindale. Amos said Walter probably preferred the sea air.
See also