Wylies Farm is a farm that is currently part of the Home Farm Estate. It is currently owned by Kim Tate and run by Nate Robinson. 
History
John Wylie raised his daughter Emily on the farm, a life of strict control and constant work that she finally left in 1999. In 2006 Emily hid out at the now-abandoned farm after returning to the village.
In 2014 Home Farm owner Lawrence White promised Andy Sugden the farm at a cut price rent if he helped him split up his daughter Chrissie's relationship with Andy's adoptive brother Robert Sugden. Andy and his wife Katie planned to do up the farm and live there but Katie died after falling through rotten floorboards at Wylies after being thrown to the floor by Robert. The farm was repaired and sold.
By August 2016 the property was back on the market again, and James Barton showed an interest in buying it. He and partner Emma Barton made an arrangement to rent the property whilst they wait for a mortgage to come through.
In October 2016 James and Emma begin to move into Wylies, but during an argument with son Ross, James fell down the stairs, breaking his leg. Emma soon learns of his recent fumble with Moira Dingle and keeps him captive at the farm until she can be convinced he will love her. He manages to escape, which ultimately results in Emma pushing James to his death off a bridge onto oncoming traffic on Hotten Bypass, causing a huge 19-car pileup due to fog. After James' death, Emma moves back in with her sons.
In May 2017 Ross and Finn Barton discover the property was being used as a cannabis farm and took ownership of the cannabis as they were in desperate need of money after the collapse of their taxi business. This resulted in Finn being kidnapped by the drug dealers who had set up the cannabis farm at Wylies, and the stabbing of Harriet Finch by one of the drug dealers when the kidnapped Finn accidentally reveals she's a former police officer.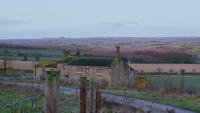 In 2019, Kim Tate purchases Wylie's Farm. She places Nate Robinson and Pete Barton, both of whom previously worked at Butlers Farm, in charge. When Pete left the village in February 2020, Nate was forced to look after the farm on his own. Kim then appointed Sam Dingle to help him out at the farm. 
Background information
Exterior filming for Wylies Farm is done at 

Stockton Grange Farm

, Leeds.