Zoe Tate is the second child and only daughter of Frank and Jean Tate, she is the mother of Jean Tate Jr., sister of Chris Tate, half-sister of Liam Hammond and James Tate and legal guardian of Joseph Tate as well as Auntie to him and Noah Tate.
Zoe was involved in many major storylines, including coming out as a lesbian, the deaths of her father and brother Frank and Chris, the betrayal and departure of her stepmother Kim and a battle with schizophrenia.
Biography
1968-1989: Early life
Zoe was born to Frank and Jean Tate on 27th April 1968. In 1982 Jean was diagnosed with liver cancer and passed away 2 years later when Zoe was 16-years-old. In 1984 Zoe started studying at the University of Edinburgh to become a vet as it was what her mother wished. Her father went on to remarry in March 1986 and while her older brother Chris disliked her, Zoe got on well with her step-mother, Kim.
1989-1991: Arrival in Beckindale
In late 1989, Zoe's family moved to Beckindale after buying Home Farm while Zoe was still studying at university. When she arrived in the village she was struggling with her studies and considering quitting, afraid that she was not cut out for it and unimpressed by the sexist attitudes of the local farmers. However, in January 1990, after Seth Armstrong fell ill while working at Alan Turner's fish farm, Zoe's interest was sparked and she started looking into it closer and testing the water. The test came up positive for cryptosporidium causing her to suspects it had been contaminated by Emmerdale Farm's slurry tank. Afterwards, she spoke to Jack Sugden who convinced her to not give up and leave the field clear to those who do not care and thus resumed her studies.
Pending on her graduation, Zoe confined herself to several animal-helping causes. In April 1990, Zoe caught wind of Jock MacDonald and Bill Middleton asking around for beaters and suspected they were planning illegal hare coursing and became determined to stop it. She and some friends intervened when Nick Bates, who was pretending to participate to catch them, got found out and a fight broke out. The police were called and one man got arrested but Zoe was disappointed when Jock was the only one getting charged. She was later annoyed and horrified when Jock was hired as help at Home Farm and tried to convince Frank to fire him but to no avail. In July she and Seth helped a fox get free who was stuck in beercan rings and afterwards Zoe became determined to stop Beckindale's littering problem as it was affecting the wildlife.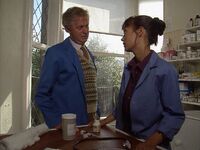 On 26th July 1990, Zoe officially graduated from University of Edinburgh but was disappointed when Frank couldn't make it, which she later finds out was due to his returning drinking problem. Following her graduation, Zoe moved to the village permanently and found employment at Bennetts Veterinary Practice in Hotten. In September, she attacked Home Farm-worker Jock MacDonald for hurting a horse and had to be pulled back by Kim. After she told Frank about the incident, he sacked Jock who got revenge by setting fire to the Home Farm stables. Meanwhile, Zoe grew close to Archie Brooks who took a liking to her, and they formed a friend group with Michael Feldmann and Rachel Hughes. However, things got complicated when Michael starts to fancy Zoe, bringing complications as Archie likes her as well and Rachel was interested in Michael. In January 1991, Zoe slept with Michael, despite not having any feelings for him, and avoided him afterwards, damaging her friendships with both him and Rachel in the process.
In March 1991, Rachel, Archie and Michael discovered that Zoe's boss Martin Bennett had signed a contract with Skipdale Laboratories, allowing them to experiment on animals. Furious, she confronted Martin and threatened to resign, however, Martin insisted that he only took part under the pretences that Skipdale Laboratories only experimented on animals for medical research and he did not approve of the involvement of animals in cosmetic research. He agreed to disassociate his company with them but in late May, Zoe discovered that Martin was still working with them and subsequently quit her job. On 11th June 1991, Zoe left the village after she got a job as a flying vet in New Zealand.
Zoe briefly returned to the village in November for Chris' wedding to Kathy Merrick, and again for Christmas, bringing her new boyfriend Patrick whom Frank strongly disapproved of due to their large age difference.
1992-1995: Return and coming out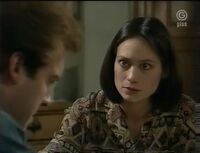 Zoe returned permanently in December the following year when her contract was up. She was shocked when on Christmas she and the entire family learnt that Kim has been having an affair, resulting in Frank throwing her out and spiralling back into alcoholism. Zoe struggled as she took care of her father who refused help and grew closer to Archie again as he supported her through it. In March 1993, Archie told Zoe he wanted a relationship with her but she was reluctant. After Zoe was offered a job in Edinburgh she asked Archie to come with her but was annoyed when he couldn't make up his mind. She turned it down but told Archie that he failed her by not agreeing to go with her and said they should continue as just friends.
In May 1993, Zoe slept with Archie and began a relationship with him but found herself struggling to be intimate with him and even Archie started noticing something was wrong. On 27th May, Archie found Zoe crying in the kitchen after sleeping together and she eventually admits that everything between them had been a pretence, admitting that she knew that if it wouldn't work with him she knew it would never work with any man. Archie was initially angry and upset, having misunderstood Zoe's confession and began avoiding her. Zoe desperately tried to get him to talk to her again and eventually got him to hear her out, telling him in no uncertain terms that she think she's gay. Although initially thrown, Archie supported her through it.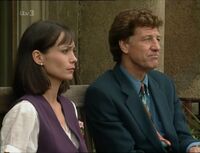 By July, Zoe started throwing herself into her work as a distraction, making Frank grow worried about something being wrong but she pushed him away when he tried to get to the bottom of it. Archie told her she needed to tell her father about her sexuality but Zoe insisted it was not the right time. Meanwhile, Frank was driving Zoe crazy as he continued to drink too much a stay out all night, making everyone but Zoe give up on him. On 17th August Zoe finally came out to Frank who although he initially expressed his shock and disappointment, assured her that he would always be proud of her and vowed to support her. Frank sorted himself out and stopped drinking in order to be there for Zoe.
Archie, who wanted to help Zoe with her struggles, set it up a meeting with Richard, a gay friend of Rachel. Despite finding the whole thing embarrassing at first, Zoe ended up befriending Richard who helped her talk through her issues and invited her to various events and gay clubs to meet like-minded people. He suggested a poetry reading where she ended up meeting Jude Clayton who despite Zoe originally offending her by dismissing the whole thing, later took a liking to Zoe. Frank was very supportive of the relationship and even invited Jude for dinner but Zoe admitted to Frank that although Jude helped her realise for sure that she was gay, just because she was gay as well didn't mean she was the right person for her. In mid-November Zoe told Chris that she was a lesbian. Although he first didn't take it well, he came to his senses a few days later and told her that as long as she was happy that was all that mattered.
Like most of the village, Zoe was affected by the devastating plane crash in December 1993. She was in The Woolpack when the plane crashed and spent most of the coming days looking after the hurt and dead animals in the crisis. The crash affected Zoe's life as it soon became apparent that Archie had died in the crash and Chris was left paralyzed from the waist down after being stuck in the rubble of the Woolpack wine bar. Zoe was sceptical as Frank started growing closer to Kim again in the wake of the crash but decided to give her another chance as they gave their relationship another go.
In February 1994 Zoe started making plans to open up a veterinary practice in Beckindale and asked her boss, Paul Worsley, to expand the business to include an office in the village. She became a partner with the help of a loan from Kim and set up the surgery at the Heritage Farm. They officially opened on 22nd February but throughout the coming months Zoe struggled to get customers so she hired Chris to help her with advertisement and PR which was also a ploy to help Chris who had become bitter after his accident and spent most of his time stuck at home. In June, Nick Bates asked for Zoe's help when his ex Elsa tried to take his daughter away from him. Before Archie's death, rumours went around that he and Nick were a couple which Elsa was trying to use against him in court. Archie never denied them as he was actually protecting Zoe but Nick now asked her to make a statement to the court which she agreed to. Frank advised her against it as she was establishing a new business and had enough of an uphill battle being a young woman in a male-dominated field as it was but Zoe had made up her mind.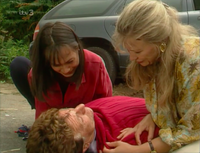 In late August, Zoe, Kim and Frank got into a car accident when Frank had a heart attack while driving. Zoe cared for Frank and he regained consciousness after Zoe performed CPR while waiting for an ambulance. The ambulance finally arrived and Frank was taken to hospital and eventually recovered. However, Zoe got worried as, although Frank wanted to slow down, Kim insisted on working to expand the business which made Zoe worry that she was prioritizing the business over Frank's wellbeing as well as feeling like Kim she is trying to take over. Zoe urged Kim and Frank to talk things through and not let the business come before their relationship.
In November 1994 Zoe got into a bit of drama when she befriended a man named Martin. His wife came to see her, accusing her of having an affair with him. Shortly after, Martin showed up, telling her he had left his wife and wanted to be with her. She told him she wasn't interested and asked him to leave her alone but he persisted. After he still refused to leave, she told him she was gay which only made him angry. He was about to attack her but Frank interrupted and he left. Rumours started spreading around the village both about Zoe's supposed affair and her sexuality. She was upset when Linda Glover resigned as her assistant after her father, Ned Glover didn't want her to work for a lesbian or adulterer.
Zoe continued to be on bad terms with Ned and it got even worse when in mid-December she got a visit from her boss, saying they had gotten some complaints from clients about her personal life which originated from Ned. However, in January 1995 Ned started to realise that he might have made a mistake and apologised to Zoe for bad-mouthing her to other farmers and stopping Linda from working for her. Zoe then re-hired Linda.
1995-1999: Romantic relationships and long-lost brother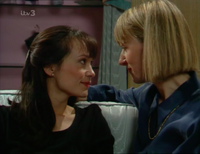 Also in January, Zoe meets interior designer Emma Nightingale when she accidentally crashes into her car. Despite the unpleasant circumstances of their first meeting, they soon hit it off and Zoe invites Emma to stay at Home Farm while she's finishing her work redecorating The Woolpack and Kim and Frank are away on their honeymoon. They begin a relationship but Emma moves out when Kim and Frank returns and asks Zoe to move in with her in Leeds. Zoe is reluctant due to all her life and work being in the village but eventually suggests they buy their own place together in the village, which Emma accepts.
In April, after being unable to find a place to buy, they start renting Smithy Cottage together. Zoe also refurbish the adjoined forge and sets up her veterinary practice, Tate's Veterinary Surgery, on the premises with Linda as receptionist. However, shortly after moving in someone throws a stone through their window and graffiti "lesbeans" on their front door, making Zoe feel unsafe in their new home. They quickly discover local teenagers Scott Windsor and Roy Glover were the ones responsible. After telling their parents and agreeing not to call the police, they force the teens to help clean up what they did.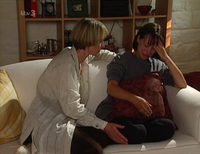 On 17th August 1995, after being called out to Ken Adlington's farm, Zoe is almost raped by Ken. She manages to escape but is left extremely shaken and shocked by the attack. Emma tries to convince her to tell the police but Zoe refuses, telling her it's her words against his and worried how the press will go after her for being gay. After Frank found out, he furiously attacked Ken but his wife stuck up for him and they denied everything. Appalled by his wife lying for him, Emma eventually convinced Zoe to call the police but in the end, they couldn't prove anything. Zoe struggled to go back to work after the incident. In September she returns to doing calls for the first time since the attack and goes to the Sugdens' but struggles and starts opening up to Sarah Sugden.
Zoe is upset when Emma and Linda take matters into their own hand and puts up posters around the village warning women against Ken. She tells them she just wants to forget about it and move on. Soon, Ken's wife sees the posters and confronts them. Although Zoe is having none of it and demands to know why she's protecting him. She admits that he beats her and if she speaks up and nothing come of it, she is the one who will suffer the consequences. Ken gets some sort of justice when he shows up in the village furious and starts pulling down the posters. Frank, Ned Glover and Jack Sugden all stand up to him, threatening him to not return to Emmerdale ever again, humiliating him.
While Zoe and Emma spend some time away in America, Frank relapses and ends up in hospital with liver failure. Linda calls Zoe and tells her what happened and Zoe returns to visit her father in hospital in early 1996. She is shocked, however, when Kim tells her she's pregnant with Frank's baby although even more so when she talks to Frank who tells her Kim's been having an affair and he believes the baby is David Glover's. Frank tells Zoe he is plotting revenge and want her to help him. She is reluctant as she wants him to forget about Kim and focus on his health, although she agrees after realizing he won't change his mind and helps him get in contact with an old associate.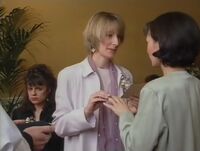 In February 1996, Emma asks Zoe to marry her and they decide to have a blessing in church to recognize their relationship. However, The surprise arrival of Emma's ex-girlfriend Susie Wilde began to cause problems as Zoe didn't get along with Susie and became jealous of her and Emma. Though after spending some time with her, Zoe began to take a liking to Susie. In April Susie kisses Zoe and then tries to convince her to break it off with Emma, making Zoe start having doubts. On the day of Emma and Zoe's blessing on 25th May 1996, Susie continued to flirt with Zoe and gave her second thoughts although she still ended up going through with it.
Shortly after the blessing ceremony, Emma found out about Zoe and Susie's relationship and Zoe decided to leave Emma for Susie. However, their relationship was less than smooth as Zoe often found Susie immature and Susie got annoyed when Zoe didn't want to participate in her wild nights out. Zoe's relationship with Susie eventually fell apart after she found her having taken another woman to their home. Susie tried to apologise and they argued as Zoe refused to accept her explanation, though Zoe was then left heartbroken when their disagreement resulted in Susie walking out on her.
At the same time, Zoe's relationship with Kim Tate hit an all-time low in September 1996 after Kim gave birth to baby James. While she was in hospital, Zoe had to put Kim's favourite horse, Valentine, down and Kim felt that this was done out of some vague revenge. Kim threatened to sue Zoe for malpractice which could result in her losing her business. On 24th October, Zoe attends baby James' christening after being asked by Frank to be his godmother and again tries to make Kim see sense but to no avail. Zoe starts losing work due to news of Kim's impending suit spreading among her clients. Zoe angrily confronts Kim who tells her all she wants to drop the case is for Zoe to tell her she's sorry. Baffled, Zoe earnestly apologises which Kim appreciates.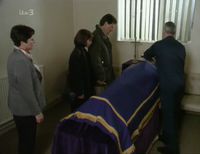 Zoe was mystified by Kim's disappearance and supposed death in March 1997, but never believed the accusations that Frank murdered her, so she was devastated when he was arrested and denied bail. When Zoe visits Frank in prison, he asks her to take over Home Farm Estate as, unlike Chris, she's the only person he trusts, upsetting Chris when he finds out. Soon, Zoe, who was always certain of her father's innocence, gets some doubt after young Andy Sugden finds one of Frank's cufflinks at the scene of Kim's death. Zoe buys it from Andy although when Jack Sugden asks her about it, Zoe panics and lies about it but he soon finds out the truth and informs the police. The police accused Zoe of being an accomplice in Kim's murder and held her for questioning the whole night.
On 2nd April 1997, Zoe and Chris attend Kim's will reading and are shocked when she names Zoe as one of three trustees of James trust fund as well as leaving half her estate, including her company, to her on account of her being the only one of the family with honesty, integrity, and decency. This makes Chris furious as Zoe now has even more control of the business while he is left in severe financial trouble. Wanting to get closer to the surgery and get away from Chris, Zoe decides to move back home and asks if James' nanny Sophie Wright, as well as James, wants to come with her as she herself has gotten enough of Chris.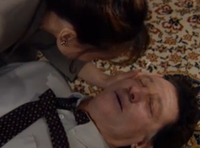 While living together, Zoe and Sophie grow closer and Zoe develops feelings for her. In early May Zoe confesses her feelings and the two are about to kiss when suddenly Frank arrives and reveals he has been released, much to the family's relief. Her joy was short-lived though as two weeks later, Zoe found Frank suffering from a heart attack and he died right in front of her only moments later. A few days later, Zoe was shocked when Kim reappeared on the day of Frank's funeral. Zoe and Chris were even more displeased when realizing Frank had left his entire estate to Kim in his will and they suspected Kim had meddled with it but were unable to prove anything. With her owning the majority share in the company, Kim started taking charge, wanting to sell off the holiday village much to Zoe and Chris' chagrin as that was Frank's vision.
Zoe and Sophie find themselves in a bit of turmoil during the summer when Butch Dingle starts harassing them and stalking Sophie, believing they are meant to be together. Zoe eventually gets enough and confronts Butch, threatening to call the police if he continues. That night, Zoe and Sophie return home to find the place has been trashed and "Dirty Tate Bitch" written on the wall. Zoe calls the police and wants Butch to be charged but she's annoyed when the Dingles cover for him and his father, Zak Dingle takes the blame for it. Despite Zak promising to get Butch to leave them alone, he continues to bother them, culminating in him trapping Sophie in Zoe's house while tricking Zoe away with a fake call. When Zoe realizes what he has done she rushes back and reunites with Sophie who after a lengthy confrontation finally managed to get through to Butch.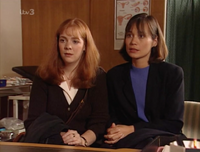 In October 1997, Zoe told Sophie that she wanted a baby but she was hurt when Sophie revealed that she thought a baby needed a father. Zoe then took a holiday to clear her head and was devastated when she returned a few weeks later and found out that Linda had died. Soon after, Zoe and Sophie made up and resumed their relationship with Sophie even telling Zoe she has changed her mind about the prospect of having a baby together. Zoe and Sophie started making serious plans of having a child and even visited a fertility clinic for Zoe to get artificially inseminated. However, Sophie soon changed her mind and realized she couldn't go through with it so she broke it off, leaving Zoe heartbroken.
In January 1998, Zoe became suspicious when Steve Marchant, now Kim's fiancé, entrusted her with a key to a safety deposit and asked her to only use it if something happened to her. Feeling something was wrong, Zoe eventually went to collect it and found it contained a tape from last year of Kim arranging to set up Frank for the murder of her lookalike. Zoe and Chris then tracked down the man Kim talked to on the tape to get him to make a statement to the police about Kim's involvement but he shocks them by revealing he never killed the girl - Frank did, believing it was Kim. Zoe was devastated and upset when Chris continued to defend Frank. Zoe told Chris that their family feuds had gone too far and decided to call for a truce with Kim, even agreeing to be her bridesmaid.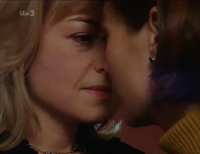 In March, Zoe's new receptionist Becky Cairns starts showing an interest in Zoe as she seeks her comfort in her marital problems. Meanwhile, Zoe disapproves after learning of Chris' relationship with Kelly Windsor but becomes invested when learning she is expecting Chris' baby as she feels this is the closest she can get to having kids of her own. Therefore Zoe was devastated when Kelly suffered a miscarriage. Zoe was comforted by Becky and the two ended up kissing, however, Becky's son Will saw them and threatened to tell his father. Becky eventually admitted to the ordeal herself, wanting to pursue a relationship with Zoe although Zoe shot her down, telling her she did not want to be accused of tearing apart a family and did not feel as strongly about Becky as she did for her.
In May 1998, Recently married Kim and Steve were forced to sell their shares in Home Farm and shock Zoe and Chris by selling to Lady Tara Oakwell who became the new chair-woman of the company. As a Home Farm shareholder, Zoe got involved in the eviction crisis in the village in autumn. She was shocked and appalled when realizing Lady Tara was selling off Home Farm property and thus forcing people out of their homes in order to settle her own debts. Zoe is disappointed when, despite initially agreeing with her, Chris switches positions after some sweet-talking from Tara's lawyer, Laura and with only a 20% share in the business, Zoe is powerless to stop it.
In September, Zoe offered Paddy a partnership in the Vet's and defended Kim when she was accused of a robbery at the stud farm during which Kathy Glover was almost killed in the hit-and-run escape as Zoe had spent the entire evening at Kim and Steve's. However, unbeknownst to Zoe, Steve had sneaked out during the evening while pretending to make a phone call upstairs. Zoe was shocked when in late October, Kathy woke up and pointed Steve out as her attacker, but stood by Kim as she never believed she had any involvement. However, Zoe was made to look foolish when Kim escaped the village with the loot in January 1999, leaving Chris for dead. She realised Kim had used her as an unwitting alibi on the night of the robbery.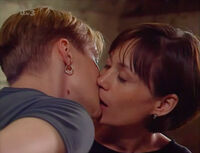 In April 1999 Zoe became infatuated with Frankie Smith, a lorry driver at Chris' new haulage company although was disappointed when she reveals she has a girlfriend, Maggie. A few weeks later, Zoe brought Frankie along after on an emergency call at the Sugdens'. Zoe successfully brought life to a newly born calf, repairing her relationship with Jack and impressing Frankie who then kissed her before rushing out. Zoe was delighted after the kiss although Frankie insisted that it was just in the spur of the moment would not go further. Shortly after, Chris convinced Zoe to invest in the haulage business to save them from financial ruin although he was displeased when Zoe agreed on the condition that he also sold Laura Johnstone, Zoe's friend and Chris' ex-girlfriend, a 10% share and gave them both director roles in the company.
The following month, Zoe accompanies Frankie on an overnight job in Southampton under the guise of getting to know more about the company. Frankie is initially annoyed but the two end up having a good time and when Zoe starts giving Frankie the cold shoulder, Frankie starts taking an interest in her. When Zoe accompanies Frankie on a day off the two end up getting spontaneous tattoos together which then causes problems between Frankie and Maggie. Zoe sets Frankie up for a three-week trip to Eastern Europe in an attempt to break up her and Maggie up. While Frankie is away, Zoe butts heads with Maggie who blows up at her in the Woolpack after finding out about their trip to Southampton. Soon, Maggie finds out Zoe was behind Frankie's trip and after calling to tell her she ends up having a drink and gets arrested in Germany for drunk-driving, causing problems for the company as well. Chris lectures Zoe for her handling of the whole situation and letting her personal life affect the business.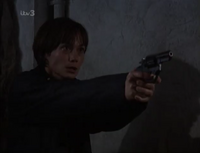 In September 1999, Chris is kidnapped by Tate Haulage employee Liam Hammond, who reveals he is Frank's illegitimate child. He is held captive for weeks and even develop a bond with his newly found brother but in November Zoe starts to suspect that Liam is somehow involved in Chris' disappearance, as he seems to know a lot about Chris. Zoe sets Liam's run to Portsmouth to get him out of the way so she can investigate but Liam smells a rat and switches his run. Zoe goes to his house and rescues Chris, fatally shooting Liam in the process. Chris and Zoe try to cover up the crime by destroying any evidence that Liam was Frank's son, ensuring the police would have less reason to question his death. DI Spalding suspects that Liam was a secret family member with an axe to grind but is unable to prove this and a jury reaches a verdict of lawful killing. Zoe then gets together with Frankie.
2000-2003: Mental health issues and birth of Jean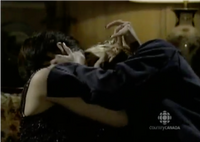 Zoe is not happy when Chris moves Charity Dingle into Home Farm and gives her a job as his assistant. Zoe informed Charity of her distaste for her, stating it was because of her history, and offered Charity money to leave Chris but Charity responded by kissing her. It soon transpired that Zoe fancied Charity herself, and in May 2001, it was revealed that the two had begun an affair behind Chis' back. However, when Zoe starts exhibiting obsessive behaviour towards Charity, she ends it and goes back to Chris.
In September 2001 Chris proposed to Charity but Zoe was not happy with their engagement and secretly recorded Charity confessing to the affair on tape and starts blackmailing Charity, who eventually confesses the affair herself. In November Zoe left Home Farm after Chris and Charity got married and became depressed. Zoe then begins talking to her deceased father and during one of her early schizophrenic episodes, she ends up having sex with Scott Windsor but has no memory of the event. Chris and Charity began noticing Zoe's months of bizarre behaviour and when Charity saw the state of Zoe's house she realised she was ill. Zoe was sectioned after setting fire to the church and was diagnosed with schizophrenia.
Once on the road to recovery, she was shocked to discover that she was 5 months pregnant. She thought the baby's movements were a symptom of her illness. As she is a lesbian, she assumed she had been raped and planned a termination although after seeing the baby during a scan, Zoe changes her mind and decides to put the baby up for adoption instead. Zoe later chooses to keep her baby and she gives birth to a daughter that she names Jean, after her late mother in January 2003.
Zoe returns to work at her veterinary surgery and hires Chloe Atkinson to be Jean's nanny. Zoe notices Jean is crying more often but is reassured by Chloe that it's due to Jean's teething, but after an accident at Home Farm, Jean is rushed to hospital and Zoe is later told that Jean has a broken rib. Syd Woolfe eventually confesses that Jean's injuries occurred when he and Chloe took their eyes off her when they were together which results in Zoe immediately firing Chloe. Scott realises that he is Jean's father and when Zoe finds out she becomes convinced that he raped her. Ashley Thomas tells Zoe that she had, in fact, tried to kiss him before being diagnosed and Zoe accepts that she willingly had sex with Scott, albeit with no recollection of the incident.
2003-2005: Death of Chris and departure
In September 2003, Chris commits suicide after learning he has an inoperable brain tumour and frames Charity for his murder. Charity becomes aware that Zoe knows the truth and tries to seduce her. However, this does not change Zoe's mind and she testifies that Charity killed Chris. Charity is found guilty and sent to prison. However, whilst serving time she gives birth to Zoe's nephew, Noah. Zoe, in her time of loneliness and feeling like her daughter, should have a mother and father in her life has a very brief relationship with Scott, she tries to be romantic with him, but since she is obviously not attracted to him, she has an affair with Rachel Whatmore.
Charity agrees to give Zoe custody of Noah for the evidence that Chris committed suicide. Zoe tries to adopt Noah, but she is refused permission. Noah is later returned to his mother, although Charity promises Zoe she'll still be allowed to see him. Zoe continues to run Home Farm and the businesses Chris left her, aided by estate manager Callum Rennie and nanny Effie Harrison. Zoe plans to emigrate to New Zealand with Jean and Chis' son Joseph. Zoe takes revenge on Scott after she learns he was going to betray her and lets him think that they are going to reunite and when he proposes, she turns him down. Stating she would, rather "put needles in her eyes". Scott then attacks Zoe and attempts to rape her. Trying to defend herself, Zoe injects him with ketamine. When Scott falls unconscious, she injects him again and is later arrested.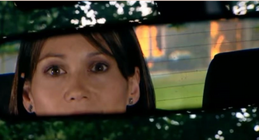 Effie reveals her feelings for Zoe and shortly before she is due to stand trial, Zoe plans to run away with her and the children. At the airport, Sadie King appears and blackmails Zoe into returning home and selling Home Farm to her at a reduced price. When Zoe returns home, Effie pleads with her to understand, but Zoe punches her. She stands trial for attempted murder and is freed when Paddy reveals that Scott was angry on the night of the attack and had threatened him. Zoe packs up Home Farm and plans to leave with Callum, who refuses to stay behind with the Kings. Zoe arranges to emigrate to New Zealand with Joseph and Jean after Callum decides to stay behind. Zoe and Callum break a gas pipe and set a timer to go off just as Tom, Jimmy and Max King arrive. Callum stops the car and he and Zoe watch the house explode before driving away.
Background information
When Leah Bracknell left the programme in 1991 to have a baby, Zoe left the village for a job in New Zealand. Zoe made her on-screen departure in Episode 1564 (11th June 1991) although continued to make a few sporadic appearances throughout the coming months before officially returning over a year later in Episode 1722 (17th December 1992). Bracknell had initially not planned to return to the programme but the producer asked her to come back for a couple of months and she ended up staying long term.
Until her departure in September 2005, Zoe was the longest-serving female character.
In March 2005, Leah Bracknell announced she was to take a nine-month break from Emmerdale. Despite initial reports that it would be a temporary break, Bracknell had not returned to the soap. A return was less likely as she was diagnosed with terminal lung cancer in October 2016, eleven years after her departure. She passed away in September 2019.
Quotes
"Scuse me, do you know where Home Farm is please?" (first line, to Bill Whiteley)
---
"Feeling about you the way I do, I- I knew that if it didn't work with you... I knew that if it didn't work with you, that it'll never work with any man." (Zoe coming out to Archie Brooks)
---
"Chris, much as I sympathise with your predicament, I have been up before dawn dealing with sick animals, I've been trying to fathom out why a seemingly intelligent man would leave his family after what amounts to no more than a few hours with me, I have lost a good assistant, and I've been up to my knees in real bullshit. Please don't give me any of yours."
---
"How dare you, you bitch!" (to the police officer who charged Frank with murdering Kim)
---
"I hope the Kings enjoy their housewarming present..." (before blowing up Home Farm)
---
"Stop the car. Do it, Callum." (final line)